Atlanta Season 4 Trailer: The Final Season Heads Back To The ATL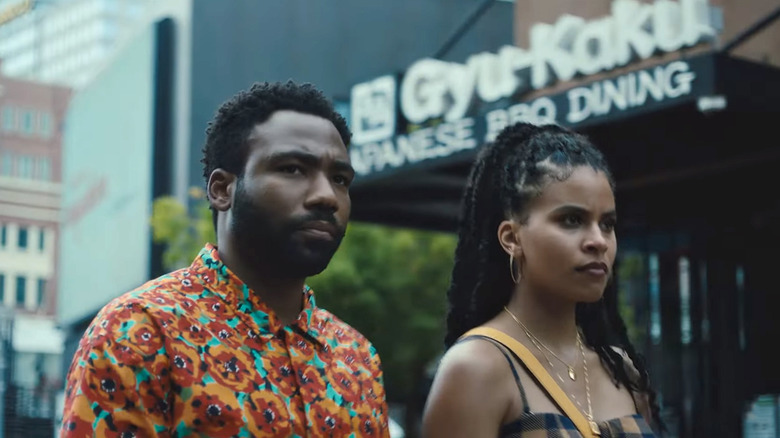 FX
The hit FX series "Atlanta" is back for a final season, and they've just dropped a trailer and premiere release date. The sharp, often scary satire will return to FX on September 15, 2022, and will be available to stream on Hulu. The series follows young music producer Earn (Donald Glover), his on-and-off girlfriend Van (Zazie Beetz), his rapper cousin Alfred (Brian Tyree-Henry), and Alfred's oddball friend Darius (LaKeith Stanfield) and has been praised by critics and audiences alike for its raw and surreal portrayal of life as a Black American. Glover, who also created the series, once called the show "Twin Peaks for rappers," and that bizarre mix of comedy and slightly supernatural horror has propelled the show through its three seasons.
The fourth season will be the last for "Atlanta," and hopefully it will bring its many overarching conflicts to some kind of satisfying end. Season 3 was hailed by some as brilliant, while others were disappointed with the show's handling of certain topics. Here's hoping that season 4 gives fans more horror, humor, and heartfelt introspection, and fewer attempts at whatever those detour side-episodes were.
The end for Earn, Alfred, Van, and Darius
After a European tour that took up all of the characters' time in season 3, the crew is returning to Atlanta for the fourth and final season. While it was a lot of fun watching Darius in Amsterdam or Van having a wild Parisian adventure, part of what makes the show so great is how it depicts the city of Atlanta itself. I spent more than 20 years living just outside of the city and the series' magical realism is the closest I've ever felt to the way that city actually is. Atlanta is a wild place full of wild people, and it feels important to get back to the city. In the trailer for the fourth season we see some familiar faces, including Earn's alligator-owning uncle (played by Katt Williams) and Earl and Van's daughter, Lottie, who has grown up a bit. 
While some viewers found the detour episodes in season 3 to be a fascinating look at race relations or something, others found them to be an unnecessary diversion from the real story, which revolves around the characters we've grown to know and love. Thankfully, it looks like season 4 will bring the focus back to Van, Earn, Al, and Darius, and they'll get a chance to shine in the city that shaped them.
"Atlanta" will return for its fourth and final season on September 15, 2022 on FX.