Atlanta Season 3 Review: This Is The Boldest, Sharpest, And Most Confident Show On Television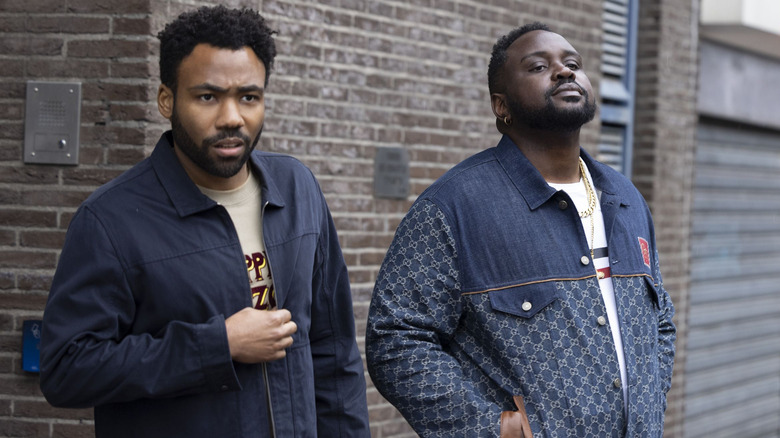 FX
What was initially perceived as a rap version of "Entourage" set in the capital of Georgia has proven to be more significant, profound, and simply superior in every conceivable fashion. The first two seasons of the FX series "Atlanta" successfully illustrated how creator/star Donald Glover could meld occasionally absurd, frequently sardonic, and racially charged comedy with poignant commentary on society and culture at large, especially when it comes to systemic injustice and inequality that Black people encounter every single day. Poised to kick off its third season after a nearly four-year wait since the end of the second season in May 2018, "Atlanta" returns with a season premiere that quickly reminds you why it's one of the boldest, sharpest, and most confident shows on television. 
"Atlanta" season 3 has been marketed as a departure from the show's titular home city by taking place almost entirely in Europe. Music manager Earn (Donald Glover) is accompanying his cousin, rapper Alfred "Paper Boi" Miles (Brian Tyree Henry), on a hip hop tour overseas with their equal-parts peculiar and wise friend Darius (LaKeith Stanfield) in tow. Even Earn's ex-girlfriend and baby mama Van (Zazie Beetz) gets in on the European shenanigans. However, if you're expecting to catch up with the gang's international exploits from the get-go, you're in for a series premiere that is somehow both surprising and yet perfectly representative of what we've come to expect from "Atlanta." That's because the first episode of the season barely features any of the show's main characters.
The second season premiere of "Atlanta" threw fans for a loop by focusing on two characters we'd never seen before. The episode, entitled "Alligator Man," would eventually follow Earn trying to deal with a domestic disturbance involving his unhinged Uncle Willy (played by guest star Katt Williams). But for the first five minutes or so, we followed a pair of young men playing video games before heading off to grab some fast food. The everyday trip suddenly escalated as the pair pulled up to the window with no interest in paying for fast food. Instead, they're looking to get paid by robbing the restaurant, gun in hand. Since this is Atlanta, the drive-thru cashier was totally prepared for a fight with a firearm of his own. A deadly shootout ensued and gave way to the show's second season subtitle, "Robbin' Season," which set the vibe for the rest of the episodes, where everybody seems to have something stolen from them — whether it's Earn's joy of finally having the money to take Van out for a night on the town, Alfred getting mugged, sending him running into the woods, or Darius missing out on an antique piano after an unsettling encounter with the Michael Jackson proxy known as Teddy Perkins. The third season premiere of "Atlanta," debuting with two back-to-back episodes on March 24 at 10:00 PM ET/PT, takes this season premiere formula to the next level exponentially.
'Three Slaps'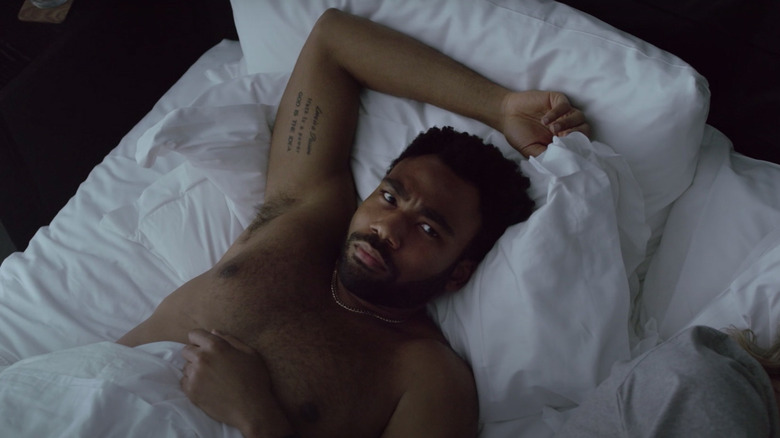 FX
"Three Slaps" takes an entire episode to focus on an adolescent kid named Loquareeous (Christopher Farrar), who excessively celebrates in class after learning that, in honor of Black History Month, the entire class is being sent on a Domino's Pizza-sponsored field trip to see "Black Panther II." (I wonder if the writers thought "Black Panther II" would have been released in theaters by the time the third season premiered, but I digress). Upon hearing this news, Loquareeous hops up on his desk and dance enthusiastically, much to the enjoyment of his fellow students who cheer him on with equal excitement but to the chagrin of his teacher who can't get him to stop.
Of course, this lands Loquareeous in the principal's office, where his mother is less than pleased to be called into school again, with her son's grandfather accompanying her. In the meeting with the principal, it's revealed that the guidance counselor thinks Loquareeous' trend of acting out might be dissuaded by putting him in remedial math and English classes that may not be as frustrating to him academically. This is far from an agreeable solution for Loquareeous' mother, who refuses to let this happen and marches out of the meeting to discipline his son in her own way. She demands that Loquareeous do a series of dance moves in the hallway, seeking to embarrass him and using it as an opportunity to remind him, "If you don't start using your common sense and acting right, these white people, they're gonna kill you." Loquareeous' grandfather chimes in by slapping him across the face three times and asking, "What's your problem?" It's enough for the guidance counselor looking on in horror in the hallway to call Child Protective Services to take Loquareeous' out of what she sees as an abusive household. But things are about to get so much worse for Loquareeous. 
'Welcome to Get Out 2'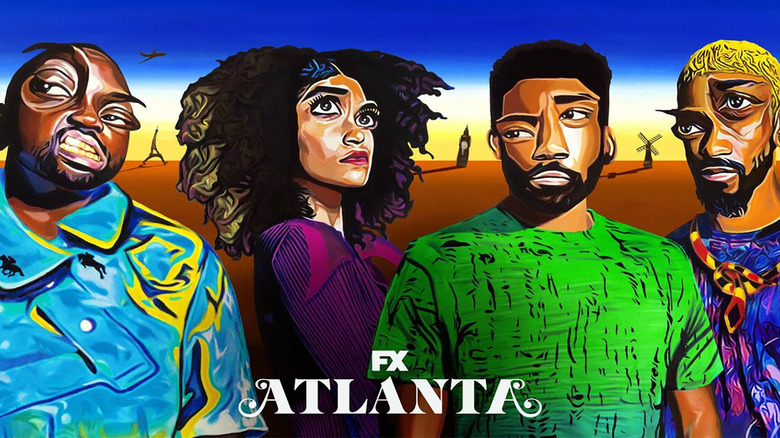 FX
What follows is an episode of "Atlanta" that feels more like a short film directed by Jordan Peele. That's purely intentional, and Donald Glover recognized as much during the episode's premiere at the South by Southwest film festival where he began the Q&A panel by saying, "I'm Daniel Kaluuya and welcome to Get Out 2." It's an apt comparison, especially when you see the five-minute scene that begins the episode in a truly tense and discomforting fashion — which itself acts as a prologue disconnected from Loquareeous' narrative about to follow. But it's certainly not disjointed from the kind of story that director Hiro Murai and writer Stephen Glover are telling, and have told in the previous seasons of "Atlanta."
When Loquareeous' house is visited by Child Protective Services, his mother assumes that he's made some kind of call about his treatment at her hands, and rather than try to defend herself, she quickly grabs his jacket, packs him a bag, and sends him off with CPS. Suddenly, Loquareeous finds himself in the house of two farmer's market lesbians who already have a trio of three adopted Black kids. What follows is a horror story where those who appear to be giving this kid a better life do anything but that. It's not your typical tale of abusive foster homes, because "Atlanta" is smarter than that. Seemingly inspired by a headline-making news story, this episode takes some shocking and unnerving turns, but they come with a hefty dose of dark comedy. At the same time, there are moments that are so uncomfortable, you might not be sure if you should be laughing. While the subject matter comes with plenty of critical commentary about a foster care system that often finds white saviors taking in less fortunate kinds of color, only to erase any semblance of the identity that comes with their skin color (whether intentionally or inadvertently), it also has plenty of layers that are left open to interpretation and will be worth discussing in greater detail once the episode has actually premiered.
All you really need to know is "Three Slaps" is nothing short of brilliant, and it's a masterful piece of storytelling. But the "Atlanta" crew knows it's a weird way to begin the season. The stylized episode description itself even says, "Wow, it's been a minute. I mean, I like this episode about the troubled kid, but we waited 50 years for this?" There aren't even any photos from the episode available online, let alone footage from this episode in the season's trailer. But this is no different from episodes like "B.A.N.," which broke from the traditional format in the first season to unfold as a half-hour of television that included Alfred appearing on a Charlie Rose-esque show to discuss hotly debated, touchy topics, complete with interstitials of commercial parodies. Perhaps a more fitting comparison would be the "Teddy Perkins" episode in season 2, which veered into horror territory with a Darius-centric story. The point is, Donald Glover, Stephen Glover, and Hiro Murai know exactly what they're doing here, and I'm interested to see if/how this sets the stage for what will happen throughout the rest of the season. Thankfully, we also get a taste of that with the second episode of the season that will immediately follow.
'Sinterklaas is Coming to Town'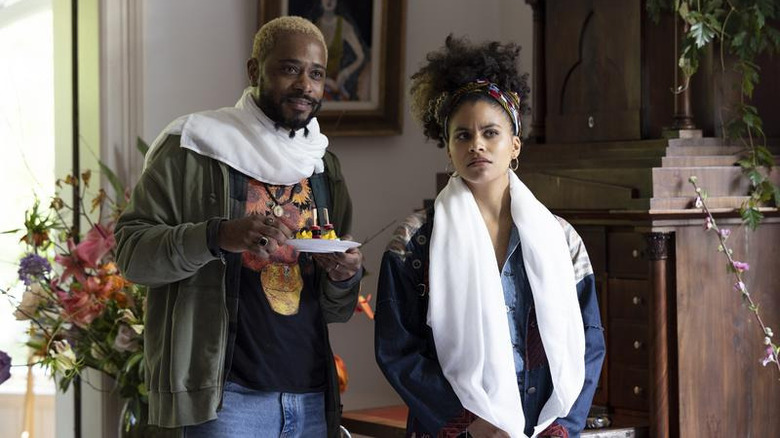 FX
Fans looking for a more traditional episode of "Atlanta" will get it with "Sinterklaas is Coming to Town," which allows us to catch up with Earn, Alfred, and Darius on tour in Europe. Specifically, they've just rolled into Amsterdam (literally and herbally, if you catch my drift). After Earn wakes up in the hotel of a European woman he seems to have hooked up with despite learning she doesn't seem to speak English, he realizes that he's on the verge of missing his flight, and he's misplaced his belt and underwear, which makes for quite the hilarious situation at the airport. 
This episode is more on speed with the typical format of "Atlanta," allowing for two separate adventures. The first features Earn arriving in Amsterdam and trying to figure out how Alfred landed himself in jail, forcing him to get $20,000 in order to bail him out. In turn, Earn is unable to meet Van when she arrives to meet them, so he asks Darius to pick her up, which follows the two characters on their own journey for the first time, one that offers the kind of strange detour that you've come to expect from Darius-centric stories. In this case, an impromptu decision finds Van and Darius attending a peculiar gathering, and you'll just have to watch the episode to learn more about that.
If I were to wager how this episode follows in the footsteps of the jarring but stellar first episode of season 3, the answer may lie in the recurring presence of Black Pete, the companion of Saint Nicholas (Santa Claus) that originated in Dutch culture who keeps popping up around Amsterdam because it's Christmastime. The problem with Black Pete is that he's always depicted as a blackface character with red lips, appearing as an offensive caricature of Black people (you might remember him from an episode of "The Office" that has since been edited). If there's a connection to be made between these first two episodes, it's in the disregard of Black identity, and the reframing or total erasure of it for the convenience of white people. That might be a shot in the dark, but considering the conversation Earn and Alfred have with their Amsterdam driver when Black Pete is explained to them, it just makes sense. 
Undeniably great television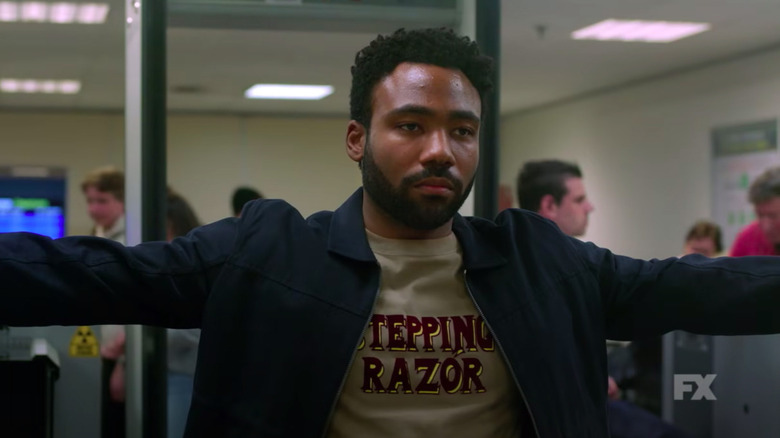 FX
What both of these episodes also have in common is creating a sense of the unfamiliar. With the first episode, it's the audience who is thrown off-kilter by an episode that may be the most unique and challenging of the series so far. I mean, it's a season premiere that has nothing to do with any of the main characters. That takes a level of confidence that I haven't seen on television in years. Meanwhile, the second episode throws our characters into uncharted territory. Even though they've already been touring in Europe by the time we catch up with them, they're still navigating completely different countries and cultures all the time. That's why Al is floored when the prison he's in feels more like a nice bed and breakfast, even if he's not surprised by the threesome with two women that turned into a catfight that trashed his hotel room and landed him there. But that's nothing compared to what Van and Darius encounter in their detour.
Outside of those thematic elements, we also have the ongoing evolution of Earn's professional relationship with Alfred, as his profile as Paper Boi continues to grow. Even though Alfred may have told Earn that he needs the dedication that only a family member could give him as his manager, it remains to be seen if Earn can handle it. If this episode is any indication, he's got his work cut out for him the rest of the season.
All-in-all, the third season premiere of "Atlanta" is undeniably great television that delivers what fans have come to love about the series while still pushing the boundaries of what the show can be. Even though it has a primary narrative unfolding, the series producers are never afraid to take the time to tell a strange but necessary story, even if it doesn't aim to obviously or directly progress the overall story. "Atlanta" is exactly the kind of TV show you want to see endure, so it's a bummer that the fourth season, which has already been completed, will be the show's last. We'll just have to savor every second of this hilarious, surreal, profound, and first-class piece of entertainment while we can.
"Atlanta" season 3 premieres on FX with the first two episodes starting at 10:00 PM ET/PT on March 24, 2022.