Lost Ollie Trailer: A Favorite Toy's Odyssey To Get Home To His Kid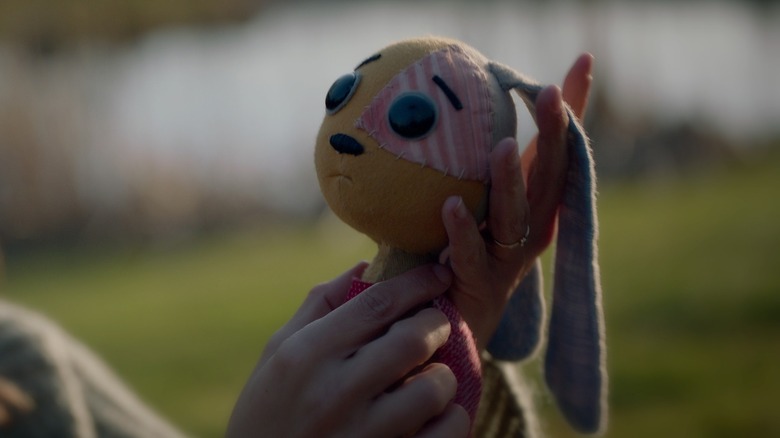 Netflix
If your heart has even the tiniest spark of warmth in it, prepare to find your eyes misty as you watch the new trailer for the Netflix limited series "Lost Ollie." Based on the 2016 children's book by author and illustrator William Joyce, "Lost Ollie" is the story of a little boy who loses his very favorite toy, a little patchwork bunny named Ollie. The tiny stuffie loves his friend, and will do anything to get back home to him. If you're feeling shades of "Toy Story," you're not alone, but there is something about stuffies as opposed to action figures that just get some of us in the gut a little bit more. 
"Lost Ollie" has a great cast, with "Frozen" star Jonathan Groff as the voice of the bunny, Mary J. Blige as Rosy, Tim Blake Nelson as the voice of Zozo the clown, Gina Rodriguez as Momma, Jake Johnson as Daddy, and Kesler Talbot as Billy, Ollie's best friend. The series consists of four 45-minute episodes, and comes to us from series creator/writer/executive producer Shannon Tindle ("Kubo and the Two Strings," "Coraline"), and director, executive producer, and Academy Award-winner Peter Ramsey ("Spider-Man: Into the Spider-Verse"). 
Lost Ollie trailer
It's nice to see something innocent and sweet that might make you believe in magic for a few minutes today, though it's hard not to have your heart break for little Ollie and Billy. This is coming from someone who still has her first teddy bear though, so take that as you will. One can assume that this will have a happy ending, and we could all use one of those right now. Netflix has also released a new poster for the series. 
According to What's On Netflix, Industrial Lights & Magic created the CGI creatures for the series. "Lost Ollie" is executive produced by Shawn Levy, Emily Morris, and Josh Barry from "Stranger Things," with 21 Laps Entertainment, and Academy Award-winning designer Brandon Oldenbrook.
Here is the official synopsis for "Lost Ollie:"
Lost Ollie is an epic adventure about a lost toy who braves the many dangers of childhood as he searches the countryside to reunite with the boy who lost him; and the story of the boy who lost more than a best friend. It's a heartwarming tale for the child in us all, remembering those special souls that we've lost but who forever changed our lives.
"Lost Ollie" will premiere on Netflix on August 24, 2022.