Clips Round-Up: Netflix's Super Giant Robot Brothers Squabble, Jim Gaffigan Gets Serious In Collide & More [Exclusive]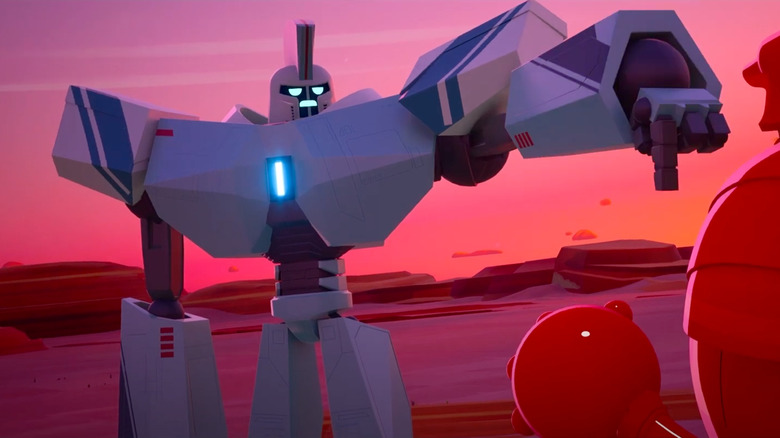 Netflix
(Welcome to SlashClips, a series where we bring you exclusive clips from hot new Digital, Blu-ray, and theatrical releases you won't see anywhere else!)
In this edition:
Super Giant Robot Brothers 
Collide
My Favorite Girlfriend
Allegoria
Givers of Death
Super Giant Robot Brothers
First up, we have an exclusive clip from Reel FX Animation Studios' new series "Super Giant Robot Brothers," which premieres on Netflix on August 4, 2022. The 3D animated action-comedy is about giant robots that must save the world from invading kaiju while overcoming their own sibling rivalry.
Here is an official quote about the series from executive producer Steve O'Brien, the CEO of Reel FX:
"It's an exciting time in animation, and this show is a testament to where the craft is going and how newly deployed technologies can impact a finished product that is completely unique to television audiences. Our work with Unreal Engine sets a new innovation standard for television production, and I'm so proud of what our team has achieved in making Super Giant Robot Brothers. We hope that the story of Shiny and Thunder resonates with kids and families because their story is just beginning!"
Here is the official synopsis:
Once the squabbling stops, the battling begins! "Super Giant Robot Brothers" is a 3D animated action-comedy that follows hilarious robot siblings — Shiny and Thunder — as they work together to defend Earth when space monsters attack.
Collide
Next up is an exclusive clip featuring comedian Jim Gaffigan showing off his serious side in "Collide," a drama that Vertical Entertainment will release in theaters on August 5 and on demand August 12, 2022.
Here is the official synopsis:
A gripping thriller chronicling three couples over the course of one fateful night in an L.A. restaurant. Hunter (Ryan Phillippe) finds himself on an awkward blind date with the captivating Tamira (Kat Graham), while a busboy (Dylan Flashner) and his girlfriend (Aisha Dee) are hiding mounds of cocaine to score a big payday, and outside, Peter (Jim Gaffigan) sits in his car observing his wife's (Drea de Matteo) infidelity with the restaurant's manager (David Cade). Though all strangers, their stories are weaved together as they hurl towards an explosive end.
My Favorite Girlfriend
Saban Films has provided us with an exclusive clip from the romantic comedy "My Favorite Girlfriend," featuring Bonnie Piesse of the "Star Wars" prequels as well as the recent "Obi-Wan Kenobi" series on Disney+. The new film will be available in select theaters August 5, 2022 and on demand and digital August 9. 
Here is the official synopsis:
"My Favorite Girlfriend" is a sparkling, romantic comedy with a unique twist, starring Tyler Johnson ("Sons of Thunder") and Bonnie Piesse ("Obi-Wan Kenobi") from writer/director Amanda Raymond ("You Are My Home"). It's complicated for new couple Conrad and Molly. He's a handsome, aspiring chef who leads a perfectly structured life. She's a cute, bubbly social media influencer prone to spontaneity. The attraction is immediate for the mismatched duo and everything is going great until Southern charmer "Vanessa" shows up. Followed by bad-ass rocker "Silk," and more. The woman of Conrad's dreams is actually several of them. Molly has multiple personalities which can switch in a heartbeat. Is he cheating on Molly if he has sex with "Silk?" And can he choose a favorite when he loves them all?
Allegoria
Directed by frontman Spider One of Powerman 5000 fame, the new horror film "Allegoria" stars Krsy Fox, Adam Busch, Bryce Johnson, and Scout Compton. As of today, the movie is now available both on demand and streaming on Shudder.
Here is the official synopsis:
A group of artist's lives become unwittingly entangled as their obsessions and insecurities manifest monsters, demons and death.
Givers of Death
Finally, we have an exclusive clip from the sci-fi thriller "Givers of Death," featuring Addison Henderson, Josie DiVincenzo, and Richard Lambert. Having premiered at the American Black Film Festival, where it secured multiple nominations and won best screenplay, the film is coming to select theaters, VOD, and digital on August 5, 2022.
Here is the official synopsis:
"Givers of Death" ("G.O.D.") is a gritty, post-apocalyptic story set after an incurable virus has obliterated one third of the earth's population. Many infected commit suicide to end their agony. Those who cannot bring themselves to end their own lives hire professionals. The film is about one "hitman's" quest for peace as he navigates through a city on the brink of collapse, while on the run from what remains of local law enforcement.