That '70s Show Aimed To Emulate Two Legendary Sitcom Classics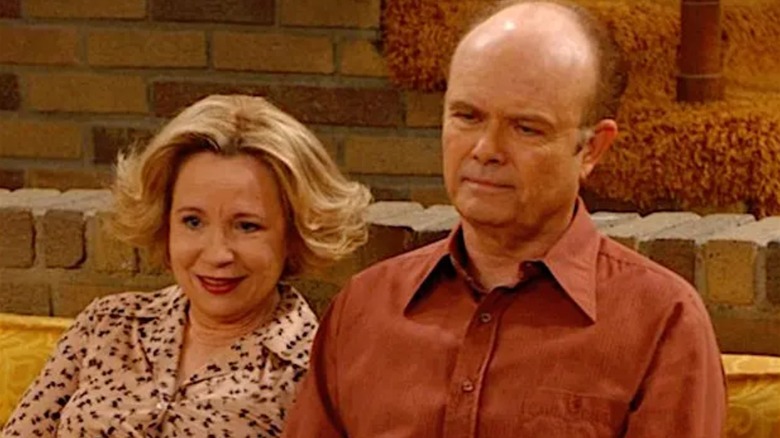 20th Television
The sitcom format, more than most, asks shows to build upon the work of their predecessors, laying new pieces atop an already-solid existing foundation. American TV sitcoms are almost always in communication with one another. They share punchlines, archetypes, and laugh tracks, but also respond to one another's innovations and cultural shifts. Every sitcom since the early days of television can be counted on to pull from a sitcom that came before it.
When it comes to "That '70s Show," the nostalgic Fox comedy that ran from 1998 to 2006, the show's period-specific setting allows it to wear some of its sitcom influences on its sleeve. According to co-creator Mark Brazill, he and fellow creators Bonnie and Terry Turner had two series in mind when they were putting the show together: "All in the Family" and "Roseanne." Brzaill identified the two sitcom touchstones as major influences in an interview with the LA Times during the show's heyday.
"That's what we were hoping for," Brazill said. "Not to obviously do those two shows, but because they seemed true and real and the humor came out of characters and real situations." Plus, the executive producer added, "both of them were families. That's at the core of it."
While most sitcoms arguably involve families and real situations, the influence of these two particular shows on "That '70s Show" is plain to see. Norman Lear's 1971 classic "All in the Family" remains one of the most acclaimed shows of all time, and while the series frequently tackled tougher topics than hangout show "That '70s Show" tended to dig into, the two share a familiar character type. Red Foreman (Kurtwood Smith), the no-nonsense Korean War vet who's constantly threatening to put his foot up some hippy teenagers' rear ends, clearly contains echoes of the infamous "All in the Family" patriarch, Archie Bunker (Carroll O'Connor).
A '70s classic and a '90s hit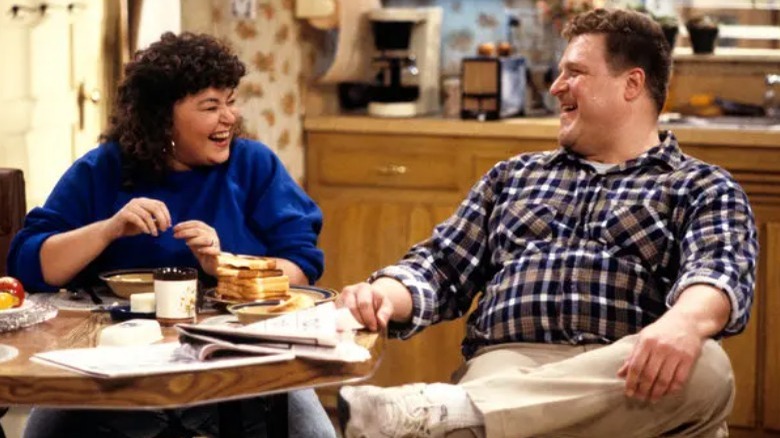 ABC
Archie was the prime-time face of prejudice for the nine-season run of "All in the Family," often clashing with the more progressive viewpoints of his family members, including feminist daughter Gloria (Sally Struthers) and son-in-law Michael (Rob Reiner). While "That '70s Show" doesn't try to reach the depth of Lear's series, it does pay direct homage to "All in the Family." In the season 2 episode "Kelso's Serenade," Donna (Laura Prepon) pictures a future in which himbo Kelso (Ashton Kutcher) and type-A Jackie (Mila Kunis) get married. In her daydream, the pair are inexplicably dressed as Michael and Gloria, while Donna and boyfriend Eric (Topher Grace) take on the Archie and Edith roles.
For a throwback series like "That '70s Show," it makes sense that producers seeking inspiration look backwards, to the shows a '70s audience like the series' main characters would be watching. But it also makes sense for them to look at the shows that were a major part of the pop culture zeitgeist around the time of their series' development. In the late '90s, that was "Roseanne." The Roseanne Barr-led series ended the year before "That '70s Show" started, and the pair even shared some executive producers. Both Marcy Carsey and Tom Werner produced "Roseanne" before working on "That '70s Show." While the two shows don't have too many specifics in common, both involve working-class families that are sometimes brutally and hilariously honest with one another.
"That '70s Show" built its blueprint on two sitcom greats, and now an intirguing new series will build its own blueprint from the original show 15 years later. Series spin-off "That '90s Show" is set to air on Netflix, reuniting Smith, Grace, Kunis, Prepon, Kutcher, Debra Jo Rupp, and Wilmer Valderamma, alongside an all-new cast of teen characters.