Robin Williams Found A Clever Way To Sneak Material Past Mork & Mindy's Censors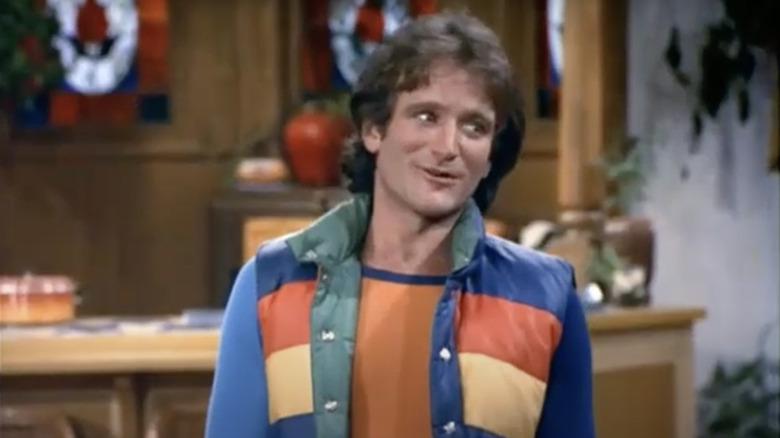 ABC
Long before Robin Williams portrayed everyone's favorite nanny in "Mrs. Doubtfire" or the Genie with a thousand voices, he was Mork from Ork. First introduced on "Happy Days," Mork was an eccentric alien from the planet Ork, who was sent to Earth to learn about primitive civilizations. This was the perfect platform for Robin Williams to show off his unbelievable talent on riffing on just about anything — pop culture, politics, and pretty much every other subject you can imagine.
The premise of an alien invading the idyllic times of "Happy Days" sounds nuts, but the audience loved it. After his appearance on the show, Mork was such a success that he got his own spin-off, titled "Mork and Mindy.
In an interview with Pioneers of Television, Williams (who passed away in 2014) reminisced about the show, and how he managed to get his outrageous ad-libs past censors.
'I got the gig'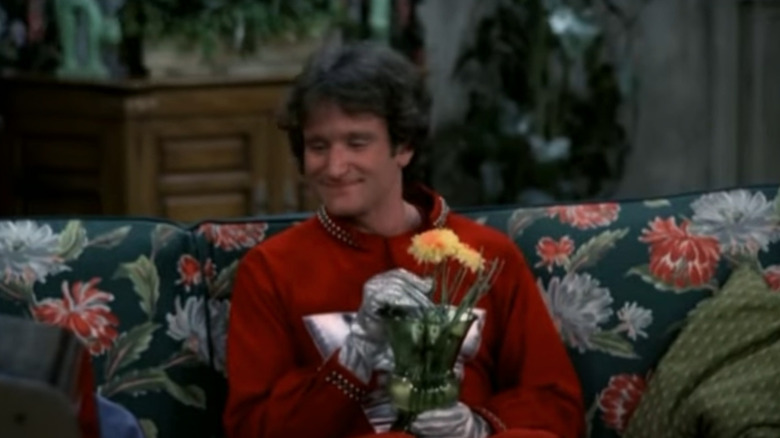 ABC
According to Williams, "Happy Days" creator Gary Marshall created Mork at the suggestion of his son, who'd just had his mind blown wide open by a little known sci-fi fantasy flick called "Star Wars." Marshall ran with the idea, and began auditioning comedians for the role. When he spoke to Pioneers of Television, Williams recalled his experience auditioning for the part:
"I went in and basically just started talking in a weird helium voice, and sat on my head, and started off just playing because I went 'what have you got to lose?' And they went, 'Yes.' And I went 'Serious?' So, I got the gig."
After appearing in two "Happy Days" episodes, Mork was given his own show, "Mork and Mindy," where audiences got their first taste of Robin Williams as a leading man. The family-friendly "Happy Days" gave Robin Williams his big break, but as a stand-up comedian he preferred naughtier material. And back in '78, the censors were always watching and listening. However, Williams found a cunning way to sneak material past them.
'She knows what that means'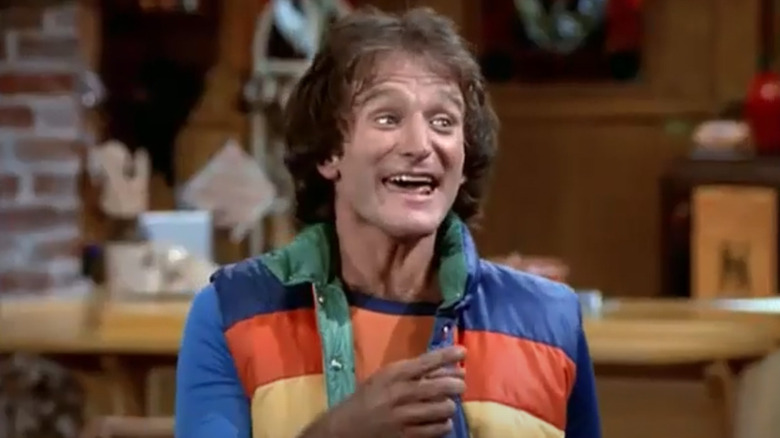 ABC
Williams was given a lot of room to ad-lib on the show, which was a great way to take advantage of his natural comedic talent. But the actor often ventured into risque territory that wasn't allowed on television. Williams didn't seem to care too much for the censorship, and admits to using foreign languages to sneak in the dirty stuff:
"Eventually they had to have a censor who spoke three or four different languages because I was sneaking things in in different languages. They went 'she knows what that means.' Really? Oh, sad. Because I was using – sometimes Mork would speak Yiddish, 'Was machst du, Mindy?' There must have been some Hassidim watching, 'Thank God, it's Thursday, we can watch!' But the idea that, you know, we would try different things, and it was just kind of to see what could get under the radar."
Most of what he tried to sneak in was surely caught by the censors, but I like to imagine he got one or two past them. There are many things to respect about Robin Williams, and we can add this to the list: he was undeniably hilarious, uniquely creative, and capable of making dirty jokes in enough languages to require the employment of a multi-lingual censor.