Ron Howard Was Intensely Committed To Getting Thirteen Lives' Cave Scenes Right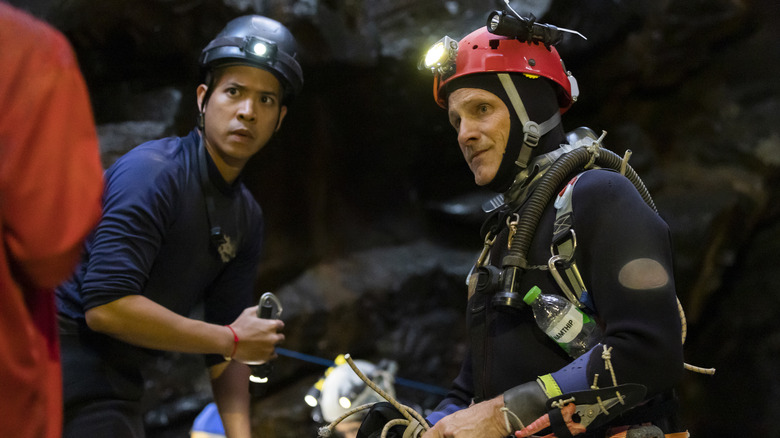 Prime Video
In June of 2018, a 12-member youth football team and their 25-year-old coach decided to spend the afternoon spelunking following a day's practice. They entered the Tham Luang Nang Non cave, located in the north of Thailand. While the kids, aged 11 to 16, were all deep inside the cave, the rains began outside, causing massive flooding and blocking their exit. They were trapped. A rescue crew was called in, but the flooding made the rescue efforts incredibly difficult. The story of the trapped kids soon made worldwide headlines, attracting thousands of aid workers and on onlookers. Also present were a pair of British divers who explored the underwater passages and eventually found where the football team had been trapped. The clock was ticking, as monsoon rains were sure to strike in a few days, which would leave the team stranded for months. Through a massive water pumping effort and a merciful lightening of rain, the team was eventually extracted. They had been trapped for 18 days. 
If you think this sounds like the stuff of Hollywood melodrama, director Ron Howard agrees with you. His new film "Thirteen Lives," now playing in select theaters and due on Amazon Prime on August 5 (and starring Colin Farrell, Viggo Mortensen, Joel Edgerton, and Sukollawat Kanarot), dramatizes the events of the Tham Luang cave rescue with a great deal of panic and authenticity. Howard, concerned with authenticity, worked closely with Rick Stanton, John Volanthen, the aforementioned British divers, as well as Jason Mallinson an additional rescuer to not only get first-hand accounts of the experience, but to map out the Tham Luang Nan Non cave accurately. 
In a recent interview with Collider, Howard explained his process of obtaining accurate information, and why it was so important. 
Calling in a few favors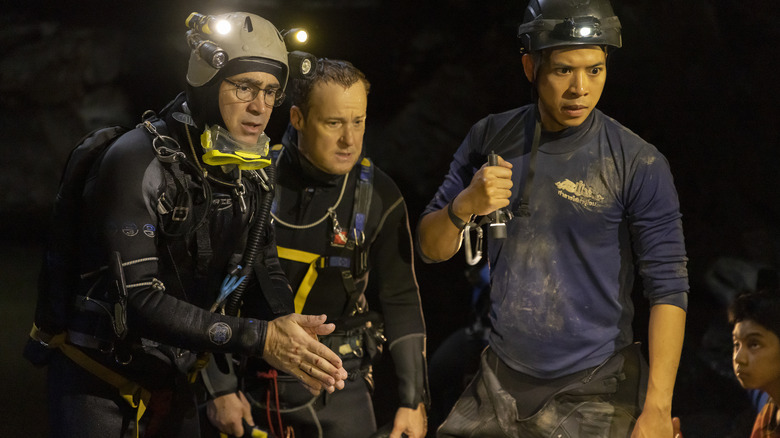 Prime Video
Ron Howard had a few favors he was able to call in. Just prior to production on "Thirteen Lives," Howard had made the 2020 National Geographic documentaries "Rebuilding Paradise," about the aftermath of the horrendous wildfires in Paradise, California, and 2022's "We Feed People," about chef José Andrés and the World Central Kitchen's efforts to bring food to disaster-stricken areas. The people at National Geographic had, evidently, recorded information on the Tham Luong caves that Howard wanted to use in creating an accurate map, hoping to replicate the exact geography of the cave:
"Rick, John and Jason were incredibly valuable because there's not much video footage of that. There were some schematics that we were able to get. Nat Geo loaned them to us because Brian Grazer and I have done a lot of work with them, but they were schematics made of the cave when it was dry. The trick in condensing this to get a movie, and making it something visceral, entertaining, and suspenseful, is to find those key points and those breaking points that really were do-or-die, physically or emotionally."
Howard walked Stanton, Volanthen, and Mallinson through the schematic provided him by National Geographic, and gauged their reactions, finding which moments of panic or struggle would make for the best cinema. Howard learned a lot about what goes into an underwater rescue, and would have to educate the audience as to what kind of techniques are required — and also why a sudden bend or lack of visibility might provide a specific problem for the unique vocation of cave rescue.
The drama above, the drama below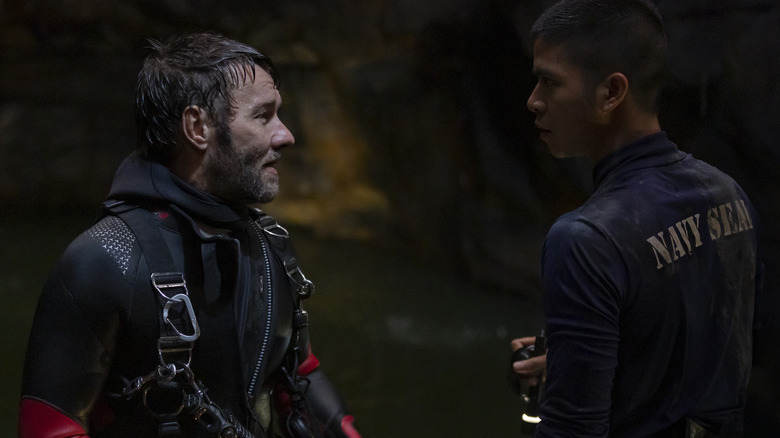 Prime Video
Howard then blended what the rescue divers told him with his own personal research as to what was happening in the villages outside of the cave. He then timed out the underground drama with above ground drama to create as effective a Hollywood tension machine his talents permitted. Luckily for Howard — an old-world Hollywood stalwart with a history as a child actor, a B-movie director, and an Oscar-winning maker of prestige dramas — the true story of the Tham Luong cave disaster provided enough real-life drama that he wouldn't be required to manufacture much for dramatic effect:
"We went through the caves and the guys would just point it out and say, 'This was particularly difficult. Here's where a mishap happened. There was a surprise here. This is the way the current changed. This is how the visibility shifted.' We just kept taking notes and building sequences around that. And then, through the research, I started learning more and more about what was going on, up on the mountain, with the village elders and the volunteers there, and that was another aspect of exploration."
Howard, as a documentarian might, also educated himself on the mechanics of the water pumping efforts — the water diversion program — above ground, and found that it was actually massively complicated. Indeed, setting up and operating the pumps, moving earth, drilling, and everything else required for rescue caused several injuries among the local aid workers. Howard found that life above was just as dramatic as the diving below. 
Panicking as parents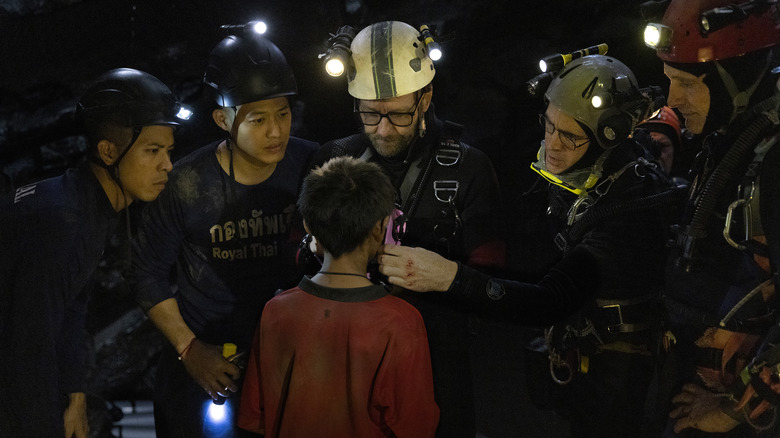 Prime Video
Howard, in exploring that above-ground drama, again wanted to find the most dramatic aspects of the rescue. Not only was the water diversion complicated, but some of the kids below had parents waiting above. Howard, 68, has four children himself (and grandchildren besides), so delving into the panic of a missing child must have been something he, like any parent, could relate to:
"That was something I didn't know anything about, and with that water diversion program, people got injured. The stakes were just as high for them, as for anyone functioning around the cave. I thought it was very important to convey that, as well. And then, it was about trying to connect with the most relatable set of characters in the entire film, the parents. We all wonder what it would be like, to go through that." 
"Thirteen Lives," while a scripted film — William Nicholson wrote the screenplay — is Howard in half-in-half-out documentarian mode, attempting to capture authenticity with local performers and actual schematics of the cave in question. All while plying his talents as a lover of big, slick Hollywood melodrama. Howard, it seems, wanted to honor the struggle and the injury suffered during the effort. Not only were several people injured in the Tham Luong cave rescue, but two of the rescuers died. Both Thai Navy SEALS, Saman Kunan asphyxiated during the rescue and Beirut Pakbara contracted a blood infection that eventually killed him a year later. Kunan is played by Kanarot in the film.