J.J. Abrams Helped Add A Level Of Absurdity To Con Air's Script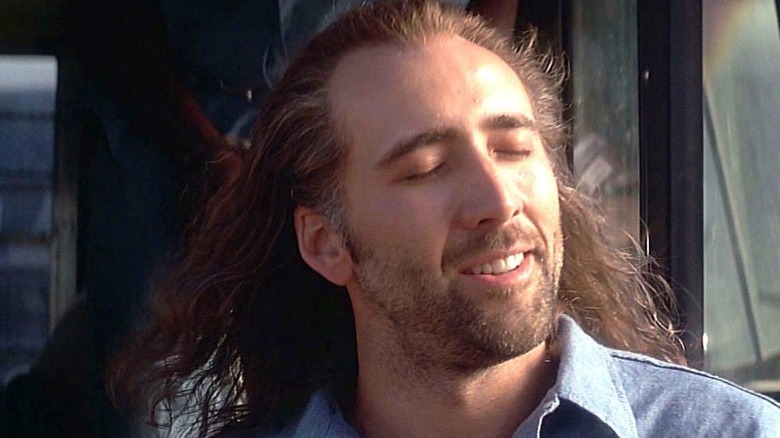 Touchstone Pictures
"Con Air" is an outrageous movie, filled to the brim with aerial action set pieces that destroy the laws of physics, villains with names like Cyrus the Virus and Diamond Dog, and the majestic, flowing locks of one of the most iconic Nicolas Cage hairdos. The thing is, a sizable chunk of that ludicrousness was actually intentional, as producer Jerry Bruckheimer hired the up-and-coming J.J. Abrams to polish the script's comedic material.
Scott Rosenberg's original premise for the film had Nic Cage's character Cameron Poe as a street criminal that, like in the final draft, was hitching a ride on a prison transport plane to return home and see his daughter. Bruckheimer and Cage changed Cameron to become a former Army Ranger that fought in the Gulf War so that there was no question he was more moral than his co-passengers, who consisted of murderers, terrorists, and at least one rapist. Director Simon West happily indulged Bruckheimer's desire for chaos, claiming that he would turn Rosenberg's one-line ideas into filmable anarchy.
A pretty ridiculous movie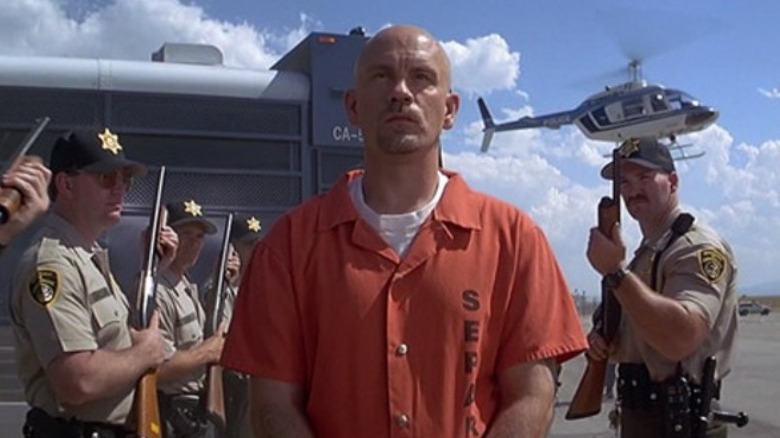 Touchstone Pictures
West's high-octane work with Bruckheimer earned him the nickname "the enlarger" from Rosenberg. In a profile detailing the making of "Con Air" for the film's 25th anniversary published in "Empire" magazine, the writer calls his work "a pretty ridiculous movie," fully aware of how nonsensically bombastic it is. He says of the tone of the film:
"We weren't really quite sure if we were making a Jerry Bruckheimer movie or taking the p*** out of a Jerry Bruckheimer movie. We weren't sure what Jerry thought."
Bruckheimer clearly wasn't too offended since he hired J.J. Abrams, who he knew from his writing work on "Armageddon," to punch up the jokey dialogue. "On any other day that might seem strange," Cameron blankly states when he sees the plane he's riding drag a Corvette into the air, a dryly humorous Abrams addition. (Whether the name "Cameron Poe" inspired "Poe Dameron" when Abrams was writing "The Force Awakens" almost two decades later is a mystery.) Abrams had previously written the critically panned comedies "Taking Care of Business" and "Gone Fishin,'" but his relationship with Bruckheimer would surely influence his later bantery action work like "Mission: Impossible III" and "Star Trek."