Locke & Key Season 3 Trailer: Pirates And Time-Travel And Demons, Oh My!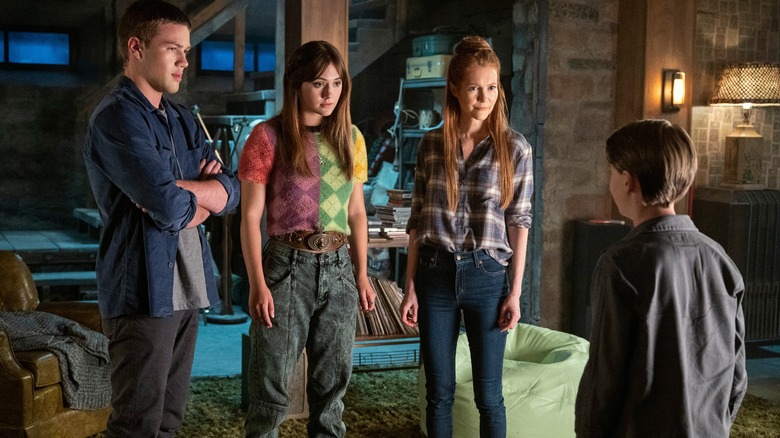 Netflix
One of the best comics of the 2010s, "Locke & Key" is a horror coming-of-age adventure like no other. Sharply written by Joe Hill, and exquisitely illustrated by Gabriel Rodríguez, it combined horror and fantasy while delivering an endearing teenage story about forgiveness and family. Despite its massive popularity, however, the comic had a rather rocky road to the screen, with two failed pilots and a movie trilogy that never made it past development. 
That ended in 2020 when Netflix premiered the first season of its own live-action adaptation of "Locke & Key." That adaptation remixed the source material in interesting ways, expanding on things the comic left vague, and increasing the teenage side of the story. Sadly, the show was also plagued by a drastic change in tone that changes the entire experience of the story, trading horror for magical whimsy. Still, when it worked, it worked like gangbusters.
The series revolves around the Locke siblings, who discover a set of magical keys at their ancestral home that expose their murdered father's mysterious past. As cool as the keys are, they also unleash demonic forces that will stop at nothing to get their hands on the keys and wreak havoc on the world.
"Locke & Key" season 2 essentially finished adapting the original comic, bringing an end to the story of the Locke siblings versus the demon Dodge, while also opening the door for a series-original conclusion we'll be able to see very soon.
The beginning of the end
The trailer for season 3 of "Locke and Key" reiterates the coming threat of Kevin Durand's badass British captain from colonial days. New is the idea that he is not just hoping to open the black door and access the other dimension full of demons, but he's apparently opening new portals around town like he's Vecna in "Stranger Things."
Most exciting is that the show is finally going to introduce the Timeshift Key from the comic, which allows the user to observe past events thanks to a magic clock. The trailer focuses a lot on the clock, so it would seem the new season will have a big time-travel focus. Also based on the trailer, the key's powers are slightly different in the show, as we see moments not from the distant past but from last season play out again. Maybe instead of just observing the past, the season will see characters change it? That's both a very interesting idea and one that could easily derail the story.
"Locke & Key" returns for its third and final season on Netflix August 10, 2022.