Baz Luhrmann Brought Austin Butler To Tears To Get Him Into Character For Elvis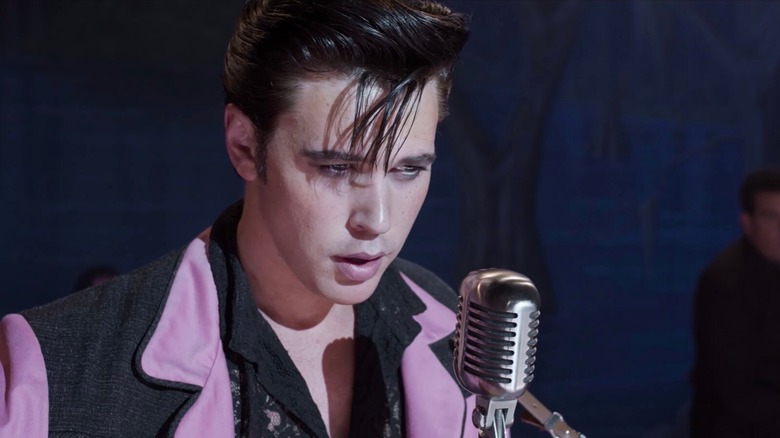 Warner Bros.
Baz Luhrmann is an eccentric filmmaker whose ambition makes his projects feel larger than life. His 2022 "Elvis" biopic is a testament to his intense passion for telling stories on an epic and massive scale. The man known as Elvis Presley is a subject more than worthy of Luhrmann's lens for grandiose storytelling. The nearly 2-hour and 40-minute runtime of "Elvis" is a testament to the lengths Luhrmann would go to attempt to show a complete picture of Presley and his impact on rock and roll music. The frenetic pacing and editing of the film paint Presley's life through scattered vignettes focused on different phases of Presley's career.
Austin Butler, who portrays Elvis in Luhrmann's film, went through a rigorous process to capture the essence of Elvis Presley. Beating out other prominent actors like Miles Teller and Harry Styles for the role, Butler eventually mastered the mannerisms, vocals, and swagger that came with portraying the king of rock and roll. However, there was one key aspect Lurhmann wanted Butler to understand about Presley as a performer. For Lurhmann to get Butler into the mindset of Presley, he put the actor through an emotional wringer.
An emotionally taxing performance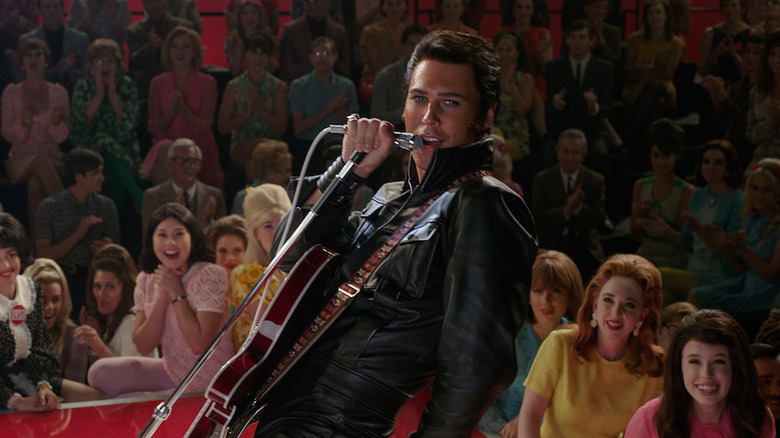 Warner Bros.
Speaking to VMAN about his portrayal of Elvis, Butler revealed that at one point Lurhmann had him perform in front of RCA executives:
"Well, when I was on my first day in the recording studio, Baz wanted me to get as close to performing as possible. He had all the executives and everybody from RCA, who were back in the offices, he brought them into the recording studio and he goes, 'I want you all to sit facing Austin,'...and he told them to heckle me."
Butler went along with the performance. Although this method seems extreme, it helped Butler realize and empathize with the real-life performer he was portraying. Presley undoubtedly received his fair share of criticisms, given his impact on the music industry. Butler's realization was an emotional one, as he described how it brought him to tears:
"So then they were making fun of me and stuff while I was singing. When we were filming this moment when Elvis first goes on stage and he's getting heckled by the audience, I knew what that felt like. I went home in tears that night. I really did."
Although methods involving heckling your actors are questionable, the empathy an actor develops for artists can't be bad, especially when channeled into a performance as eccentric and accurate as Butler's in "Elvis."