Robert Rodriguez Went The Extra Mile To Get His Alita: Battle Angel Director Gig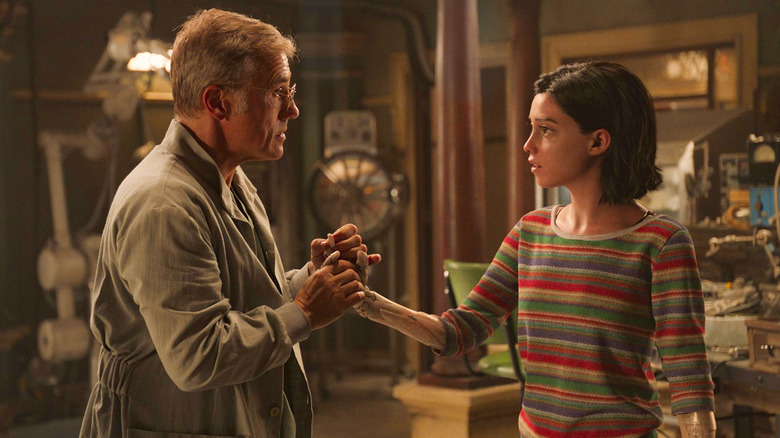 20th Century Studios
If the stretch of time between the 2009 phenom "Avatar" and its forthcoming sequels is any indication, James Cameron has zero problem waiting for technology to catch up to his vision — or even helping things along where he can. Cameron is a filmmaker who knows what he wants, and isn't afraid to wait for ideal conditions. Sometimes, though, this means Cameron is often waiting for a long time, even shelving his projects until the timing is right. That was the case for his long-awaited adaptation of the cyberpunk manga "Gunnm," known now by its official title "Alita: Battle Angel." The film finally got its release in 2019, but it almost was never released (or even made) at all, mostly because the technology just wasn't there when Cameron was first introduced to Yukito Kishiro's manga in 1999.
The project languished in development for almost 20 years — long enough for Cameron to spearhead a new era of filmmaking with "Avatar," but also long enough to give up hope of ever finalizing his 186-page script ... let alone the 600 pages of notes attached to it. "Alita" was always intended to be a massive project, but it almost became too big for even Cameron's own appetites. That meant that, if it were to ever see the light of day, it would need some serious TLC from a director Cameron trusted.
Enter Robert Rodriguez. The filmmaker has known Cameron for years, and despite two attempts to collaborate in the past, nothing had managed to crystalize quite like "Alita" eventually would.
A match made in battle heaven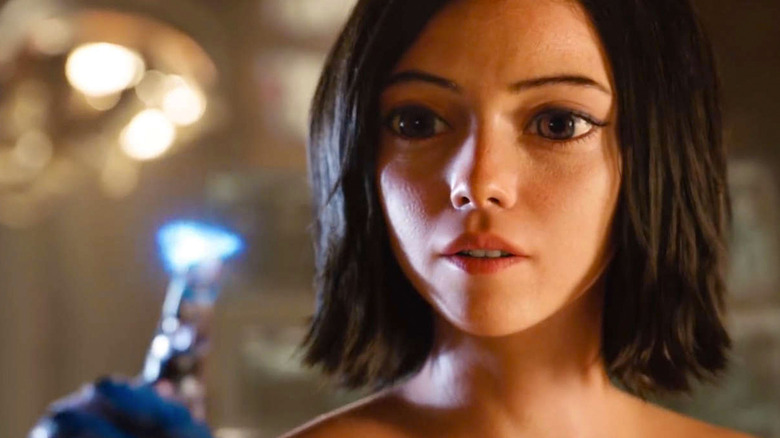 20th Century Studios
"Jim would rather put something in a drawer and not do it at all than do it incorrectly with the wrong director," Rodriguez told the Irish Times. His fierce commitment to a specific vision often limits the projects he takes on, but it's a commitment that Rodriguez shared with the "Terminator" director — despite their vastly-different styles of filmmaking. Rodriguez continued: 
"I saw his original drawings and they took my breath away. The main character had porcelain arms and huge manga eyes, and I thought, Wow, he's going full manga with this."
Cameron eventually approached Rodriguez with a seemingly-impossible challenge. "He said: if you fix the script for me, you can direct." Revisions took about a month of Rodriguez's time, and he wasn't exactly compensated for his efforts (not right away, anyway). But Rodriguez is notorious for his economical approach to filmmaking, so ironing out the kinks of Cameron's script for free was likely right up his alley. Plus, it majorly paid off: "A month later I come back and say: here you go, free of charge," Rodriguez said. "And he said: all right, it's yours."
And the wait begins again...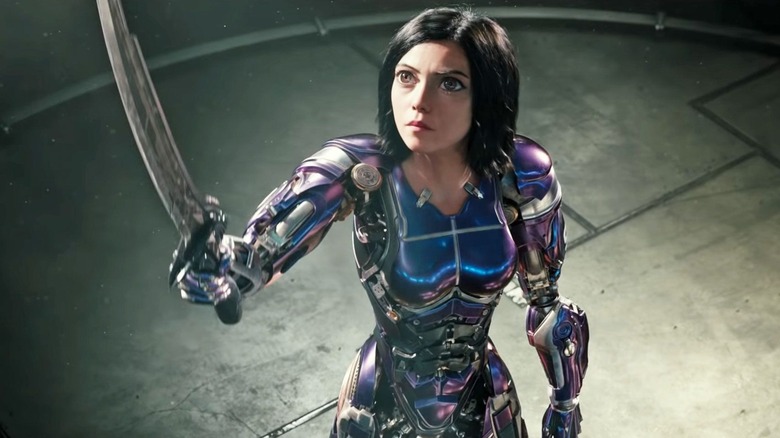 20th Century Studios
Rodriguez went on to direct "Alita: Battle Angel" with Cameron stepping back to produce. The process was challenging for both filmmakers, but their disparate sensibilities were ultimately a perfect match for the project. "Alita" earned a modest box office return and an equally-modest (but positively ride-or-die) fandom, the latter of which is still holding out for a sequel announcement any day now. Given how well things worked behind the scenes, it's possible that the Alita Army will be getting their wish eventually. Rodriguez, for his part, is more than capable of forging a path where none seems to exist. 
Let's hope it won't take another 20 years to reach fruition this time.