Network's Stars Weren't Too Thrilled About The Film's Frantic Love Scene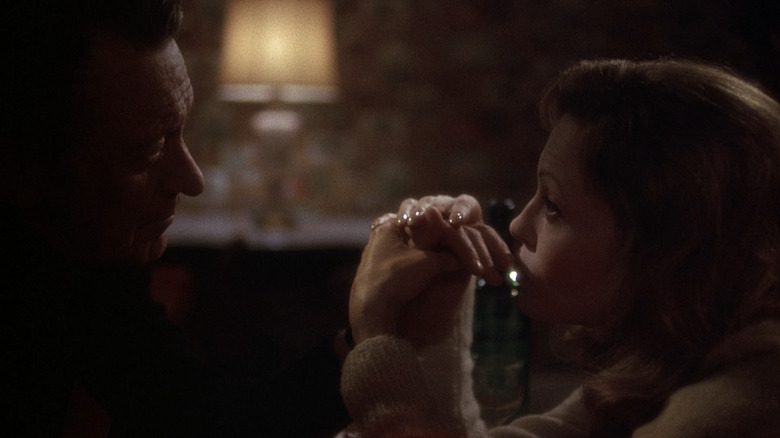 United Artists
We may receive a commission on purchases made from links.
Towards the end of Sidney Lumet's satirical masterpiece "Network," Diana Christensen (Faye Dunaway), the young television producer who can only process the world as if she were scheduling a night of programming, describes her relationship with older news producer Max Schumacher (William Holden) as, "Middle-aged man leaves wife and family for young, heartless woman. Goes to pot," as the two are finally breaking up. At a time when she should be properly emotionally devastated, television is the only thing on her mind.
This creation of a woman with a television ratings chart instead of a heart was entirely by design. In "The Making of Network" Blu-ray documentary featurette, Lumet recalls his first meeting with Dunaway about taking on the character of Diana and says:
"Before she said a word, I said, 'Faye, I know the first question you're going to ask me. You're going to ask me, "Where's her vulnerability?" And I'm telling you, here and now, she has none, and if you try to sneak it in, I'll cut it out in the cutting room.'"
The message was clear. This woman is all television all the time, and that extends out into any romantic relationships she may have, most especially in how she expresses her sexuality. One of the funnier moments of "Network" is when Diana and Max have sex, and the entire time she talks a mile a minute about the series she's developing with the radical Ecumenical Liberation Army and whether they will be implicated in a crime for making it. Her TV talk gets her so turned on that she climaxes after about ten seconds of coitus. It's an absolutely hysterical scene, but every element had to be incredibly precise for it to work, which Faye Dunaway found to be quite a challenging task.
'I could not afford to stumble on a single word'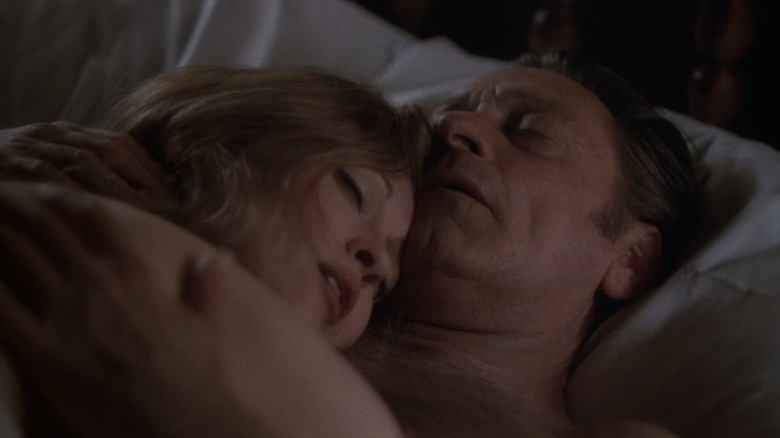 United Artists
The true onus of that scene falls way more on Faye Dunaway than William Holden. He doesn't speak a single line of dialogue in the whole thing. He just kisses her, takes off his clothes, and lies down in bed. She has to do all of that plus rattle off 197 words of television jargon and have an orgasm within the span of 110 seconds. It's a relentless scene, and Dunaway knew what a challenge it was going to be. As recounted in the book "Mad as Hell: The Making of Network and the Fateful Vision of the Angriest Man in Movies" by Dave Itzkoff, Dunaway said of the love scene:
"There is not a second of it when the dialogue stops ... The speed of it parallels the rhythm of their lovemaking ... I could not afford to stumble on a single word; it would have killed the momentum of the scene. It was the exact opposite of 'sex as chess.'"
The anxiety about it got to a point where she, according to producer Howard Gottfried, said, "I'm not going to do that scene. I don't have to do it," which she had the power to kibosh because the scene required nudity that he claims she didn't want to do.
While she admits to the dialogue struggle, Dunaway disputes she had any trepidation about the actual sex. It was actually William Holden who resisted it, saying, "He had a strongly held belief that making love was a private thing that should not be exposed by film." As Holden was a Republican nearing 60 that emerged in Hollywood's Golden Age, he was not accustomed to outright sex on screen. Dunaway was no stranger to it. Whatever their fears, both actors pushed them aside and created a stunning and hilarious movie moment that perfectly tees up the tonal whiplash of the next scene in which Beatrice Strait delivers a one-scene powerhouse dramatic performance that wins her an Oscar.