A Half-Baked Script Wasn't Enough To Sell Arnold Schwarzenegger On The Rock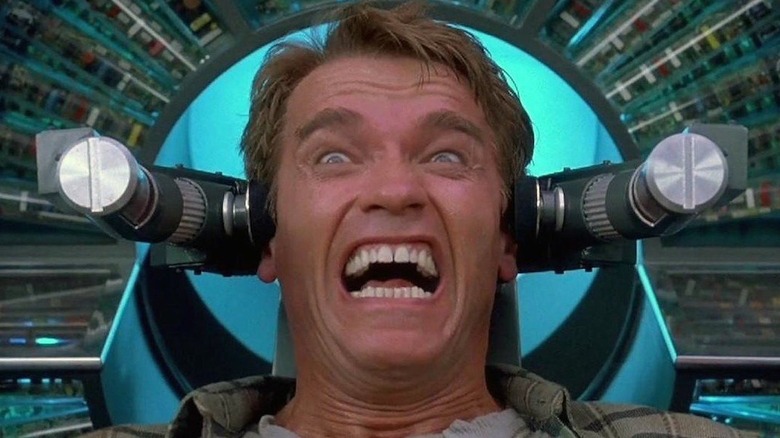 Hollywood Pictures
"The Rock," Michael Bay's gloriously over-the-top action hit from 1996, represents a transition stage for Nicolas Cage. Fresh off winning an Academy Award for "Leaving Las Vegas," Cage ventured into blockbuster territory in his follow-up project, then rode the success into nineties action movie stardom with "Con Air and "Face/Off" the following year. It turns out, however, that the already highly established action hero Arnold Schwarzenegger was initially offered Cage's part before turning it down based on the shoddy quality of its screenplay.
It's difficult to say at what point exactly in the writing process Don Simpson, the other of half of a producing pair that included Jerry Bruckheimer, approached Schwarzenegger with the script considering how many changes the story went through. David Weisberg and Douglas Cook, who wrote the original spec script, have screenplay credits alongside rewriter Mark Rosner. However, Jonathan Hensleigh, who also helped write the follow-up Bay/Bruckheimer hit "Armageddon," contributed to the script but never received his due credit, much to his and Bay's chagrin. "The Rock" was also an early project for two household names of screenwriting, Aaron Sorkin and Quentin Tarantino.
Can't Cage Arnold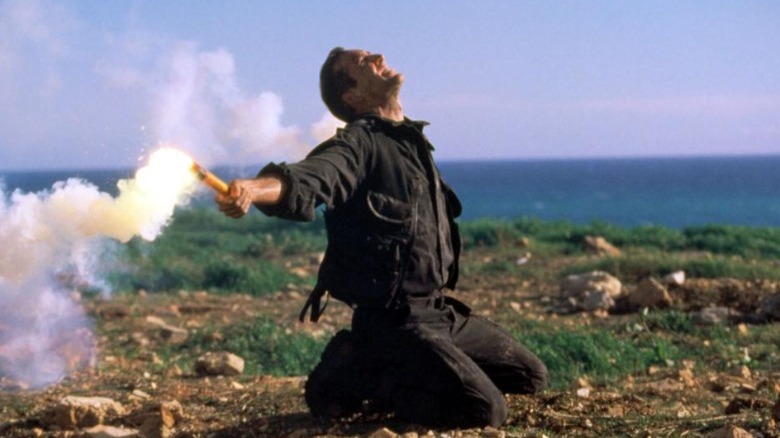 Hollywood Pictures
Schwarzenegger recounts his experience with Simpson in an "Empire" magazine profile, telling about how the producer showed him the script while "wiped out" and "totally stoned." This was clearly not a final draft based on what Schwarzenegger had to say about it, and Simpson seemed hesitant to even let him read the full screenplay, probably because it wasn't yet complete:
"He has 85 pages with him and there are handwritten notes all over it by Jerry Bruckheimer. He says, 'Here, look at this script. But don't read it! Just, here's what the premise is...' He was all over the place. I said, 'Look, Don. I can't make a commitment based on what you're showing me here. You won't even let me read the script! Why don't you bake it some more, develop it some more and then we'll talk again.' He was very upset. He just walked out and then went to Nicolas Cage with the part."
The curious part about this plan is that, for all of the macho attitude that Bay imbues "The Rock" with, Cage's role as nerdy FBI scientist Dr. Stanley Goodspeed contrasts with the rest of the film's gristle for both comedic and suspenseful effect. This is especially true of the relationship with his screen partner Sean Connery, who plays maximum security inmate and master-of-escape John Mason. Schwarzenegger is arguably too much of an action star to convincingly pull that off (case in point: his role as a "regular dad" in "Jingle All the Way"), so the switch to Cage was probably the right move, even if Cage himself thought the character wasn't macho enough. Ironically, there's a case to be made that Nic Cage's next roles as bona fide action heroes would have been better for Arnold, but that's a debate for another time.