The Daily Stream: Under The Banner Of Heaven Is About More Than Just Murder And Mormons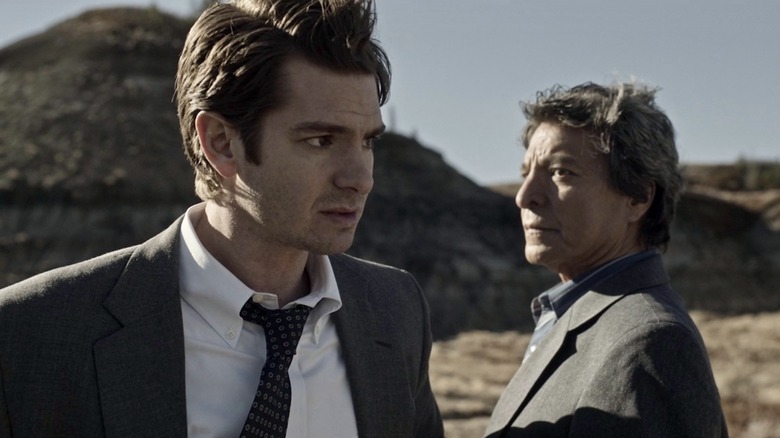 FX Productions
(Welcome to The Daily Stream, an ongoing series in which the /Film team shares what they've been watching, why it's worth checking out, and where you can stream it.)
The Series: "Under the Banner of Heaven"
Where You Can Stream It: Hulu
The Pitch: Andrew Garfield stars as Mormon detective Jeb Pyre, who undergoes a crisis of faith as he investigates a double homicide and comes to terms with his own religion's buried secrets. The unthinkable crime against a young mother, Brenda Lafferty (Daisy Edgar-Jones), and her 15-month-old daughter draws Pyre and his Paiute partner, Bill Taba (Gil Birmingham), into a web of lies, hypocrisy, and fanaticism in '80s Utah.
Created by Dustin Lance Black, who won the Oscar for Best Original Screenplay for "Milk," "Under the Banner of Heaven" is a seven-episode limited series adapted from Jon Krakauer's nonfiction book of the same name. The series continues Garfield's predilection for playing religious characters — seen also in the films "Silence," "Hacksaw Ridge," and "The Eyes of Tammy Faye" — and it's one of those stories where the basic facts of the real-life case were already out there beforehand. Over the course of seven hours (and these are full, slow-burn hours, as opposed to 40 minutes plus commercials), it shapes up accordingly as less of a whodunit and more of a character study and a highly personal interrogation of religious and political fundamentalism. As Brenda marries into the Lafferty family, she has no way of knowing just how seriously some of them take the throat-slitting gesture they perform as a wedding ritual.
Why it's essential viewing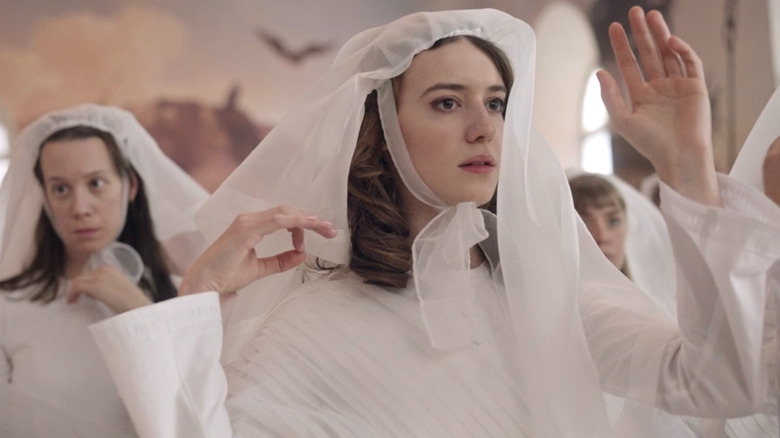 FX Productions
One of the most interesting, offbeat aspects of "Under the Banner of Heaven" is how it weaves in reenactments of Mormon history alongside flashbacks to events leading up to the murders. Pyre is considered the head of his family and thereby a "priesthood holder" in the Church of Jesus Christ of Latter-Day Saints. But as he questions Brenda's husband, Allen Lafferty (Billy Howle), he begins to realize how little he knows or just how much he has overlooked about the roots of his own religion.
It leaves the layman viewer, who might know even less about this American grown faith called Mormonism, primed to go down an online rabbit hole reading about figures like Joseph Smith, Brigham Young, and the Laffertys. This is something I found myself doing a bit here and during the recent AMC series, "Dark Winds," which also alluded to the troubled history between Native Americans and the early Mormons.
"Under the Banner of Heaven" draws a parallel between the self-serving desires of historical and modern patriarchs and how those can too often be misconstrued as divine purpose. Characters talk about listening to the "still, small voice" of God, but the danger arises when a person starts to favor their own inner voice and literal interpretation of religious texts — or documents like the U.S. Constitution — over the welfare of others.
When Dan Lafferty, played by Wyatt Russell, becomes obsessed with undoing constitutional amendments and other progress made in society in favor of originalism, it's something with direct applications to what is going on in the country in the here and now. Polygamy is a placeholder; it could also stand in for more pressing contemporary issues like abortion, gay rights, and gun control.
The me-first perils of faith gone wrong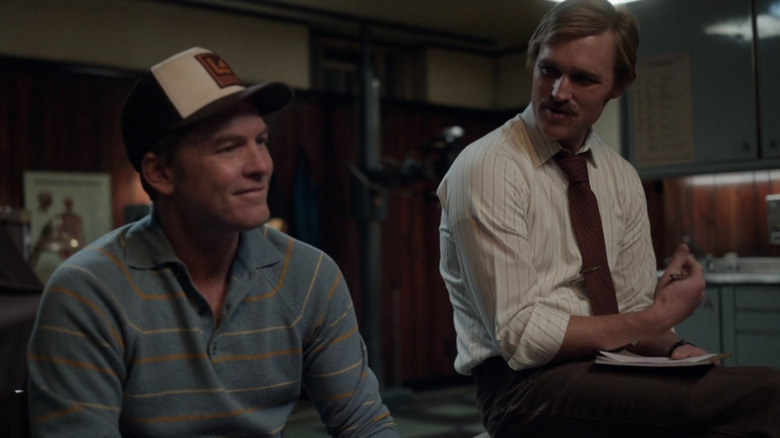 FX Productions
Russell has played unhinged, menacing characters before (with his turn as U.S. Agent in "The Falcon and the Winter Soldier" being one recent example), but here, he's in top form, as is Sam Worthington as older brother Ron Lafferty. I say that as someone who never much cared for Worthington's previous work in blockbusters like "Avatar" and "Terminator Salvation," and who did not even realize until recently that Wyatt Russell is Kurt Russell's son (despite their shared name and the fact that they've both starred in remakes of "The Thing.")
At the beginning of the first episode of "Under the Banner of Heaven" — before Garfield's character leaves his house to go to the murder scene — he kneels down for an abbreviated nightly prayer with his family and has to remind his daughter not to turn her prayer into a "wish list." While her wishes and wants are themselves innocuous, this moment struck me as being an insightful little petri dish for what the series is all about, and that is, the corruptive human tendency to apply a me-first mentality to matters of faith.
Drawing from his own religious upbringing, Black offers a clear point-of-view on Mormonism and its extremist offshoots that does come across as an indictment of a system of beliefs he no longer holds. Yet it also depicts believers like Brenda and her bishop father, Mr. Wright (Darren Goldstein), who have a good head on their shoulders and are not afraid to eat caffeinated sweets like chocolate or embrace the evolving nature of their religion, which was born of a certain time and perhaps never meant to have its every archaic tradition regarded as set in stone à la the Ten Commandments.