Dawnn Lewis' Star Trek: Lower Decks Audition Was A Combination Of Kirk And Sisko [Comic-Con]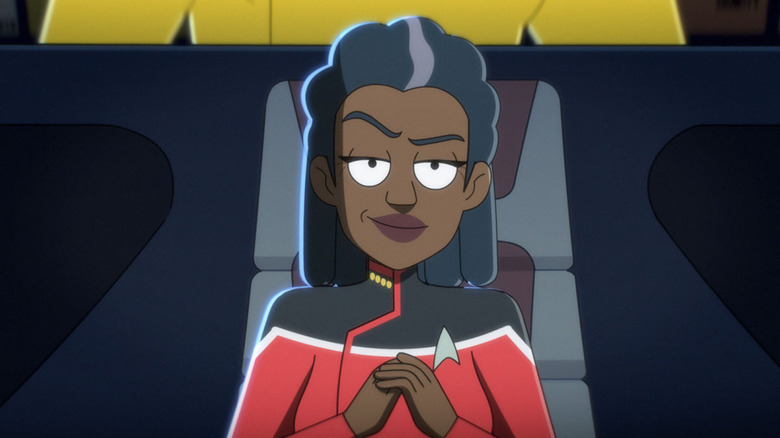 Paramount+
If you're a fan of "Star Trek: Lower Decks," you're probably really excited about the news that came out of their panel from San Diego Comic-Con 2022. The cast and crew beamed down to Hall H to share a brand-new trailer, plus some details about the Cerritos' visit to Deep Space Nine and the live-action crossover with "Star Trek: Strange New Worlds." They also touched on the major cliffhanger from the end of last season that saw Captain Freeman get unexpectedly arrested and relieved of command and how the crew will respond at the start of the upcoming season.
But speaking of the captain, actor Dawnn Lewis was able to share some details about the casting process with the con crowd and the story of how she landed the role of Captain Freeman on the show. And interestingly enough, she chose to channel two of the best Starfleet has to offer to secure the role for herself.
O captain, my captain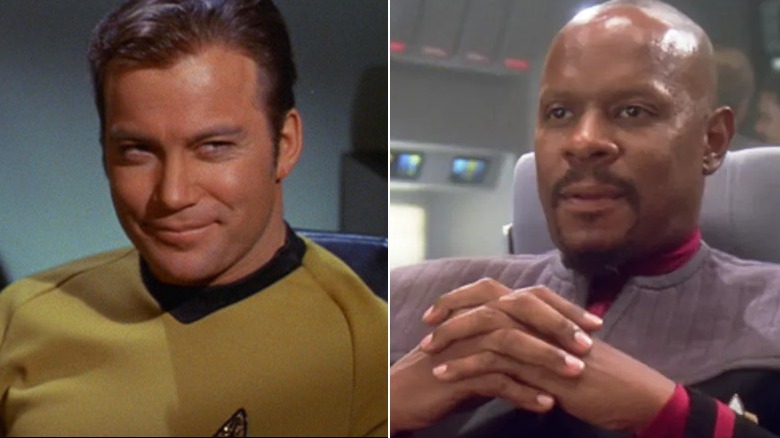 Paramount
When moderator Lea Thompson of "Back to the Future" fame (who has also directed and appeared on "Star Trek: Picard") asked Dawnn Lewis about how it felt to get cast as a captain on "Star Trek: Lower Decks," the "Futurama" and "Veronica Mars" star revealed she is a longtime fan of "Star Trek." She and her brothers watched "Star Trek: The Original Series," and she dreamed of being on the show in some way, shape, or form one day. But when it came to her audition, she didn't even know that she was in the running for a role on a "Star Trek" show:
"When I got the call to audition for ["Star Trek: Lower Decks"], we were not told that it was 'Star Trek.' We were given the names of animals. I was Captain McDuck or Captain Whatever. And so you go in and audition and do your best. I did my best imitation of Captain Sisko and Captain Kirk. That's what I did. When they called me and said you booked the job, I was like, 'Great! I booked another gig.' Then they said what it was, I was like, 'I'm sorry. Say what? I am a part of the "'Star Trek" franchise?' You know when you scream and nothing comes out of your mouth?"
It was a good thing she had "Star Trek" on the mind during her audition, since thinking like two of the most prominent captains of the series might have given her the edge in landing the role.
The Next Generation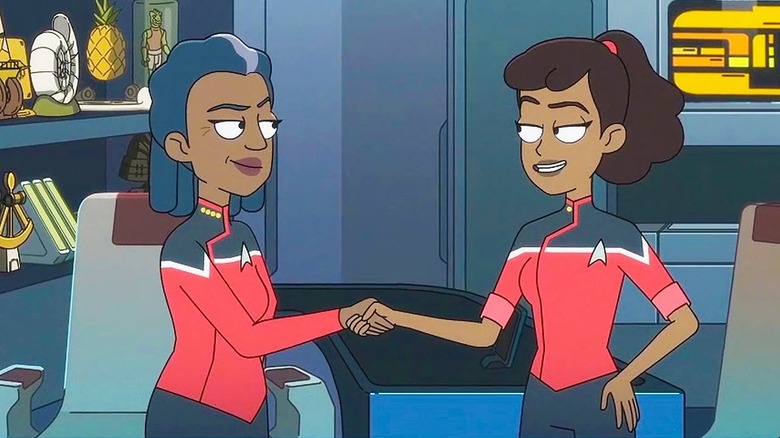 Paramount+
Dawnn Lewis went on to share she wasn't just inspired by Kirk and Sisko. She also talked about how Lt. Nyota Uhura was a huge inspiration for her as well. That's why her good friend and "Star Trek: The Original Series" star Nichelle Nichols ended up being one of the first calls she made after getting cast as Captain Freeman once she told her brothers. She continued:
"To see this amazingly beautiful, gifted, smart, could-handle-herself woman of color in outer space doing her best to be excellent and everybody respecting her for it. When I grew up and got to actually meet her, I literally cried and couldn't stop. We have since become friends ... so the first thing I thought of after calling my brothers was to call Nichelle. I said, 'You will not believe what just happened to me ... She was excellent and amazing for me and now I get to be in this world as a captain, as a woman, and as a woman of color."
This is exactly why it's so important to see yourself represented in the media you consume. Seeing someone that looks like them in a movie or on a TV show can mean so much to a fan and inspire them as they grow up into the person they're meant to be. Of course, Lewis certainly gets to take that to the next level as she has become friends with her idol. The thought of how exciting the call must have been for both women is so joyful. Now, Captain Freeman can be an inspiration to a whole new generation of "Star Trek" fans, just like Lt. Uhura was for Lewis.
The new season of "Star Trek: Lower Decks" premieres on Paramount+ on August 25, 2022.