Playing Uhura In Star Trek: Strange New Worlds Taught Celia Rose Gooding How To Let Go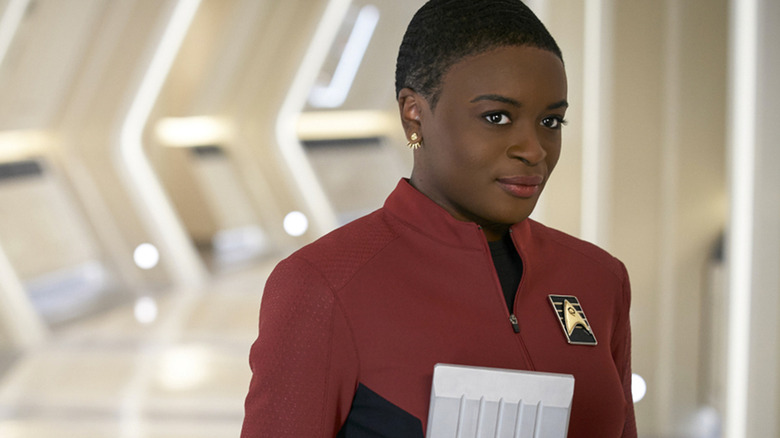 Paramount
Few franchises have a legacy (or a fandom) quite as strong as "Star Trek." And with an interconnected story that continues to evolve, it's easy for fans to get protective of established aspects of the canon. This can make things tough for the "Trek" prequels, especially "Strange New Worlds," which has remixed its fair share of fan favorites from "Star Trek: The Original Series."
Of course, the cast and crew involved in the series are pretty adamant about adhering to canon whenever possible. Ethan Peck's take on the enigmatic Mr. Spock has long been treated as a lead-up to Leonard Nimoy's unforgettable original character, for example. But bringing a fresh perspective to a time-honored character — especially one with so much history, both political and cultural — is still not easy by any means.
Celia Rose Gooding, who joins Peck in "Strange New Worlds," had big shoes to fill as communications officer Nyota Uhura. Putting her own spin on a character so ingrained in the public zeitgeist (and even in Gooding's own history with "Star Trek") was definitely a challenge, but it also taught the actor a crucial lesson about facing such crazy pressure.
Measuring up to Uhura's legacy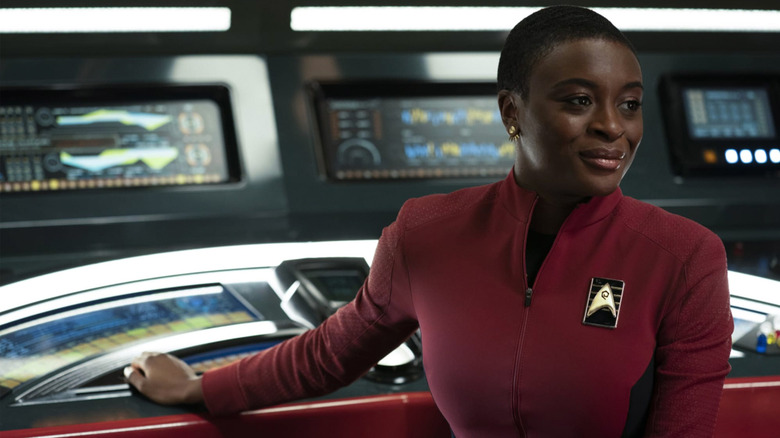 Paramount
The task of working backwards through a character's life to portray them in a prequel can be a double-edged sword, even on the best days. Gooding, however, looked at her role as a younger Uhura as an opportunity to build out a character that's rarely had much time in the spotlight. "Even during 'The Original Series' we didn't really get to know Uhura as a person," Gooding told The Hollywood Reporter. "We knew her as a communications officer — someone who worked on the ship — but we don't really know how she got there and who she was before she grew into this confident, brilliant, graceful woman."
Though there was plenty of leeway for Gooding in terms of Uhura's history, the character still came with her fair share of dedicated fans ... not to mention a significant legacy. It left Gooding overwhelmed while filming the first season of "Strange New Worlds."
"The social and political aspects of this character and what it meant to be a young Black person in the 1960s having a role onscreen — it's incredibly daunting and overwhelming knowing all of that. And during the first season, I think I put a lot of pressure on myself to measure up to who this character is and who she ends up being."
The weight of the future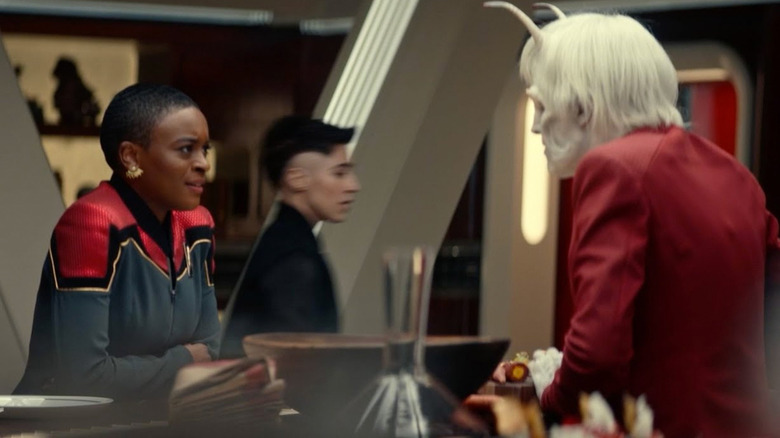 Paramount
Fortunately, Gooding eventually realized that Uhura's legacy didn't necessarily have to inform her take on the character. "I had to remind myself that I don't have to step into this character with all of the knowledge of her future, because this character has no knowledge of her future yet." It's an interesting parallel to "Strange New Worlds" protagonist Christopher Pike (Anson Mount), who's acutely aware of the future that awaits him. For other legacy characters, though, Uhura included, "Strange New Worlds" is more about building up to the people they become in "The Original Series," instead of, as Gooding put it, simply "showing up as a carbon copy of the character."
With that in mind, Gooding looks forward to "braiding in the aspects" of the character that everyone knows and loves. As "Strange New Worlds" continues into its second season, hopefully Uhura's role will continue to grow, and provide even more context into her life and what she's capable of on the Enterprise.