That '70s Show Set The Stage For A Sneaky James Bond Reunion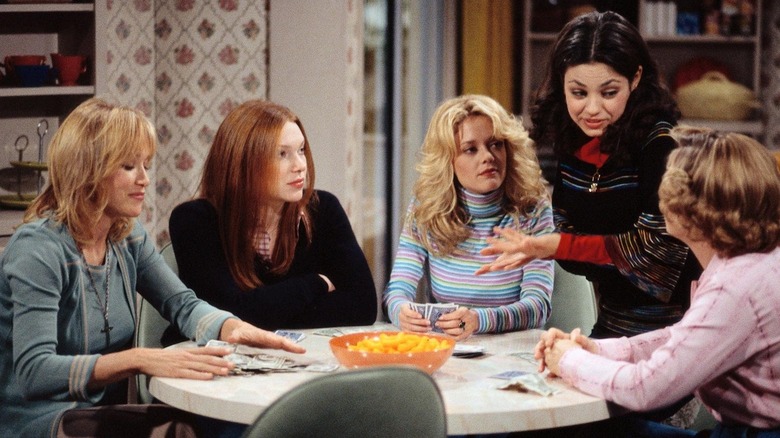 Fox
Nostalgia operates on 20-year cycles — that's why the late 1990s produced a series aptly titled, "That '70s Show." Many supporting characters and guest stars were, naturally, '70s cultural icons. Tommy Chong repurposed his comic persona as Leo, a former hippie and owner of the local photo shop. Dwayne Johnson guest-starred as his own father, wrestler Rocky Johnson, while Billy Dee Williams played a "Star Wars" obsessed preacher.
One of these more prominent faces, at least during the first three seasons, was the late Tanya Roberts as Midge Pinciotti, the absent-minded mother of Donna (Laura Prepon). It's likely that Roberts' role as Julie Rogers in "Charlie's Angels" was what motivated her casting. However, one of her other roles received a nod in the series. Namely, Stacy Sutton, the Bond Girl of "A View To Kill."
Bond Girl reunion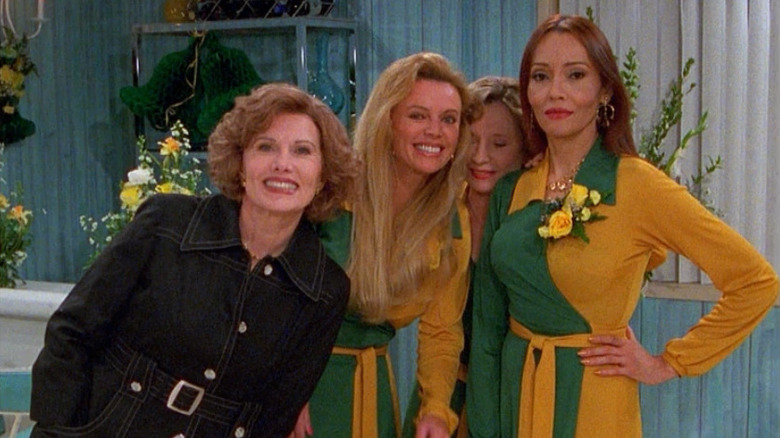 Fox
Like most Bond Girls, Midge was a character mostly defined by her looks. Speaking to the LA Times in 2000, producer Mark Brazill said of Roberts, "She was so perfect [for the role] ... That was kind of true too. The girl that Donna was based on, her mother was absolutely gorgeous." The show definitely didn't elide her beauty, but played it most overtly for comedy, not titillation. Donna's male friends, including her boyfriend Eric Forman (Topher Grace), rather openly lusted for Midge. Despite this, Midge was faithful to her husband Bob (Don Stark) — until their divorce in season 3, anyway.
In the sixteenth episode of season 2, "The First Time," Midge and Bob stage a wedding vow renewal. Eric's mother Kitty (Debra Jo Rupp) feels alienated because Midge doesn't ask her to be a bridesmaid. Instead, those roles are filled with one-shot characters played by other Bond Girls. Holly (Kristina Wayborn, Magda in "Octopussy"), Barbara (played by Barbara Carrera, Fatima Blush in "Never Say Never Again,") and then the Maid of Honor (Maud Adams, who was both Andrea Anders in "The Man With The Golden Gun," then the titular character in "Octopussy").
Aside from Carrera, all of these actresses were Bond Girls for Roger Moore ("Never Say Never Again" is an off-brand remake of "Thunderball" featuring Sean Connery). Moore was Bond throughout the '70s, though only one of these films actually came in the '70s. Indeed, Roberts' "A View To Kill" came in 1985 and was Moore's send-off in the role. Between Roberts and Grace Jones (as the villainous May Day), it's the Bond Girls who were the real stars of that one.