How Shazam's Billy And Freddy Have Changed Between Movies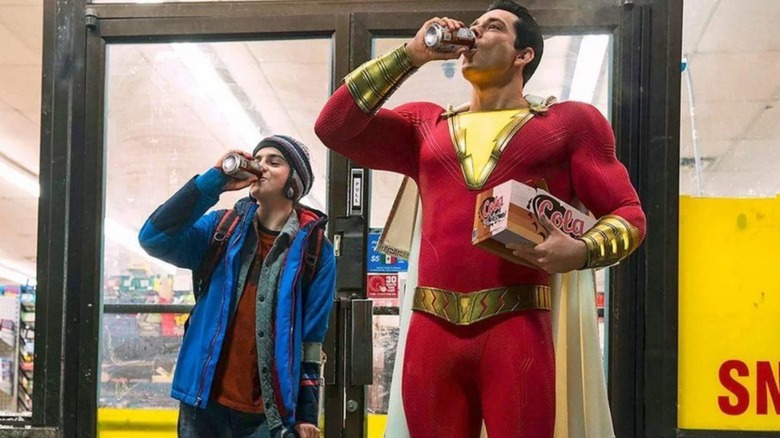 Warner Bros.
The first trailer for "Shazam: Fury of the Gods" debuted at San Diego Comic-Con today, and while it featured plenty of the heart, humor, and adventure that made the original 2019 movie so great, it was conspicuously light on one thing. Between all the car-throwing, flying, and "Fast & The Furious" references, it looks like there's barely any time for Shazam's human half, Billy Batson (Asher Angel) and his sidekick-turned-hero foster brother, Freddy (Jack Dylan Grazer) to hang out.
The last time we saw them, Freddy and Billy were impressing their classmates by having lunch with Superman in the school cafeteria. Now, if Shazam's anxious ramblings to his pediatrician in the trailer are any indication, the family's busier than ever utilizing their crime-fighting powers. So what does that mean for the two young heroes? /Film's Ryan Scott caught up with the actors behind Billy and Freddy at Comic-Con, and spoke with each of them individually about how their characters have changed between the two films.
We're in for some brotherly competition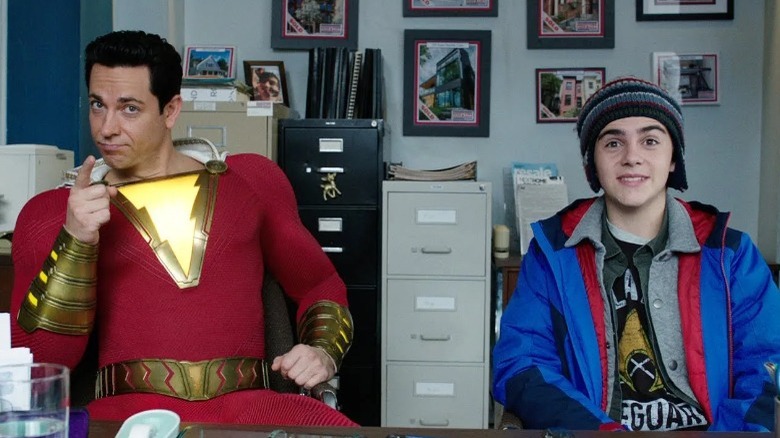 Warner Bros.
"He's matured a lot," Angel says of Billy, who was 14 years old when the first film began. "He's not really a kid anymore." As a child in the foster care system, Billy spent much of his childhood running away from home. By the end of "Shazam," Billy has decided to stick with his foster family, and it sounds like that sense of home becomes even more important to him as he gets closer to presumably aging out of the system. Here's more from Angel:
Adulthood's on the horizon for him, and he's trying to figure out his comfort zone and how to navigate all that, because he doesn't know what's going to happen when he's 18. So I think he's just trying to keep the family close, keep everyone together, and have fun.
As for Freddy, Grazer says that the kid hasn't transformed too drastically despite gaining powers of his own. "He hasn't changed that much, if I'm going to be completely [honest]," Grazer shares, "But you see — I think we get a cleaner glimpse at his internality, his truth, his feelings, his vulnerabilities." The actor says the new movie will see the character evolve and mature in the way that "just happens naturally in a growing teenage boy's life."
It also sounds like "Shazam: Fury of the Gods" will add another dimension to the pair's brotherhood, albeit a fairly friendly one. "There is also that battle with raging hormones and aggression," Grazer shares, "and maybe there's some competitiveness between Freddy and Billy that is more fleshed out in this. But it doesn't come from a bad place." Despite what he calls a "natural, brotherly" sense of rivalry between the two, Billy and Freddy can be spotted fighting bad guys together alongside their superpowered siblings in the film's new trailer.
"Shazam: Fury of the Gods" will hit theaters on December 21, 2022.