There's A Blink And You'll Miss It Horror Easter Egg In The Shazam! Fury Of The Gods Trailer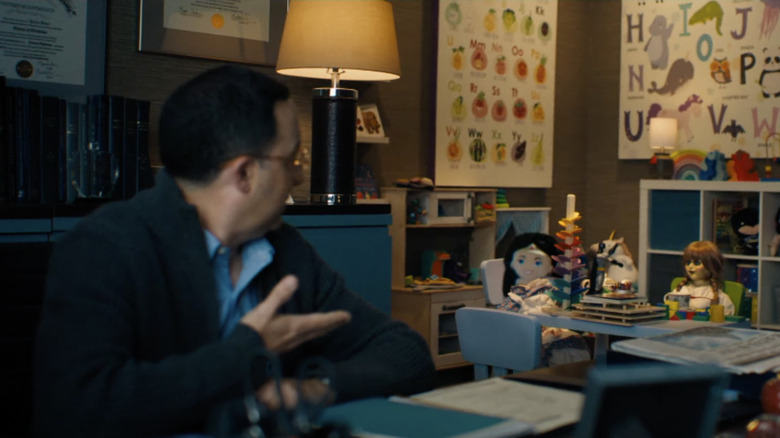 Warner Bros.
After months of teasing and speculation, the first trailer for "Shazam! Fury of the Gods" has finally been released. It premiered at the Warner Brothers panel at San Diego Comic-Con, and definitely gave us more than enough juicy details on what to expect from the Shazam Family this time around.
However, eagle-eyed viewers might have seen something pretty peculiar in the trailer, and it isn't just the fact that Rachel Zegler's mysterious character might not be from this Earth, given her lack of knowledge of Comic-Con. A brief scene is shown in the trailer that appears to be set in a therapist's office. Sure, your eye might immediately focus on the numerous Wonder Woman plushies, but there is one other doll in the office that horror fans might immediately recognize.
Yes, Annabelle has made another appearance in the DC Extended Universe, at least in her regular doll form. It's unclear whether this Annabelle is as haunted and deadly as she's been in her "Conjuring" spinoff franchise. However, she isn't just there for Warner Bros. brand recognition, as this Easter Egg is actually a reference to one of "Shazam!" director David F. Sandberg's earlier films.
Forgive me, Father, for I am about to sin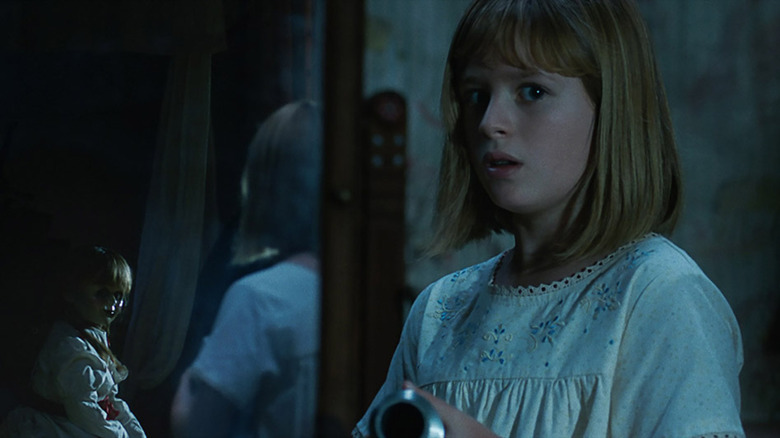 Warner Bros.
Back in 2017, "Annabelle: Creation" was released in theaters with fairly positive reviews. Many critics said that it was a much-needed improvement over the first "Annabelle" film from 2014 — the response wasn't that different from that of the prequel film "Ouija: Origins of Evil," which received far better reviews than that of its original release. 
"Creation" was Sandberg's next film after the breakout success of "Lights Out," an enjoyable PG-13 thriller based on the director's viral short film of the same name. A prequel to both 2014's "Annabelle" and the entire "Conjuring" franchise, the film centered around a toymaker, haunted by the death of his young daughter years prior, who welcomes in a nun and six orphans onto his farm. However, their arrival sparks something sinister throughout the property, with that horror being placed into one of the toymaker's beloved dolls. 
Given this familiarity with Annabelle, as well as the fact that Sandberg is primarily a horror director, it shouldn't be a surprise that the doll pops up in "Shazam! Fury of the Gods." The doll also made an appearance in the first "Shazam!" movie hidden in a toy store. Plus, "The Conjuring" director James Wan also tossed Annabelle into "Aquaman," lying on the ocean floor. The director's love for the horror genre doesn't stop there, though. Towards the end of the trailer, hardcore horror fans might have recognized a familiar surname on a sign placed behind our titular hero. 
"Shazam! Fury of the Gods" will arrive in theaters on December 16, 2022.