New Beavis And Butt-Head Clip Brings Plenty Of Fire And TikTok Commentary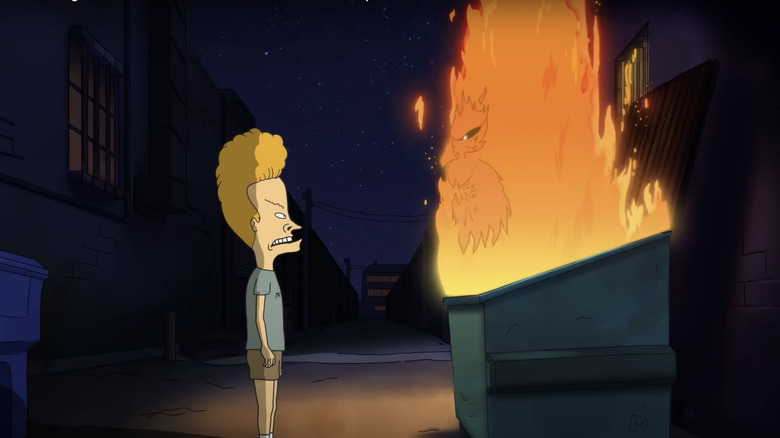 Paramount+
Can you hear the sweet symphony of nasally grunts and breathy laughter? If not, you will soon, because Mike Judge's "Beavis and Butt-Head" are back, baby! Last month Paramount+ gave us all the gift of a new feature-length film starring our favorite pair of fools, but this was merely an appetizer for the new series to come. During last night's "Beavis and Butt-Head" panel at San Diego Comic-Con, Paramount+ premiered an exclusive clip from the upcoming episode titled "The Special One." The story focuses on the continued obsession Beavis has with fire, when the pyromaniac crosses paths with an anthropomorphic dumpster fire that tasks him with doing things to better himself.
Many have been wondering how the show's format would work in 2022, as one of the show's staples, mocking music videos on MTV, isn't really a thing anymore. Sure, music videos still exist, but MTV's programming is dominated by reality television and reruns of Rob Dyrdek's "Ridiculousness." As the preview shows us, Beavis and Butt-Head have now incorporated riffing on viral videos from YouTube and TikTok in addition to music videos. TikTok is a certifiable gold mine of mockable cringe, and I am praying that Judge lets us see what the two have to say about Addison Rae.
Beavis and Butt-Head clip
The dumpster fire successfully convinces Beavis to run a mile on the high school track, noting that "he needed it." The fact the scrawny couch potato could even pull it off is worthy of praise on its own. Beavis listens to the fire, since he loves setting things ablaze, but starts to get suspicious when the fire has him scoop up all of the bottles in the nearby alley to be recycled. He again obeys the fire because he feels special, but when he's ordered to write an essay, a line has been crossed. Beavis tells the cashier at a fast-food joint about the fire in the back who sighs, "Ugh, again?" before putting it out. Apparently Mr. Trash Fire gets around. Relatable.
Beavis struggles to watch his fiery friend get extinguished, which is a lot funnier than it has any business being. It's clear that Judge hasn't missed a step when it comes to "Beavis and Butt-Head." The show is as stupidly hilarious as it was in the 1990s, and the art style has been given a more vibrant look, allowing it to fit right in with the look of contemporary animation.
"Beavis and Butt-Head" return with a brand new series on August 4, 2022 on Paramount+.