Anthony Hopkins Channeled John Wayne For The Two Popes Performance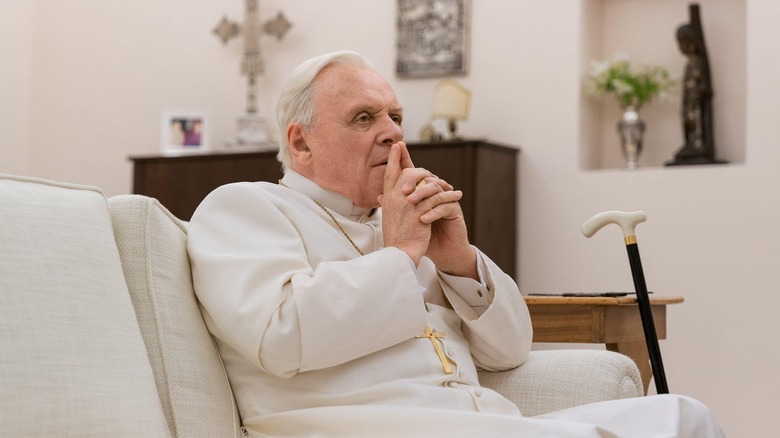 Netflix
Fernando Meirelles' 2019 film "The Two Popes" is, in fact, mostly about one pope. Historically, it traces the timeline of the Roman Catholic Church from the death of Pope John Paul II in 2005 and the subsequent ascendency of Pope Benedict XVI to the position. Benedict XVI was pope infamously decided to abdicate the papacy in 2013, something a pope had not done since Pope Gregory XII in 1415. Benedict was succeeded by the current pope, Francis (no Roman numeral), and "The Two Popes" traces his history as the young priest Jorge Mario Bergoglio surviving various bouts of political strife in his native Argentina. Juan Gervasio Minujín plays the young Bergoglio.
Meirelles' film, based on the play by Anthony McCarten (who also wrote the screenplay), posits possible conversations held between Benedict (Anthony Hopkins) and the future Francis (Jonathan Pryce) on the cusp of Benedict's unexpected and barely precedented retirement. The two popes kibbitz about faith, their position, and the modern character of the Catholic Church. The headier conversations are punctuated by cute human moments of the two popes revealing their secular passions: Bergoglio is a football fan and roots for Argentina's victory in the World Cup; Benedict, meanwhile, is fond of a detective show from his native Germany called "Kommissar Rex" about a brave dog detective (and, yes, the show is real). Pryce, Hopkins, and McCarten were all nominated for Academy Awards. 
Hopkins, a pragmatic actor, admitted in a 2019 interview with Brad Pitt for Interview Magazine what he needed to do to play Benedict. Eschewing the dry practice of book-based research, Hopkins found a much better acting solution in a cue from John Wayne: complete immersion in an environment. 
'But, I'm a Sir!'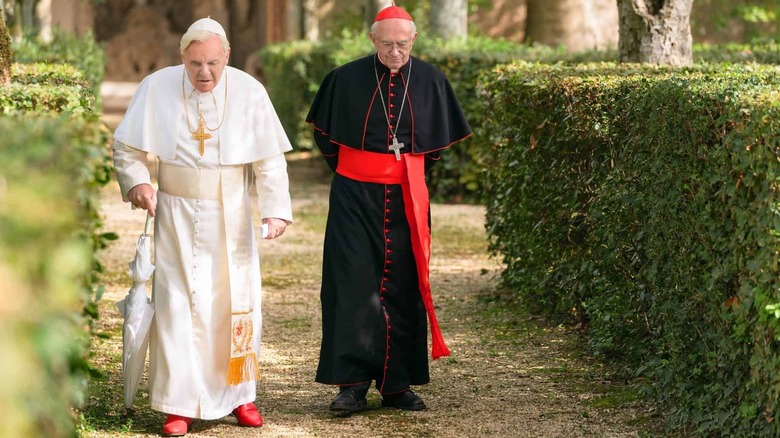 Netflix
As strange as it may seem, Anthony Hopkins and Jonathan Pryce, both long-working stalwarts of British theater and international film, had never acted with one another before. Both have extensive experience with Shakespeare (Hopkins has played Othello, and Titus Andronicus; Pryce has played Macbeth and Shylock; both have played King Lear) and both have experience with large, clunky Hollywood action tentpoles (Hopkins appeared in "Mission: Impossible 2" and a "Transformers" film; Pryce was in the James Bond film "Tomorrow Never Dies" and the live-action "G.I. Joe" movies).
Brad Pitt, when sitting to talk with Hopkins (the two appeared together in "Legends of the Fall" and "Meet Joe Black"), immediately likened watching Hopkins and Pryce acting to watching Novak Djokovic and Roger Federer — the legendary tennis players from Serbia and Switzerland, respectively — in the finals. In short, it was special. Hopkins, joking, responded with playful mock outrage: 
"Well, it was. I didn't know Jonathan before. We had such a laugh, because he was No. 1 on the call sheet, and I'd say, 'But I'm a Sir!'"
Hopkins was knighted in 1993. During production of "The Two Popes," he was the only knight. As of 2021, however, Pryce has also been knighted. The call sheets can now look however they have to.
One year in Monument Valley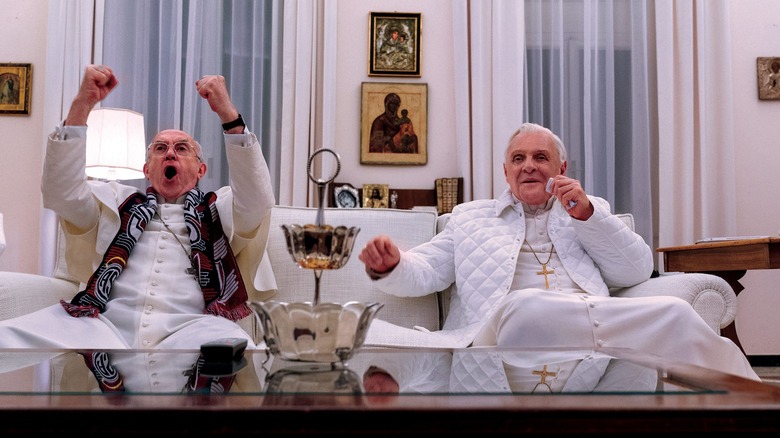 Netflix
When one is as established an actor as Anthony Hopkins, auditions were long since jettisoned as part of the job-finding process. Indeed, decades ago, Hopkins seemed to have reached the enviable position of being selective, taking roles as suits his whim. As such, when his agent called with simple a pair of words, all he needs to say is "yes" or "no." He continued to Brad Pitt:
"My agent phoned, and he said, 'The Pope.' And I said, 'Okay.' I did a bit of research ... Not research, but I tried to figure out the truth of it all, without going in too deep. I arrived in Rome, and it's like John Wayne said. Spend one year in Monument Valley and you don't have to act." 
John Wayne did once say of Monument Valley in Utah that it was where God put the West. Wayne spent a lot of time in Monument Valley, as his films "Stagecoach," "Angel and the Badman," "Fort Apache," "She Wore a Yellow Ribbon," "The Searchers," and "The Greatest Story Ever Told" were shot on location there. As far as what Hopkins is quoting, there is no direct source linking Wayne to a saying about spending a year in Monument Valley. Hopkins' meaning is clear, however: Immerse yourself in a distant place, and one will accumulate the appropriate language and mannerisms soon enough. 
Hopkins' blasé attitudes toward acting — it's a craft that requires little study, he seems to feel — is kind of refreshing. One of the best actors of his generation, and he simply feels the part. He goes to Monument Valley and that's all he needs. How refreshing.