John Wick Chapter 4 First Look: Say Your Prayers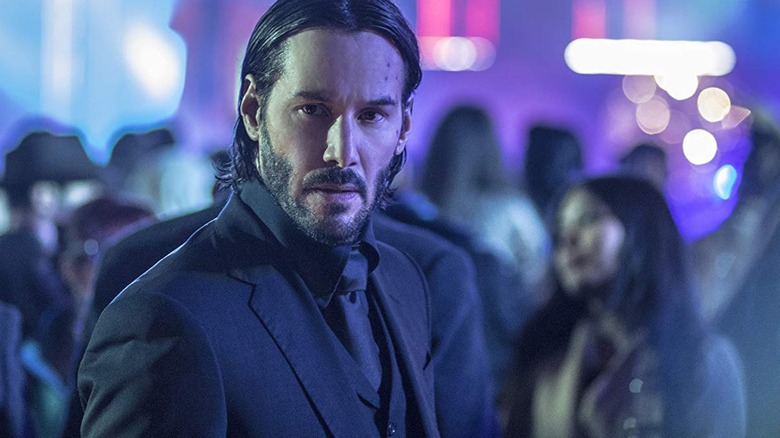 Lionsgate
The first look at "John Wick Chapter 4" is here, and our favorite un-retired assassin looks to be doing some soul searching. The photo comes courtesy of Lionsgate, and features Keanu Reeves' Wick looking down – solemnly? With determination? Like he's about to kill some people? It's hard to say! The man is wearing his classic black suit and black tie combination, and is lit with a red sort of glow. He's also surrounded by candles and out-of-focus gold or bronze items, indicating he may be at some sort of altar or sacred space.
Is this a new location, or somewhere we've seen before? We'll have to wait for a teaser or trailer to find out for sure, but it's clear from this focus on a non-violent shot (as opposed to, say, the "John Wick 2" poster that featured a dozen guns) that Wick has a lot on his mind here.
The killer takes a moment to reflect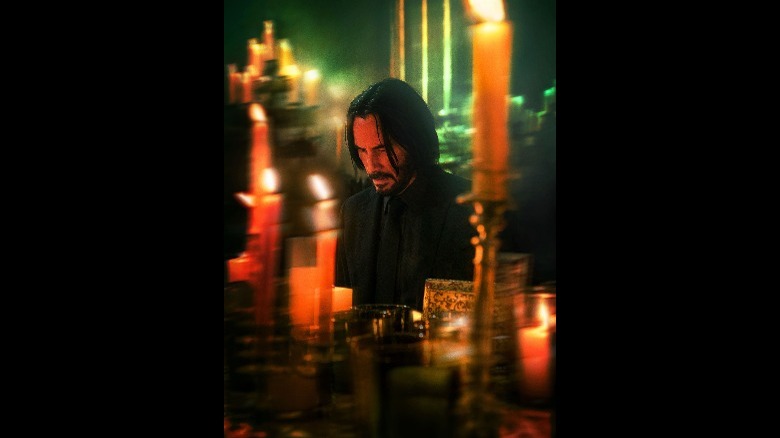 Lionsgate
Though the first look doesn't offer many clues about the details of "John Wick Chapter 4," /Film caught footage that was presented at CinemaCon earlier this year that might offer some insight into the upcoming movie's plot. We know that the latest installment of "John Wick" will take place partly outside of the franchise's East Coast home base, as the early first look at the film included shots of horses running in the desert and Wick taking down some bad guys in a sandy landscape.
At the end of 2019's "John Wick: Chapter 3 – Parabellum," the wounded assassin was secreted away to some type of underground bunker alongside the Bowery King (Laurence Fishburne). Though footage from the new movie isn't currently online, /Film also got to catch a glimpse of a scene that shows Wick and the Bowery King training together – like a mini "Matrix" reunion two decades later.
Along with Reeves and Fishburne, Ian McShane and Lance Reddick are set to return, while Bill Skarsgard, Clancy Brown, Donnie Yen, Shamier Anderson, Hiroyuki Sanada, Scott Adkins, and Rina Sawayama have all been added to the cast list. Though most of the new castmates' roles haven't been unveiled yet, Brown told Collider the film will reveal more about "the kind of intricacies of that authority structure" within The High Table, the shadowy organization that runs the criminal underworld in the "John Wick" universe.
After enduring two pandemic-era release date changes, "John Wick: Chapter 4" will now hit theaters on March 24, 2023.