Oppenheimer Trailer: Christopher Nolan Is Back With Another World War II Film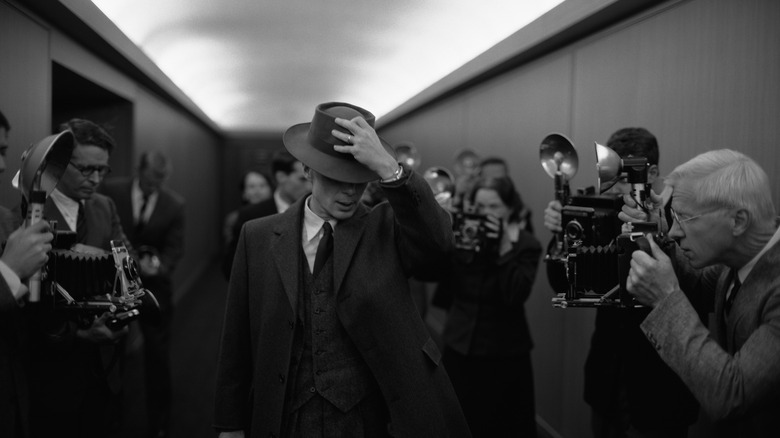 Universal Pictures
Christopher Nolan belongs to an exclusive club of mainstream directors whose name alone guarantees butts in the seats whenever one of their movies hits theaters, along with the likes of M. Night Shyamalan and the more recent addition of Jordan Peele. It only seems right, then, that Universal should use Peele's sci-fi horror epic "Nope" to kick off the marketing for Nolan's latest film as a writer and director, "Oppenheimer."
Cillian Murphy stars in "Oppenheimer" as the titular scientist, with the actual film focusing on J. Robert Oppenheimer's role in devising the atomic bomb during WWII and his subsequent horror when he came to realize just how terrible his creation truly is. It's the first movie Nolan has made with Universal since parting ways with his longtime studio Warner Bros. over its decision to drop its films on HBO Max and in theaters on the same day in 2021 (rumor has it Nolan may've even raised his voice when he called HBO Max "the worst streaming service" in response). As it were, Universal is also where Shyamalan has pitched his tent since 2015, with Peele having similarly worked with the studio on his first three directorial efforts.
Along with a teaser poster, Universal has dropped the first trailer for "Oppenheimer" in theaters with "Nope," well ahead of its summer 2023 release date. You can check it out below.
Oppenheimer trailer
No stranger to WWII films, Christopher Nolan previously earned critical raves for directing 2017's "Dunkirk," an impressionist thriller about the evacuation of Allied forces from the beaches of Dunkirk, France. Some might see "Oppenheimer" as his attempt to retreat to safer ground after the mixed response to his 2020 sci-fi tentpole "Tenet," but as someone who's come to appreciate that movie as an idiosyncratic "James Bond" throwback by way of "Inception," I see it more as Nolan sticking with his interests as an artist.
He's certainly had no trouble attracting his share of top-notch actors to work with him on "Oppenheimer." Their ranks include Emily Blunt and Florence Pugh as, in turn, J. Robert Oppenheimer's botanist wife Katherine "Kitty" Oppenheimer and activist-reporter Jean Tatlock (who was romantically involved with Mr. Oppenheimer while he was working on the Manhattan Project). The rest of the cast is just as stacked with big names in supporting roles, including that of Robert Downey Jr., Matt Damon, Benny Safdie, Rami Malek, Josh Hartnett, Dane DeHaan, Matthew Modine, and many, many more.
With a $100 million budget (a modest sum for a modern big-budget movie) and a longer-than-usual theatrical window guaranteed by Universal as part of its deal with Nolan, "Oppenheimer" certainly looks to reaffirm its director's commitment to keeping theaters alive and well. That and his continued use of IMAX with cinematographer Hoyte van Hoytema (who took over as Nolan's go-to director of photography with "Interstellar" in 2014) easily makes this one worth seeking out on the biggest screen available ... even one that just so happens to be in your home.
"Oppenheimer" arrives in theaters on July 21, 2023.