Clusterf***: Woodstock '99 Trailer: A Millennium-Defining Celebration Goes Wrong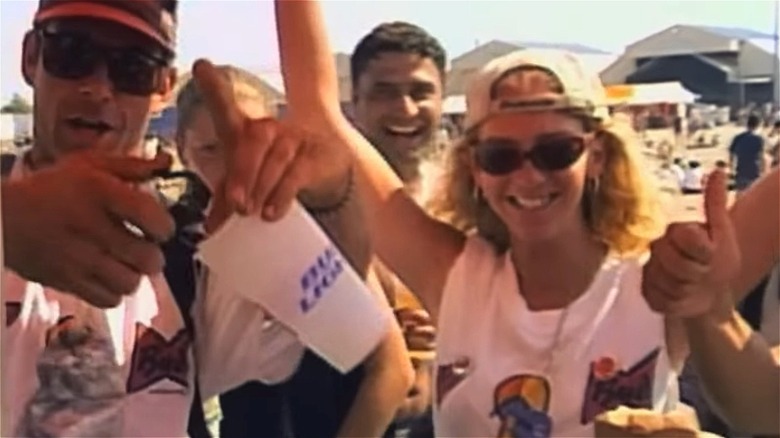 Netflix
Here's a brand new trailer for the upcoming Netflix docuseries, "Clusterf***: Woodstock '99," which attempts to look into what exactly went wrong during the Woodstock music festival in 1999. The title of the docuseries is apt for many reasons: although the festival was supposed to be a celebration of peace, love, and communities coming together, what ensued was utter chaos, several acts of violence, and an overwhelmingly unsafe environment that was a product of mismanagement and an unchecked crowd.
"Clusterf***" is not the first documentary to be made on the incident, as an eight-part documentary podcast series named "Break Stuff: The Story of Woodstock '99" was released by The Ringer, followed by an HBO documentary named "Woodstock 99: Peace, Love, and Rage" in 2021. The upcoming Netflix documentary attempts to dissect rare home movie footage, archives, and videos of those performing at the festival to put together a clearer picture of the reasons that contributed to the mayhem.
Check out the trailer for the same below.
What went so wrong?
There are a lot of reasons behind what ended up happening during Woodstock '99, including absolute mismanagement by the organizers, entitled male members of the crowd creating an unsafe environment for everyone (especially women), and rampant exploitation by the festival organizers that led to anger and discontent. Things took a progressively worse turn after Limp Bizkit performed "Break Stuff": some fans took this message quite literally and tore down plywood from the walls after lead localist Fred Durst encouraged the crowd to get angry. 
Furthermore, candles were handed out to promote peace for a candlelit vigil, but when the crowd used them to light bonfires, the fire spread due to the hundreds of littered plastic bottles in the arena, prompting organizers to call the fire department. The fire situation soot got out of control, and the crowd become more agitated as time progressed, and in the aftermath of the festival, several individuals came forward with allegations of rape, sexual assault, and harassment.
"Clusterf***: Woodstock '99" features new interviews with festival organizers, volunteers, and artists including Korn's Jonathan Davis, Jewel, Fatboy Slim, and Woodstock organizer Michael Lang. The festival also hosted more than 400,000 attendees, and with little to no organization and crowd control, things went terribly, terribly wrong.
Here's the official synopsis of the Netflix docuseries:
"Woodstock '99 was supposed to be a millennium-defining celebration of peace, love and great music. Instead, the festival degenerated into an epic clusterf*** of fires, riots and destruction. Utilizing rare insider footage and eyewitness interviews with an impressive list of festival staffers, performers and attendees, this docuseries goes behind the scenes to reveal the egos, greed and music that fueled three days of utter chaos."
"Clusterf***: Woodstock '99" premieres on Netflix on August 3, 2022.