The Guardians Of The Galaxy Holiday Special Trailer: Deck The Halls With Marvel Heroes (And Kevin Bacon)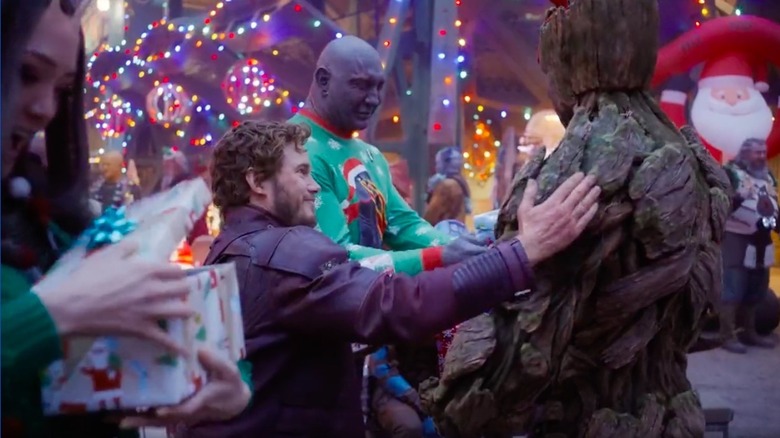 Marvel Studios
James Gunn has previously said that "Guardians of the Galaxy Vol. 3" would be "the last time people will see this team of Guardians." However, this team of a-holes that aren't 100% dicks is making a few more stops together before reaching the end of the line. We've already seen Star-Lord and company appear alongside the Asgardian Avenger in "Thor: Love and Thunder," but we're meant to see the crew of the Benatar one more time this year before the fan favorite filmmaker's third and final chapter for these beloved Marvel superheroes. Their penultimate mission is set to unfold in "The Guardians of the Galaxy Holiday Special."
Following in the footsteps of the infamous "Star Wars Holiday Special," Gunn has shared his excitement for this upcoming Disney+ special since it was announced. He's even called it the "greatest thing" he's ever done. The Disney+ special presentation (akin to Michael Giacchino's one-shot "Werewolf by Night") will be set before the threequel, and will follow the Guardians on some holiday hijinks involving one legendary Kevin Bacon.
Now, Marvel finally unwrapped the first trailer for the Marvel Cinematic Universe's first holiday extravaganza.
O Christmas Groot, how lovely are your branches
Follow the Guardians and their pals learn about the true meaning of Christmas by searching for the legendary Kevin Bacon. Yes, the "Guardians of the Galaxy" holiday special is bringing everything full circle by having the Guardians try to cheer up Peter Quill (Pratt), who is gloomy after the loss of Gamora, by giving him a gift of his favorite person in the galaxy: Kevin Bacon.
During the Marvel Studios presentation at this year's D23 convention, True Believers were treated to the first look at the highly anticipated Disney+ holiday special starring the Guardians of the Galaxy. Chris Pratt, Dave Bautista, Karen Gillan, Pom Klementieff, Vin Diesel, and Bradley Cooper reprise their roles as the lovable misfits featured in Gunn's previous House of Ideas outings, as well as "Avengers: Infinity War" and "Avengers: Endgame." In the special, they're joined in the festivities by Sean Gunn's Kraglin and Cosmo the Space Dog, and of course, Kevin Bacon.
"The Guardians of the Galaxy Holiday Special" premieres on Disney+ on November 25, 2022.