Clips Round-Up: Cave Rescue Trailer, Ali & Ava Tells A Midlife Love Story & More! [Exclusive]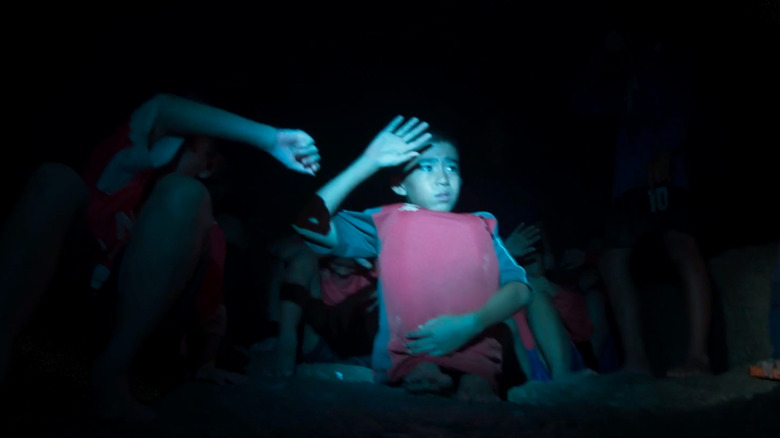 Lionsgate
(Welcome to SlashClips, a series where we bring you exclusive clips from hot new Digital, Blu-ray and theatrical releases you won't see anywhere else!)
In this edition:
Cave Rescue
Ali & Ava
The Nan Movie
One Moment
Infrared
Cave Rescue Trailer
First up we have a trailer debut for Lionsgate's "Cave Rescue," a thriller based on the real-life Tham Luang cave rescue incident from 2018. It stars Jim Warny ("The Rescue"), Ekawat Niratvorapanya ("Girl From Nowhere"), and Lawrence de Stefano ("The Flight Attendant") and opens in theaters, on demand, and digital August 5, 2022, with the Blu-ray arriving on September 13. Here is an official statement from director, producer, and co-writer Tom Waller:
"It was a true honor and privilege to work closely with the real cave divers who participated in the hazardous mission to save the 13 'Wild Boars' soccer team from the cave in Thailand 4 years ago – they are the real superheroes of this miraculous story and showed us the power of the human spirit."
Here is the official synopsis:
What's it like to be trapped in a cave for 18 days? How does it feel to be part of one of the biggest rescue missions in history? When rising floodwaters trap a boys soccer team in a cave system in Thailand, an Irish cave diver (Jim Warny, as himself) joins the massive effort to save them. Shot at the original locations – and featuring real heroes involved in the rescue – this incredible saga based on true events is as close as you can get to experiencing for yourself the intensity of this inspiring adventure.
Ali & Ava
Next up is Greenwich Entertainment's "Ali & Ava," written and directed by BAFTA-nominated filmmaker Clio Barnard ("Dark River," "The Selfish Giant," "The Arbor"). Starring Adeel Akhtar ("Four Lions," "Killing Eve") and Claire Rushbrook ("Secret & Lies," "Enola Holmes"), the film opens in New York on July 29, 2022, and Los Angeles and additional markets on August 5, 2022.
Here is the official synopsis:
Ali is an exuberant music enthusiast struggling to keep his recent separation from his wife a secret from his family. Ava is a pragmatic middle-aged teaching assistant and matriarch to a large and close-knit family. When a chance encounter unites them, Ali and Ava begin a tentative friendship formed around their shared love of music that quickly blossoms into an unexpected romance.
The Nan Movie
"The Nan Movie" was written by Catherine Tate ("Doctor Who") and Brett Goldstein ("Ted Lasso"), and stars Tate, Mathew Horne ("Planet 51"), Katherine Parkinson ("The I.T. Crowd"), Parker Sawyers ("Southside with You"), Tom Vaughan-Lawlor ("Avengers"), Jack Doolan ("The Boys"), and Niky Wardley ("The Catherine Tate Show"). It opens in theaters and on demand from Screen Media on July 22, 2022.
Here is the official synopsis:
Catherine Tate's beloved character Joannie Taylor AKA Nan hits the big screen as she goes on a wild road trip from London to Ireland with her long-suffering grandson Jamie to make amends with her estranged and dying sister Nell. Through a series of flashbacks, we see the young sisters fall in love with the same handsome GI during World War II and how the consequences of this love triangle shaped Nan into the cantankerous old b*****d she is today. Militant vegan arsonists, Australian rugby teams, all-night raves, and crazed cops on motorbikes all make for a proper day out. Hilarious, action-packed, and surprisingly moving, this film is a love letter to outrageous, outspoken old ladies everywhere.
One Moment
Next up is the family comedy "One Moment" from director Deirdre O'Connor ("30% Sun, 100% Fun"), which features Danny Aiello in his final film performance before he passed away. It also stars Adria Tennor ("Bad Moms"), Frankie Ingrassia ("Goliath"), Natalie Seus ("Heart Strings"), Sal Rendino ("Billions"), and Sioux Madden ("American Masters"), and arrives on DVD and on demand July 26, 2022 from Indican Pictures.
Here is the official synopsis:
A humorous, heart-warming story of middle-age siblings struggling to manage their lives and careers while also caring for their recently widowed aging father, Joe (Danny Aiello, "Do The Right Thing"). Joe, demanding and difficult, stubbornly believes he is still capable of running his own life which leads to sad, but sometimes hilarious situations. Although at odds on how to best care for Joe in his final years, the family is united in wanting to ensure his well-being and help him find peace of mind—without them losing their own.
Infrared
Finally, Terror Films has provided an exclusive clip from "Infrared," starring Gregory Sestero of "The Room" fame. It will be available on digital platforms July 22, 2022, on the Terror Films Channel July 29, 2022 and on Kings of Horror on August 5, 2022.
Here is the official synopsis:
A paranormal investigator and his production crew gain access to a mysterious, abandoned school but when the thrilling haunt turns deadly, the team must race to uncover the terrifying truth before they become the school's next victims.