HBO Releases First Footage From The White Lotus Season 2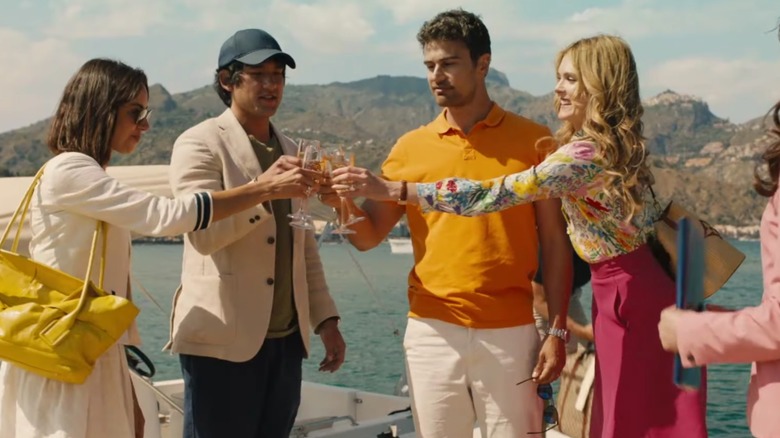 HBO Max
HBO Max released its latest "coming soon" promo today, and wedged between clips from "Westworld" and "Pretty Little Liars: Original Sin," viewers can catch a glimpse of the very first footage from "The White Lotus" season 2.
Mike White's resort-set satire series had a stellar first season last summer, pulling in enthusiastic reviews and dominating social media discourse week after week. The show's impressive reign continued even after the end credits rolled, as just last week it earned an astounding 20 Emmy nominations, effectively taking over the limited series acting categories.
The thought-provoking comedy series is hopping from Hawaii to Italy in a second season that sees Jennifer Coolidge's Tanya McQuoid surrounded by a whole new group of vacationers. "Welcome to the White Lotus in Sicily!" Sabrina Impacciatore's pink-clad resort manager announces as a group of four young resort attendees toast their drinks. Among the couples are cast newcomers Theo James and Meghann Fahy, who play a couple named Cameron and Daphne, as well as Will Sharpe and Aubrey Plaza, who play married couple Ethan and Harper.
The satire series takes on Sicily
Though there are exactly three shots of footage from "The White Lotus" in the new promo, they do reveal some details about the new season. Namely, we see Tanya (also clad in pink) on the back of a moped driven by Jon Gries' character, Greg, looking happy as all get-out as the pair drive along a European coastline. This means that Tanya, who ended season 1 planning to leave the resort with terminally ill Greg and spend his last days with him, did follow through on her plan.
Plenty of new cast members aren't pictured here, including "The Sopranos" alum Michael Imperioli, who's set to play a man named Dominic Di Grasso who's traveling with his recently graduated son and elderly father. Imperioli was originally assumed to be the star of the new season, but like season 1, the show is set to have a large supporting cast. F. Murray Abraham, Adam DiMarco, Tom Hollander, and Haley Lu Richardson are also among the new cast members, so get ready to see those names on some Emmy ballots in a year or so.
As for whether other familiar faces will pop up in Sicily, series creator Mike White says not to rule it out entirely. Although the show is intended as an anthology series, he told IndieWire, "I don't think you can credibly have [all the Season 1 guests] on the same vacation again. But maybe it could be a Marvel universe type thing, where some of them would come back."
HBO's "The White Lotus" season 2 does not yet have a release date.