All Hail Mr. Khan: Ms. Marvel Features The MCU's Greatest Dad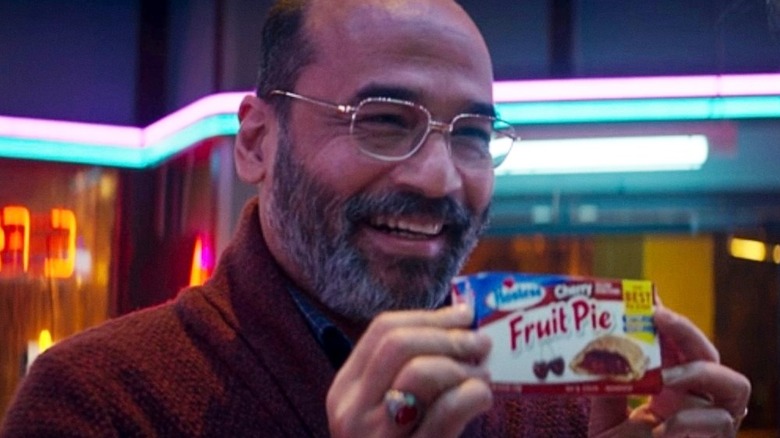 Disney+
If you were looking for daddy content, you've come to the right place. The Marvel Cinematic Universe is filled with dads. But for every good father like T'Chaka, Scott Lang, and Vision, there's a bunch more terrible ones like Wenwu, General Thunderbolt Ross, Ego, and Thanos. Howard Stark, Hank Pym, Odin, Clint Barton, and Tony Stark fall in somewhere in the middle there too. But when it comes to the greatest dad in the MCU, no one even comes close to Yusuf Khan, the lovable proud papa of Kamala Khan from "Ms. Marvel."
Played by veteran actor Mohan Kapur, we're first introduced to Mr. Khan less than three minutes into the series premiere. He jokingly tells his son Aamir that he should take a break from praying in order to eat or else he will starve to death. Then, he continues to recite poetry for his daughter as she prepares to take her driving test. His light-heartedness and cheery disposition is certainly a departure from the guy who turned his daughters into walking weapons, or the other guy that wanted to use up his son like a battery as he did to his thousands of other children.
Later in the episode, when Kamala's parents agree to let her attend Avengers Con with certain caveats, it's devastating to see his feelings hurt when she doesn't want to dress up as the Hulk with him or have him attend the event with her. In just a handful of scenes, Yusuf has already shown the audience how easy it is to be a supportive, caring, and present father to their children. As many children of a certain generation (especially those of immigrants) will tell you, this isn't always the case, so it's great to see.
If you saved one life, then you saved the world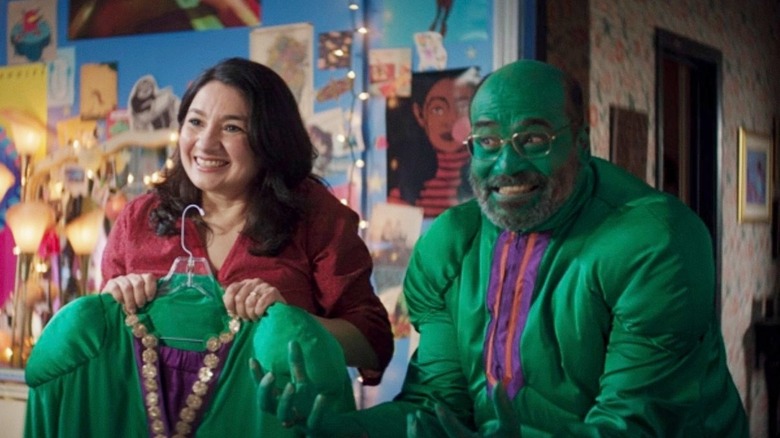 Disney+
From the moment that we meet Yusuf Khan, True Believers were on board with him. He was already so endearing as a character, but when the Khan family finds out about Kamala's powers and her new life as a superhero in episode six, he's gleaming with such pride — particularly when she says, "Abbu, I don't think you raised me to sit by and do nothing when I can help people." Of course, he's rightfully cautious since being a superhero is dangerous, but he's also so optimistic about what his daughter can do and how she can help people. And he accepts it like Kamala just told them what major she's choosing in college, because Yusuf believes in his children and wants them to be happy.
Fans weren't the only ones that were magnetically drawn to this character either. In an interview with Times of India, Kapur shared a compliment from Marvel Studios president and "Ms. Marvel" executive producer Kevin Feige. According to the actor, Feige told him, "I am the head of Marvel Studios and I am surrounded by superheroes and superpowers that we create for the audiences, so I've always wanted to be a superhero. But ever since I have seen Yusuf Khan, I just want to be a loving dad to my children."
High praise, but it's well deserved. In just a handful of appearances over the course of six episodes, Mr. Khan has joined the ranks of fan-favorite supporting characters in the MCU along with Agent Phil Coulson, Wong, Korg, Ned Leeds, and Kingo's assistant Karun. And that's all because of Kapur's stellar performance and the show's impeccable writing.
A father's love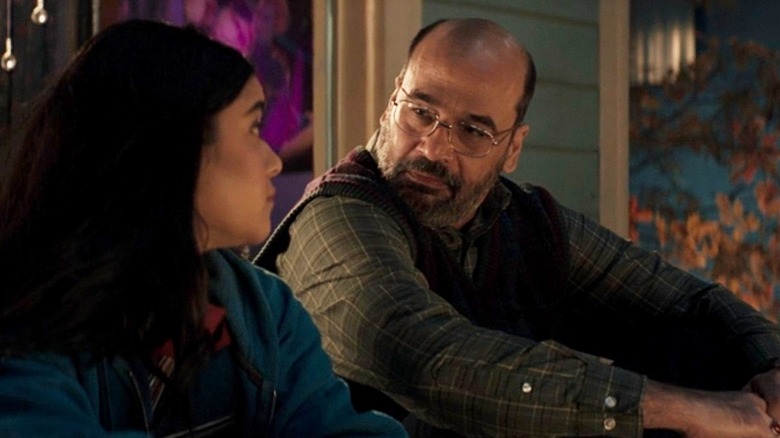 Disney+
After the events of "Ms. Marvel," we can only hope that Yusuf Khan (and really, the whole Khan family) is protected at all costs. Based on how the season ended, it doesn't seem like Ms. Marvel's next appearance in "The Marvels" will involve a ton of time spent in Jersey City, so Kamala's family could be relatively safe. However, hopefully we still get to check in with Yusuf as he cheers on his little miss Marvel from afar while enjoying an occasional Hostess Fruit Pie. In the meantime, we can visit him on Disney+ and wish he was our dad as much as we want since he'd probably support our decision to go to film school, study screenwriting, and become an entertainment journalist*.
(I would like to note that my father has been very supportive of my career path and this was said for comedic effect. Love you, Dad!)