The Defiant Ones Was A Decisive Moment For Sidney Poitier's Career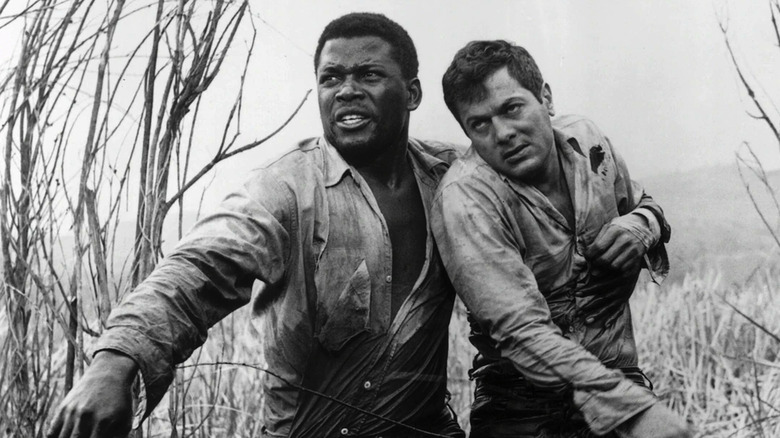 United Artists
It's impossible to deny that Sidney Poitier was born to be a star. From his first appearance onscreen in 1950, Poitier seemed poised to blaze an indelible trail in Hollywood — but the racial politics of the Jim Crow era forced him to rely just as much on his allies in the film industry as he did on his own merits. Poitier always expressed gratitude to the people that fought for the opportunities he deserved, particularly Joseph L. Mankiewicz, the director responsible for Poitier's first big break in "No Way Out." As the '50s came to a close, Poitier was working fairly consistently. But until that point, Poitier had yet to receive top billing in any of his projects. His contracts often stipulated that he be listed with the supporting cast members, whether his role in the film was of major consequence or not.
But all that changed with "The Defiant Ones," the first of Poitier's major film roles. It was also the actor's first collaboration with director Stanley Kramer, who's since become synonymous with the "message films" of the late '50s and '60s. His role in the film, as an escaped convict who finds himself chained to his white (and, of course, racist) inmate, was a total turning point in his career. And notably, it all began with the appropriately-defiant choice to grant him top billing for the very first time.
The way it was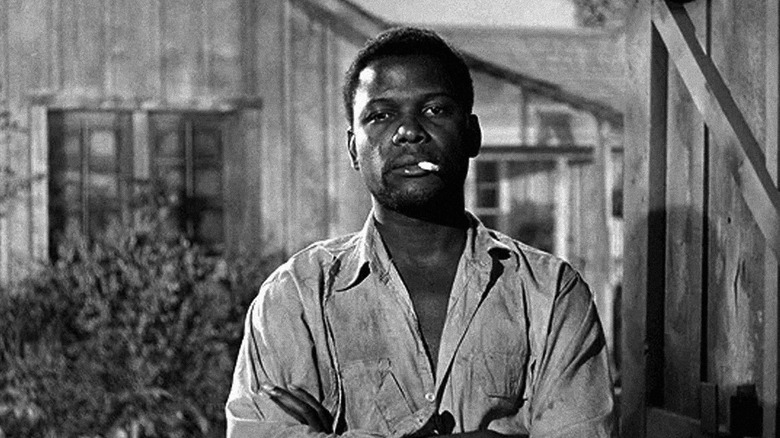 United Artists
In Poitier's autobiography, "This Life," he described "Defiant Ones" as "a real beginning for a break-through" — not just for himself, but for the Black community in Hollywood. These were sentiments shared by Stanley Kramer, whom Poitier later described as a "forerunner" for the film industry. "He was the type of man who found it essential to put on the line the things that were important to him," Poitier told Donald Spoto in the author's biography on Kramer. In the late '50s, a film like "The Defiant Ones" was a film that could break someone's career. "[Kramer] knew this, and he said to himself, 'What the hell, either I do it or I can't live with myself.' For that attitude, we're all in Stanley Kramer's debt."
While Kramer was obviously a major advocate for Poitier, it wasn't his idea to secure top billing for the actor. That task actually fell to Tony Curtis ("Some Like It Hot"), Poitier's co-star. Curtis was initially the only actor with top billing on "The Defiant Ones," as he was a much bigger star, having appeared in over 30 films from 1949 to 1958. That was more than double the size of Poitier's filmography, though ironically, both actors had been working for the same amount of time. But Curtis was under no illusions about his privilege in the industry, or the potential that he held as an ally.
The turning point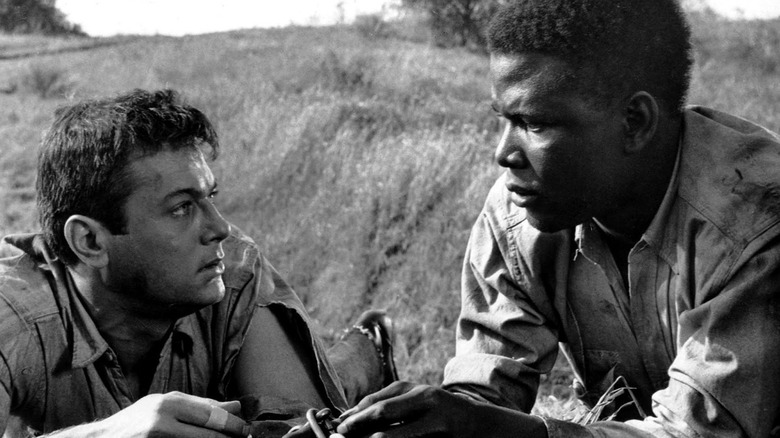 United Artists
Like Kramer, Curtis recognized that Poitier faced a fair bit of prejudice in the film industry, and saw an opportunity to use his platform for good, as he recalled in his autobiography years later. "Sidney was a hell of a talent, no matter what color he was," Curtis said. "And this was a time when Hollywood was just starting to realize maybe it could do something positive for civil rights."
After production wrapped on "The Defiant Ones," Curtis personally asked Kramer to give Poitier star billing. "He went to Stanley Kramer and said, 'I want you to put Sidney's name up there with mine,'" Poitier explained. It was "the most generous act" he'd ever received from another actor, and it had a big influence on the film's awards campaign.
Of course, "Defiant Ones" was a critical smash, and went on to score eight nominations at the Academy Awards in 1959. Both Curtis and Poitier were nominated for Best Actor, making Poitier the first Black actor nominated in the category. Though neither took the Oscar home that year, Poitier made history again when he won Best Actor in 1963 — but it can all likely be traced back to his first starring turn in "The Defiant Ones," and to the filmmakers that advocated for Poitier at the very beginning.