The Old Guy Who Gets His Face Smashed In Midsommar Was Once The Most Beautiful Boy In The World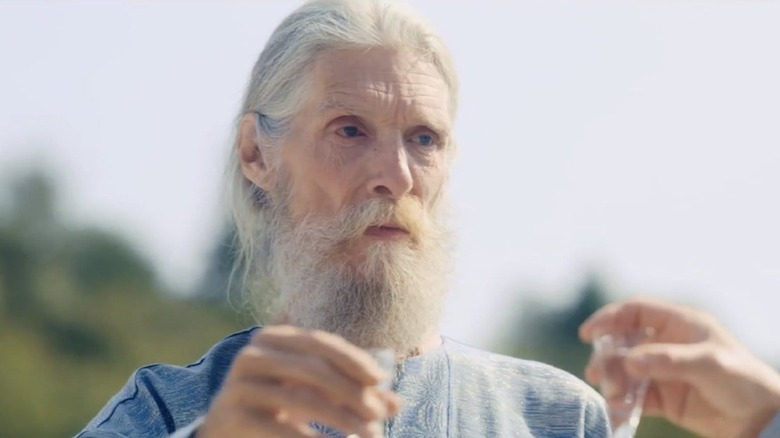 A24
Let's get this out of the way right now: I know many people go wild for "Midsommar," but I absolutely hate it. As a folk horror geek, I thought Ari Aster was out of his depth, ham-fistedly aping "The Wicker Man" and going against the unspoken rule of folk horror by indulging in explicit gore while laughably evoking the godawful remake in the closing moments. The crucial scene that turned me against it completely was when (spoiler alert) an elderly couple calmly leap from a cliff as part of their cult's sacrificial rites.
The woman goes first, taking a neat swan dive face-first onto a rock below, dying instantly. Then the old man apparently tries to break his fall by bending his knees on landing, which doesn't work very well from a 100-foot drop. Sprawled in agony with his shattered leg twisted at a horrible angle, he's finished off with a wooden mallet, crushing his head like a melon.
It's a gratuitously shocking scene, but I was even more shocked when I found out who played the old man. With hollow cheeks, haunted eyes, bushy beard, and long gray hair, actor Björn Andrésen looks older than a guy in his mid-sixties, perhaps due to years of chain-smoking, battles with alcoholism, and a lifetime of sorrow. Yet if you squint hard enough, you can just about see the striking features of the boy actor who became an overnight sensation when he starred in "Death in Venice." That was when his director, Luchino Visconti, declared him "the most beautiful boy in the world."
So what happens in Death in Venice again?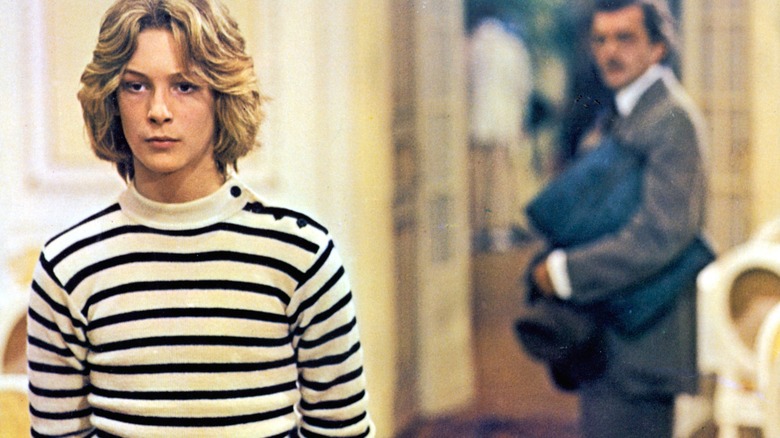 Warner Bros
Adapted from Thomas Mann's celebrated novella, "Death in Venice" picks up with ailing composer Gustav von Aschenbach (Dirk Bogarde) as he heads to the sinking city to recuperate after a period of ill health. He checks into a luxurious hotel overlooking the beach on the Lido, where he first spots Tadzio (Andrésen), a striking young Polish boy on holiday with his family. Aschenbach becomes enraptured by the kid's beauty and vitality.
The composer's arrival in Venice is badly timed, as a cholera epidemic is creeping its way through the city, downplayed by city officials and the hotel manager. Aschenbach considers leaving but impulsively decides to stay so he can see more of the boy. His obsession grows deeper, following the family around Venice, with Tadzio gradually becoming aware of the middle-aged stranger's admiring gaze. Tragically, Aschenbach visits a barber to help make himself look younger in the hope of appealing to the boy, dying his hair, whitening his face, and rouging his cheeks and lips. At the moment he finally finds himself alone with Tadzio on the beach, he dies of a heart attack reaching out to the unobtainable object of his desire.
"Death in Venice" was a sensation when it was released in 1971, receiving a high-profile world premiere in London with the Queen and Princess Anne in attendance, and winning the 25th Anniversary Prize at Cannes. With Andrésen as the photogenic face of the film, the reluctant young star was catapulted to international fame.
Does Death in Venice hold up?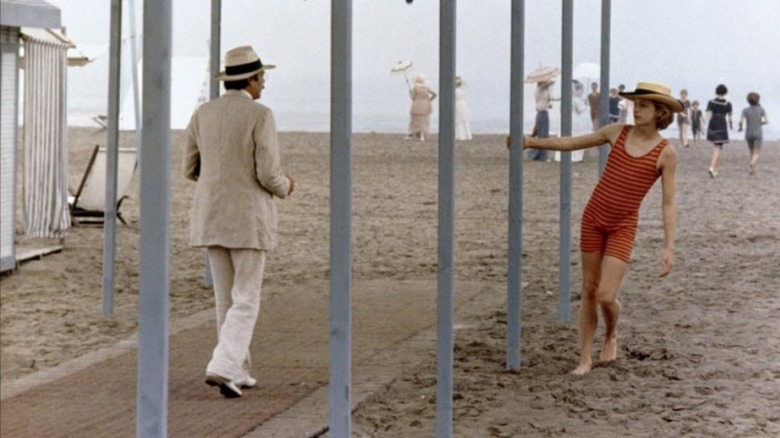 Warner Bros
With only around 60,000 people inhabiting the historic city ,and 20 million visitors each year, Venice is maybe the world's most heavily trampled ghost town. Once you duck away from the more heavily touristed areas, it's a labyrinth of picturesquely decrepit streets, lanes, and waterways. It has the atmosphere of a dying city, waterlogged and yearning for its eventual grave at the bottom of its lagoon.
Given the doomed nature of Venice, it's fitting that the films most commonly linked with the city are also steeped in a deep sense of melancholy. "Don't Look Now" and "Death in Venice" were the two I reached for on return from my first visit, and the latter is an exquisitely beautiful film that captures Venice in all its mournful glory. It's very much a mood piece, moving at a fittingly funereal pace and soaring to the tones of Gustav Mahler's "The Symphony No. 5."
Bogarde's performance is magnificent. The camera is rarely off him, and he creates a minutely detailed portrait of a fussy, severe, pedantic man overcome with a sense of longing and regret before the angelic vision of Tadzio briefly rejuvenates his spirits. There are other characters in the film, but it's basically a two-hander, and for his part, Andrésen is effective as the boy, exchanging furtive glances with the composer.
I'm not sure if a movie about a middle-aged man stalking a young boy would play very well these days, but for the most part, it's handled sensitively by Visconti. The film is more about Aschenbach's awakening desires than the lad himself, but there are occasions when his gaze borders on outright homoeroticism. Those moments take on a more sinister light when you learn about Andrésen's experiences as a child star.
The Most Beautiful Boy in the World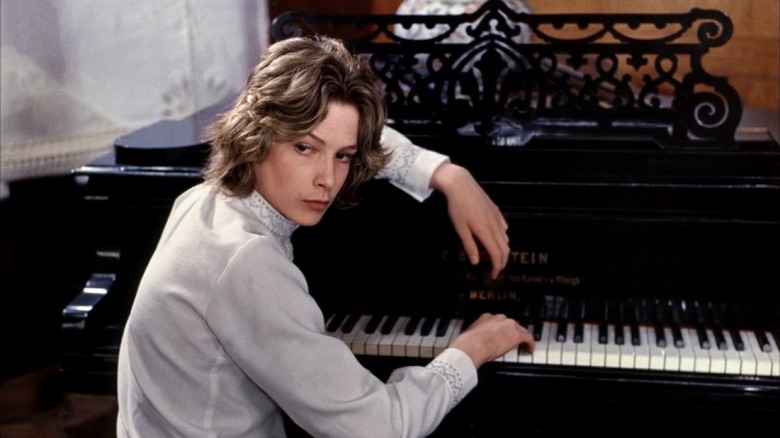 Warner Bros
"The Most Beautiful Boy in the World" premiered at Sundance last year, detailing Andrésen's reluctant ascent to screen idol and the aftermath that dogged him for the next 50 years. Andrésen also resurfaced around the time, going on record in an interview with The Guardian to accuse Visconti of ruining his life:
"Luchino was the sort of cultural predator who would sacrifice anything or anyone for the work... ['Death in Venice'] has screwed up my life quite decently. Everything I ever do will be associated with that film. I mean, we're still sitting here talking about it 50 years later."
The documentary opens with unsettling footage of Andrésen's screen test after making a big point about how Visconti was openly gay. The director was in Stockholm looking for the perfect vision of beauty that Thomas Mann described in his novella ahead of his big screen adaptation, and it doesn't take long to find his Tadzio. In walks schoolboy Andrésen, looking calm but a little daunted. Visconti becomes very animated and asks the boy to strip to the waist, then instructs his photographer to get shots from all angles. That's when Andresen looks visibly uncomfortable with the whole situation.
The film is rather misleading in the way it withholds crucial information while spending the first hour painting Visconti and his crew as a bunch of predators, seemingly barely restraining themselves from taking advantage of Andrésen. The actor talks about how he was taken to a gay nightclub where he was subjected to lewd looks and gestures, while the waiters made him feel like a "nice meaty dish." Both he and the filmmakers shy away from making any direct accusations of abuse, although it is heavily insinuated.
The other shoe drops... but it's not what you think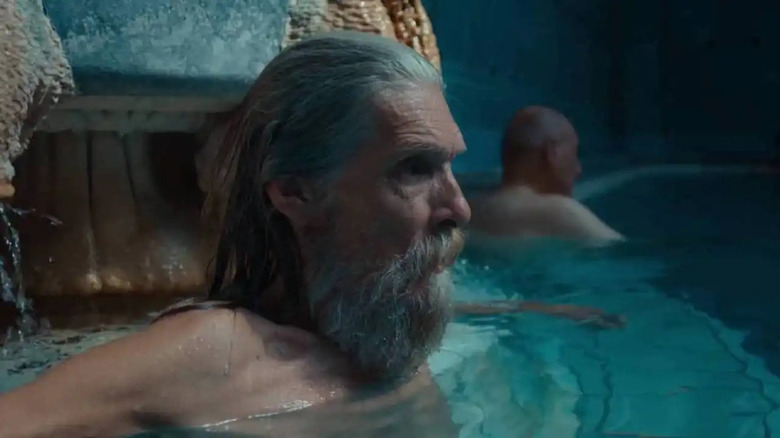 Mantaray Films/Juno Film
It takes about an hour for "The Most Beautiful Boy in the World" to reveal a key detail: When he was 11, Andrésen's mother vanished and was discovered dead in the woods many months later. With his father also absent, he was left in the care of his grandmother, who was a little too starstruck by Visconti to give him much proper guidance at such a tender age.
Still riding high on the success of "Death in Venice," Andrésen was whisked over to Japan, where he was greeted with the kind of hysteria usually reserved for the Beatles. There, he was given pills to get him through a grueling schedule of promotions, guest appearances, and a brief pop career. Later, he wound up in Paris for a year, installed in an apartment and given a tidy allowance by a wealthy benefactor completely infatuated with him. Alcoholism and self-destructive behavior followed, culminating in his infant son dying in his care while he was blackout drunk.
I couldn't help the uneasy feeling that "The Most Beautiful Boy in the World" was another example of filmmakers exploiting Andrésen. It front-loads the narrative with heavy implications that Visconti and "Death in Venice" totally messed up his life. If the stories were true, no doubt Andrésen's treatment by older men in positions of responsibility were deeply inappropriate. Yet, if the story was told in chronological order, we might deduce that his mother's tragic death was the root cause of his lingering trauma, leaving him without sufficient guidance when Visconti came knocking.
The savage poetry of Andresen's Midsommar death
A24
Björn Andrésen sadly wasn't the first, and sadly won't be the last, child star whose life was damaged by stardom and celebrity thrust upon them at an early age. The saddest thing about "The Most Beautiful Boy in the World" is the nagging sense that these filmmakers have latched onto his story and cynically exploited him at the other end of his life, too. In his more lucid moments, Andrésen cuts a soulful, enigmatic figure, looking like a faded rock star or aging vampire hunter. All too often he looks like a man lost in a fog of grief and regret, and he doesn't come across as a person fully aware of what is happening around him.
With that in mind, I questioned the editorial judgement of the filmmakers and what they chose to include, which often pries to the point of intrusiveness. We pick up with Andrésen living in a squalid apartment, hear him getting humiliated on the phone by his girlfriend, and the camera later zooms in on his face as he reads the police report regarding his mother's death. It's candid to the point of degradation.
Andrésen, a talented pianist, went on to have a career as a musician and an actor, starring mainly in Swedish TV shows and films before his surprise appearance in 2019's horror sensation "Midsommar." The filmmakers don't delve into how that part came about, which is clearly missing a trick. If Andrésen's story has any catharsis, it is that the man whose life spun out of control thanks to his physical beauty had that very same face obliterated 50 years later in his next biggest film role. There is some savage poetry to that.