Killing Off A Sopranos Character Was Never Easy Behind The Scenes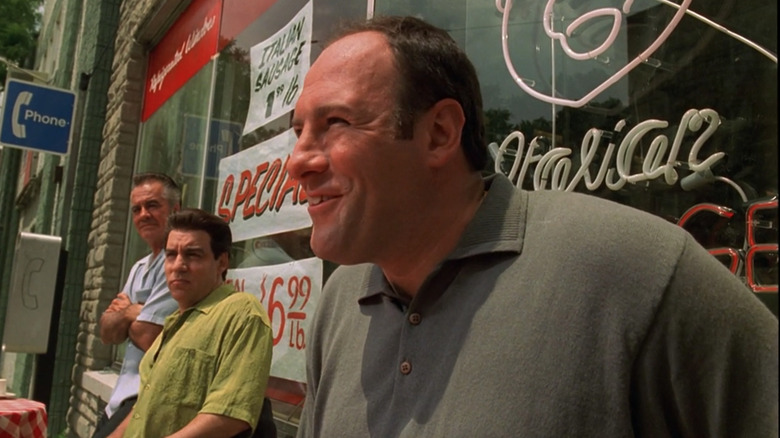 HBO
In between the domestic drama and existentialist struggles, "The Sopranos" features gritty Mafia violence. Throughout the 86 episodes, just under 100 people are murdered by Tony and his crew in a variety of brutal and bloody ways (according to Looper). The result of all the carnage meant memorable characters such as Tony Blundetto or Ralph Cifaretto were no longer a part of the show and the actors would have to leave their steady place of employment.
David Chase admitted in Vanity Fair's oral history of the series that terminating actors was always difficult for him, but he tried to handle it delicately. Although it was sad to let them go, character deaths were inevitable in a show about a Mafia boss. Chase explained his sympathetic process for dismissing actors: 
"I'd call them into my office and tell them how grateful I was for all the work they'd done, and that this was very painful for this show but that the story has to be served. And this is where the story has taken us — rightly or wrongly — for myself and the other writers. And the writers thought about it a lot. We didn't do this easily or cheaply. We never fired anyone for dereliction of duty or for being difficult."
The entire cast of "The Sopranos" developed a close-knit bond. Annabella Sciorra, who played Gloria Trillo, recalled that even after actors were killed off, they would often return for lunch on the set. "Nobody wanted to leave the family," she says. Bobby Baccalieri actor Steve Schirripa noted that the series regulars would often host parties in a Little Italy restaurant to celebrate an actor's run on the show and make them feel better about having to leave.
Actors were always afraid they were next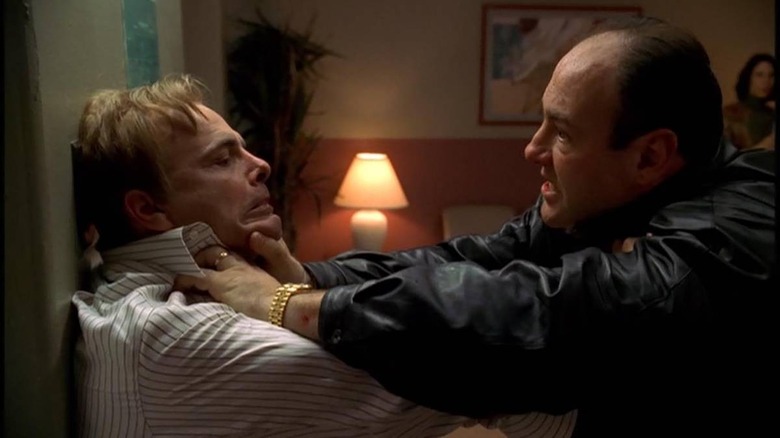 HBO
Many of the actors waited on bated breath to see if their characters were still alive in the next episode. Drea De Matteo, who played Adriana La Cerva, says everyone was "waiting to get the ax. It was a race to read the script." Her character has one of the most heartbreaking deaths in the series, so harrowing that it is kept off-screen. Her impending doom as an FBI informant builds for three tense seasons. Steve Schirripa elaborated on the behind-the-scenes anxieties to Vanity Fair: 
 "If it's time for your character to go, it's time for your character to go — you know what I mean? That's it. It doesn't matter who you are. [Chase] made that statement when he killed off Big Pussy. This was a major character that just got killed. I mean, this wasn't 'Friends.' This was a real worry. You know, we would talk. 'Did you hear anything?' You're asking the writers. Nobody's telling you nothing. Each time the script arrived, you go to the front, you go to the back, looking."
Schirripa also believed that many stars on "The Sopranos" were fortunate to have a memorable death scene: "I think the better they killed you, the better it was. Like Joey Pants went out with the head [in a fistfight]. Michael had a good one [by suffocation]. Mine was fantastic [shot looking at train sets]. But I think if they let you go with a whimper, it was a bad joke, instead of, you know, 'Hey, we're going to give you a good f****** send-off.'" Bobby's death is a grandiose "Godfather"-style execution shot in slow motion. 
The murder of Big Pussy hit the hardest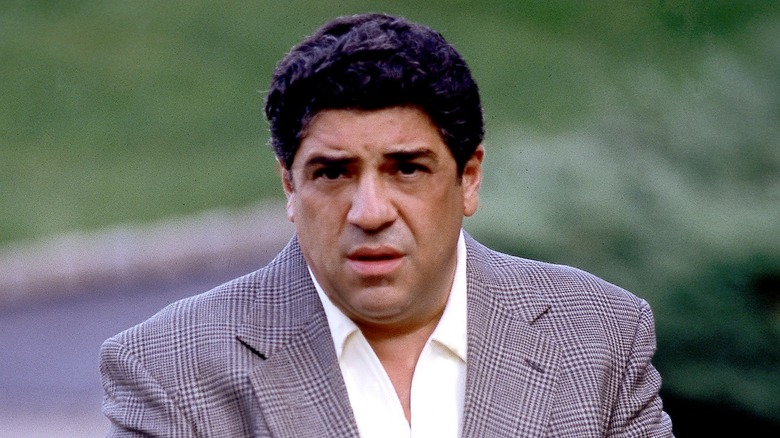 HBO
The most impactful death in "The Sopranos" was Big Pussy in season 2, played by Vinny Pastore. After being discovered as a rat, Big Pussy is shot and thrown overboard Tony's boat. His murder haunts Tony throughout the series. Steven Van Zandt, who played Silvio Dante, recalls the unease during Pastore's exit: 
"[T]hat was the most difficult day up to that point. That was the only day on the set I can remember, you know, out of the whole 10 years where it was very uptight, a lot of tension on the set. I remember people yelling at each other and really pissed off, which you never saw. Why? Because we were losing Vinny. He was a beloved friend of ours, and you're not going to see him anymore." 
Drea De Matteo believed that Big Pussy's death was incredibly meaningful to the story: 
"The reason I thought Big Pussy was the perfect choice when they killed him off is he didn't understand why he was getting killed off. I kept saying to him, 'Man, it's because you're a great actor and you can handle the material and people are going to feel for you because you're going to know how to play it out. And you're kind of vulnerable.' There was a vulnerability to this big Mafia guy. People cared about him. You would probably care less if it was someone as cool as Silvio." 
The graphic slayings of Big Pussy and other characters made "The Sopranos" such a gripping show to watch. But for the actors, this often meant leaving behind beloved co-workers and an incredible job. Luckily, there was a strong bond between the cast and crew that made it a little easier for them to sleep with the fishes.