The Best Roles The Sopranos Cast Has Landed Since The Show Ended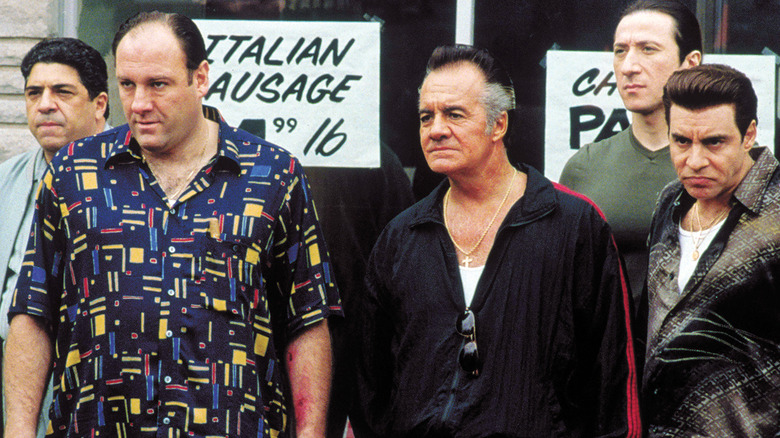 HBO
"The Sopranos" is widely considered to be the tipping point that kicked off TV's golden age. David Chase's HBO drama about a mob boss who struggles with his mental health premiered in January of 1999 and went on to revolutionize small-screen programming. Following in the footsteps of "Oz" and "Sex and the City," the hour-long drama ushered in a new era of Sunday Night television still thriving today. Often named the greatest show of all time, "The Sopranos" was unique for presenting complex characters and storylines not beholden to traditional network schedules and content standards. It was violent and vulgar, with many characters eradicating the line between hero and villain. At times funny, horrific, thrilling, and even heartbreaking, the story of Tony Soprano and his family never felt anything less than real.
The strength of "The Sopranos" lies in its depth of characterization, thanks in no small part to its full roster of accomplished actors. Though Tony is the unquestionable centerpiece, each episode is nearly bursting with the fascinating people who live in his periphery. Its casting was almost too perfect, to the degree that some of the show's most memorable stars struggled to escape the mafia shadow once the show wrapped in 2007. But given the stellar acting chops of the entire ensemble, many more went on to land outstanding roles. Let's catch up with some of our favorite wiseguys and girls to see how they fared after that notorious cut to black.
James Gandolfini – Enough Said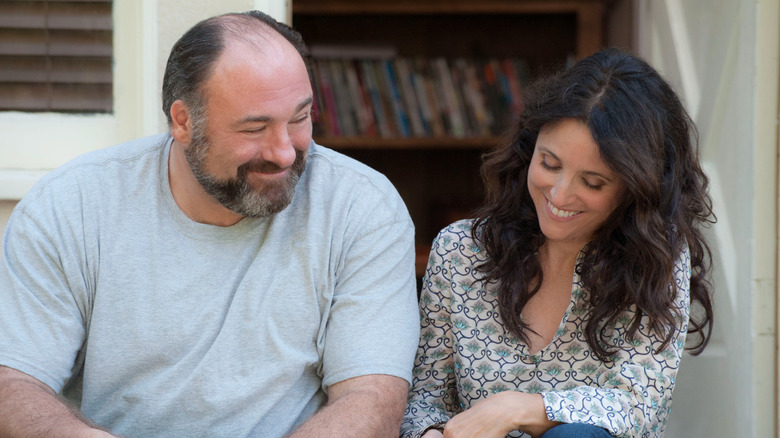 Fox Searchlight Pictures
Tony Soprano is not only the main character, but the heart of the show. Husband to Carmela and father to Meadow and Anthony Jr. (A.J.), the de facto head of the DiMeo crime family wins our hearts in the first episode with his fondness for the ducks behind his house and his all-too-relatable battle with panic attacks and depression. Though he would test those sympathies throughout the show's six-season run with his violent tendencies and womanizing, he is one of the most complex and beloved characters in the history of television.
It's difficult to overestimate just how large a shadow the Sopranos patriarch holds over the television landscape. With James Gandolfini's legendary performance anchoring one of the greatest shows of all time, the threat of typecasting in future roles loomed large. Nicole Holofcener's "Enough Said" wisely doesn't try to contradict this persona, presenting a character in a similar phase of life. Albert is a divorced father of a college-bound daughter also trying to figure out the next phase of his life. It's easy to see Tony in Albert, but his softer lifestyle — not to mention Gandolfini's chemistry with another beloved TV icon, Julia Louis-Dreyfus — helps us see a kinder side of the alternately loving and menacing man. The pairing of two actors from the Armando Iannucci comedy universe (him from "In the Loop" and her from "Veep") is a treat as well. Released four months after Gandolfini's death, this sweet film showcases his softer side, and remains a fitting way to say goodbye.
Lorraine Bracco – Rizzoli & Isles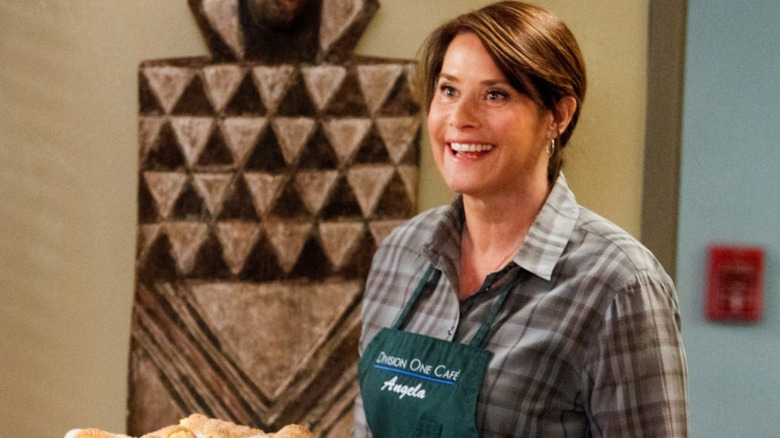 Warner Horizon Television
Already known for her Oscar-nominated performance as Karen Hill in Martin Scorsese's seminal "Goodfellas," Bracco was the perfect fit for the role of Tony's long-time therapist, Dr. Jennifer Melfi. Once again playing the voice of reason to an erratic mobster, Dr. Melfi provides emotional support and a sounding board for the anxious criminal. Though the relationship threatens her code of professional ethics and occasionally her life, she continues to treat Tony through all six seasons of the show's run. Dr. Melfi finally ends her association with Tony in the penultimate episode, having decided she will be unable to help him and has perhaps even played a hand in his criminality by allowing him to justify his illegal actions. Bracco earned multiple Emmy nods for her performance, often nominated alongside her co-stars.
Though Bracco appears in nearly every episode of "The Sopranos," her role as a psychiatrist demands she maintain a professional demeanor with Tony. Consequently, her story almost always revolves around withholding her personal life from the main action of the show. Bracco found new freedom in the TNT drama "Rizzoli & Isles" playing the overprotective mother of Detective Jane Rizzoli. Bracco's Angela is allowed to be far less reserved, writing a crime blog detailing her daughter's cases, an admission for which Dr. Melfi would be whacked many times over. Given how restrictive her "Sopranos" role often feels, it's a refreshing change to see Bracco play a more relaxed and messy character.
Edie Falco – Nurse Jackie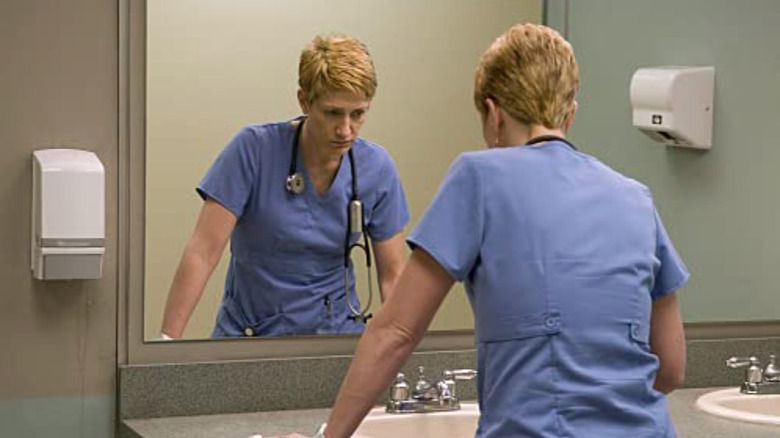 Showtime Networks
In the wrong hands, the role of a mob boss' wife could easily drift into superficial territory, but Edie Falco managed to add life to a tired stereotype. Already a series regular on "Oz," the HBO alum effortlessly slipped into the expensive shoes of Carmela Soprano, drawing us into a complex inner world. Her struggles to overlook Tony's constant infidelity while negotiating her own romantic interests and often contentious relationships with her children are completely relatable. But it's Falco's deft handling of Carmela's enjoyment of the extravagant lifestyle afforded to her by Tony's crimes, juxtaposed with the strict morality of her Catholic faith, that really makes the character sing. However, despite Falco's best efforts, most of Carmela's story is dominated by her relationships with Tony, Meadow, and A.J.
Falco found a role all her own just two years later on another premium cable drama, this time as the headliner. Arguably the most successful post-"Sopranos" cast member, Falco stepped into an unrivaled spotlight with "Nurse Jackie." A drug-addicted Emergency Room nurse who trades sex for prescriptions, Jackie Peyton is a dream role for any actress and offered Falco the opportunity to throw herself into an entirely different kind of character. Her fierce performance garnered the actress five Primetime Emmy nominations and one win.
Michael Imperioli – Californication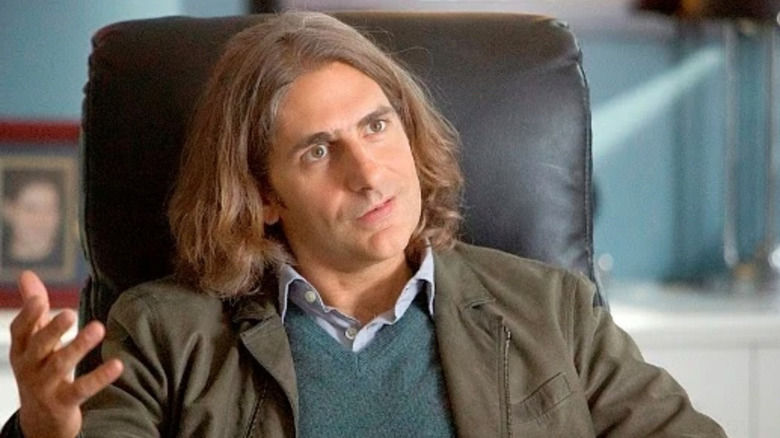 Showtim
As the boss' troubled nephew, Christopher Moltisanti has perhaps the most varied arc of anyone in Tony's inner circle. The would-be actor quickly rises through the family's ranks, but along the way endures the death of his best friend, the revelation that his fiancée is working with the FBI, disappointing reviews for his passion project "Cleaver," and alternating battles with addiction and sobriety. He finally dies at the hands of his uncle after a drunken crash leaves him gravely injured late in the show's final season.
After wrapping his last scene as Christopher, Imperioli landed several high profile roles, including Spike Lee's remake of the Korean film "Oldboy" and a major role in Peter Jackson's "The Lovely Bones." But his turn on the seventh and final season of Showtime's "Californication" felt like inspired casting. Rick Rath could be an alternate version of Christopher and a bittersweet moment of wish fulfillment. Though not completely satisfied with the TV show he's producing, Rath has made it in the film and TV industry, a feat Christopher always dreamed of but was never able to accomplish. Ostensibly older and wiser, Rath is in a much better place than his "Sopranos" alter-ego and it's tempting to pretend he's the version of Christopher who finally got his life together. Watching Rath give Hank, a character battling his own demons, a chance to redeem himself feels like coming full circle.
Steven Van Zandt – Lilyhammer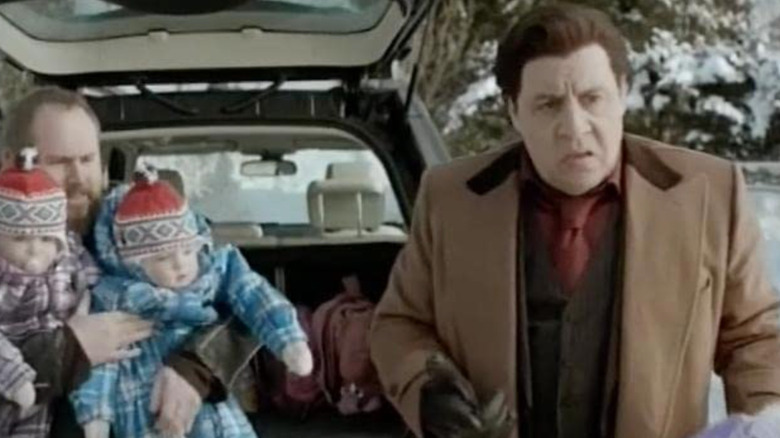 Rubicon TV AS
Originally known as a member of Bruce Springsteen's legendary E Street Band, Van Zandt's first foray into acting was "The Sopranos." But the talented musician quickly grew into the role of Tony's level-headed consiglieri, Silvio Dante. While certainly no angel, Silvio won hearts with his unflinching loyalty even when asked to carry out devastating orders. Though he's responsible for some of the show's most heartbreaking hits, he is a stabilizing force in Tony's life. Given Silvio's battle with anxiety upon stepping in as acting boss, his Netflix show "Lilyhammer," about a mobster sent to Norway in witness protection, feels like the perfect continuation of Silvio's story.
Van Zandt was involved in nearly every level of production on "Lilyhammer," earning producing and writing credits as well as directing an episode and contributing to the series' score. Premiering in the early days of television streaming, the Netflix drama's success in Norway arguably contributed to new innovations in the medium. Van Zandt's time in "Lilyhammer" also allowed him a brief reunion with another "Boss," as Springsteen made a cameo appearance as a ruthless hitman. In addition to involvement in shows that revolutionized television in two different eras, Van Zandt was also inducted into the Rock n' Roll Hall of Fame in 2014 with his original boss' band.
Tony Sirico – The Bensonhurst Spelling Bee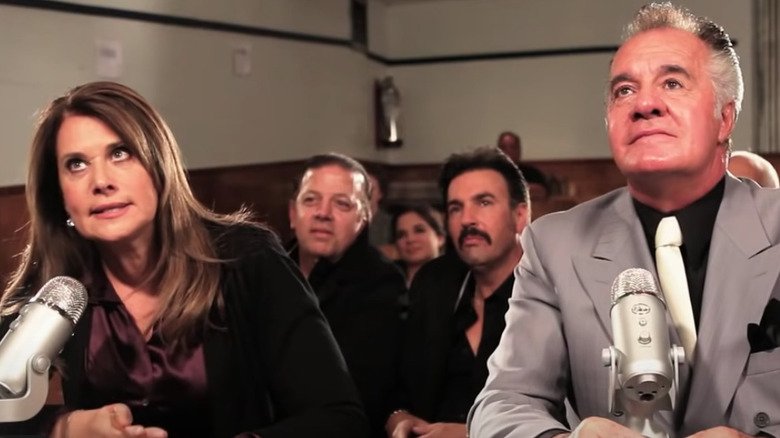 Milojo Production
Paulie "Walnuts" Gualtieri is one of Tony's most loyal henchmen. In fact, Sirico insisted his character never become a rat before accepting the role (per Deadline). He is fiercely loyal both to his boss and the gangster lifestyle, though his actions on Tony's behest often leave him with intense guilt over the lives he's taken. Paulie is frequently at odds with Christopher, becoming a conduit for an audience frequently fed up with the young hot head's antics. Considering his paranoid tendencies, Paulie's appointment as the new boss in the final season left many wondering how he would manage filling the shoes of his long-time boss.
It's difficult to see Tony Sirico as anything but a Made Man, especially considering his real-life mob association in the '70s. Sirico made a name for himself playing gangsters in a number of roles both before and after his time on "The Sopranos," most notably with a smaller role in "Goodfellas." Given this long history, it seems fitting that his best role since we last saw him sitting outside the café would be a return to form. The "Funny or Die" short "The Bensonhurst Spelling Bee" lovingly pokes fun at Paulie's impulsiveness and loose grasp of how to spell his favorite Italian foods. Starring alongside Lorraine Bracco, the sketch provides a sort of return to normalcy after the abrupt ending of "The Sopranos" and allows us to believe a little piece of the New Jersey we fell in love with is still alive and well.
Michael Rispoli – Friends and Romans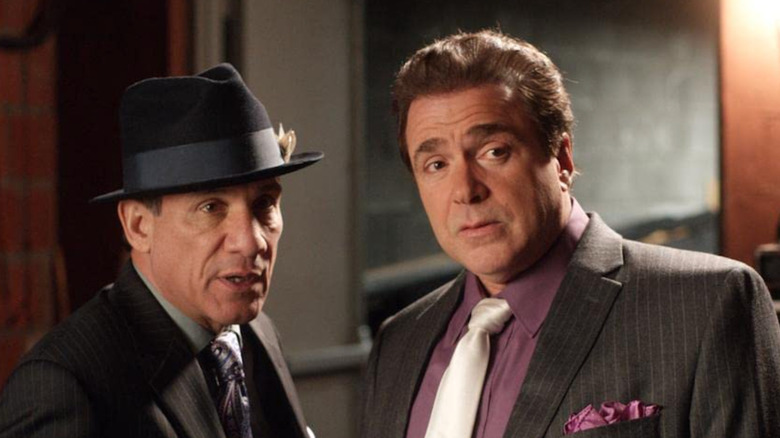 Michael Mailer Films
Originally considered for the role of Tony, Michael Rispoli was cast as Jackie Aprile, the DiMeo family's much loved boss who dies from cancer in the show's fourth episode. He's succeeded in name by Junior, setting up a series-long power struggle and much of the foundation for Tony's worsening mental health. Aprile is the show's emotional catalyst and the boss that Tony will always compare himself to. A childhood friend and a legacy in the DiMeo world, Aprile's shadow looms large over the Soprano family who often find themselves entangled with many of the departed boss' surviving relatives.
The meta-comedy "Friends and Romans" feels like wish fulfillment and an exploration of the role that might have been. Tired of being typecast as a mobster, Nick DeMaio decides to mount a local production of "Julius Caesar" so that he and his friends can finally play parts with actual dialogue. Rispoli's character definitely leaving "The Sopranos" early on had to have stung, especially considering the show's unparalleled success. Having co-written the script, "Friends with Romans" allowed the veteran actor to this time maintain the spotlight. His character's last name, DeMaio, is too similar to the name of the crime family he might have run to be a coincidence, and the film occasionally feels like a way to reconcile his disappointment at having lost the coveted role of Tony to Gandolfini.
Jaime-Lynn Sigler – Entourage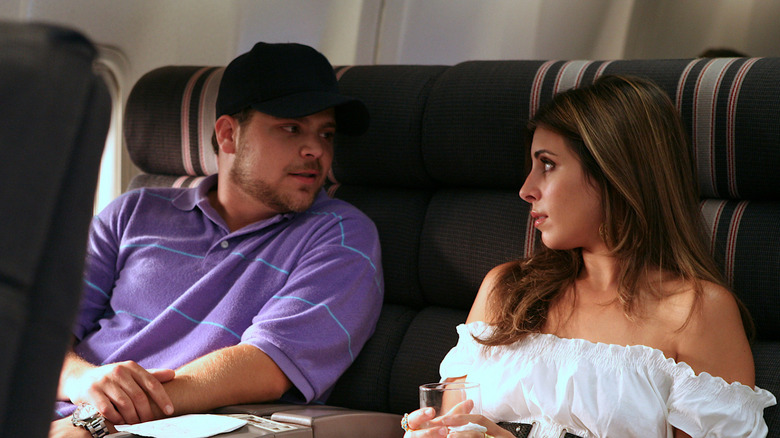 HBO
Sigler starred on "The Sopranos" as Tony's eldest daughter, Meadow Soprano. While occasionally spoiled and immature, viewers watched Meadow grow from a smart but rebellious teenager to a headstrong young woman with a bright future ahead of her. Though she's seen her share of heartbreak, losing her fiancé Jacki Aprile Jr. just after finding out he'd been unfaithful, Meadow seems to have made her peace with her father's lifestyle and ends the series preparing for law school. Relatively unknown before the show's premiere, this was Sigler's first major role and, hailing from Long Island, her authentic performance often feels like an alternate version of the young actress herself.
Aside from her role as the mob's first daughter, Sigler is best known for playing herself on another HBO series, "Entourage." Meeting and falling for Turtle after an X-rated encounter on an airplane, Sigler began dating her onscreen love interest Jerry Ferrara during filming (via CNN). It's a welcome change, considering Sigler had a very public marriage and divorce to her manager while filming "The Sopranos," briefly changing her name to Jaime-Lynn DiScala. Having essentially watched the young actress grow up on screen, many audiences will always see Meadow as a surrogate daughter of sorts. Though Sigler's character eventually left the show and she and Ferrara ultimately called it quits as well, it was nice to see her in a happy relationship.
Aida Turturro – What We Do in the Shadows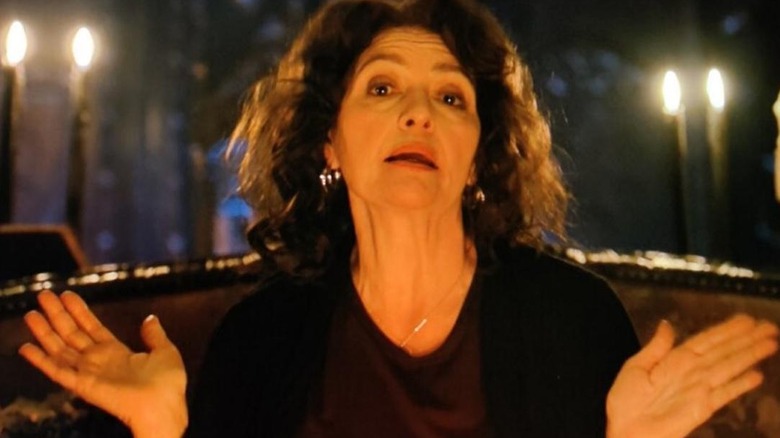 FX
Tony's free-spirited older sister, Janice Soprano Baccalieri has always been a bit of a wild card. Returning in the second season to care for her mother Livia, she reestablishes an often tense and complicated relationship with her younger brother. Janice is manipulative and lazy, constantly a thorn in Tony's side even when stepping in to deal with their stressful mother. However, Turturro plays the flighty character with a touching vulnerability, demonstrating how the often-infuriating woman constantly manages to work her way back into her brother's heart while simultaneously driving him crazy.
Turturro has had no shortage of high-profile guest appearances after wrapping her final scene as the boss' sister, but her turn as Gail on "What We Do in the Shadows" is a career highlight. As a werewolf turned vampire love interest for Nandor the Relentless, the role offered the veteran actress the chance to have some silly fun. Viewers may have failed to recognize Turturro due to her dramatic weight loss, but Janice's trademark flakiness and lovingly obnoxious persona are present in Gail in a welcome and hilarious return to form. The hit FX show is known as a playground for character actors like Mark Hammill, Nick Kroll, and Tilda Swinton, allowing them the freedom to indulge their comedic chops. Though Gail is last seen remaining hesitant to commit to Nandor, hopefully Turturro will return with the full moon in future seasons.
Steve Schirripa – Blue Bloods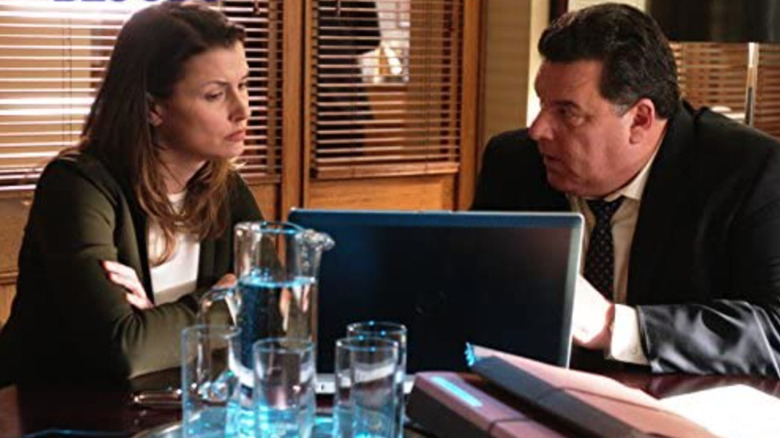 CBS
The kind-hearted teddy bear of the family, Bobby enters Tony's orbit on the opposing side as a member of Junior's crew. But he manages to work his way into the inner circle, eventually marrying Tony's sister Janice in later seasons. Grieving the loss of his first wife Karen, Bobby gained audience sympathies as well as many ladies in the Sopranos circle who essentially fall over themselves to cook and care for the new widower and his two children. Though Schirripa is similar in build to Gandolfini and many cast members, he wore a fat suit to fill out Bobby's large build. But frequent jokes about the character's obesity were off-putting and left a sour taste in many viewers' mouths.
Schirripa went on to find several recurring roles on other network shows, most notably "The Secret Life of the American Teenager" and the long-running CBS drama "Blue Bloods." Though many "Sopranos" alums have made appearances on the NYC cop drama, Schirripa has had the most enduring legacy as Detective Anthony Abetemarco and surrogate older brother to Assistant District Attorney Erin Reagan. At the tender age of 13, Anthony discovered he is the son of a mobster, an intriguing mirror to his "Sopranos" character. Unlike Bobby, Anthony dedicates his life to law enforcement rather than follow in his father's criminal footsteps.
Drea de Matteo – Sons of Anarchy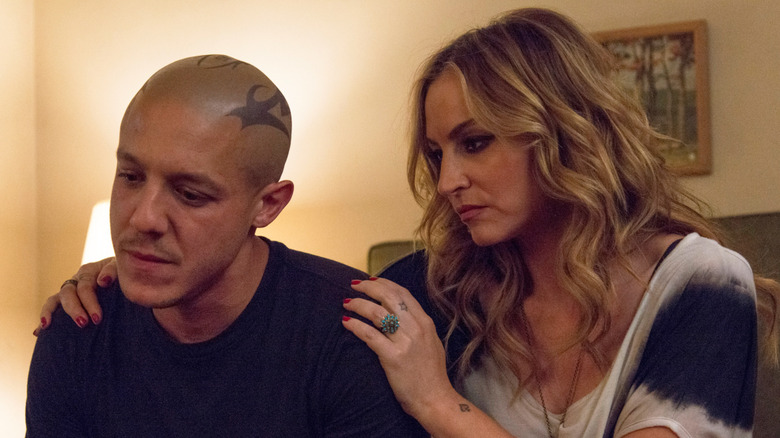 SutterInk
Arguably the most tragic character in the show's six-season run, Adriana La Cerva suffers more than her share of heartbreak. The niece of legendary boss Jackie Aprile, she has a long and frequently abusive relationship with Christopher. Constantly dealing with her fiancé's erratic behavior and struggles with addiction, De Matteo adds emotional complexity to what could easily have remained a clichéd trophy girlfriend role. Adriana's admission of her possible infertility due to a botched abortion is particularly heartbreaking, but it's her death at the hands of Silvio that provides one of the show's most devastating moments.
De Matteo plays another character with destructive taste in men in FX's Shakespearean biker saga "Sons of Anarchy." As Jax's first wife Wendy, who overdoses on heroine while pregnant with their son Abel, she provides the emotional catalyst for the show's central relationship. In another complex role, De Matteo deftly navigates shifting motives and loyalties as Wendy struggles to remain sober and become a stable mother for her young son. It's an interesting reversal considering how much of Adriana's storyline was dominated by Christopher's demons. Like "The Sopranos," Kurt Sutter's series is dark and violent, featuring many upsetting deaths. Allowing Wendy to be one of the only characters in Jax's life to survive unscathed feels like poetic justice given Adriana's heartbreaking fate.
Joe Pantoliano – Bad Boys for Life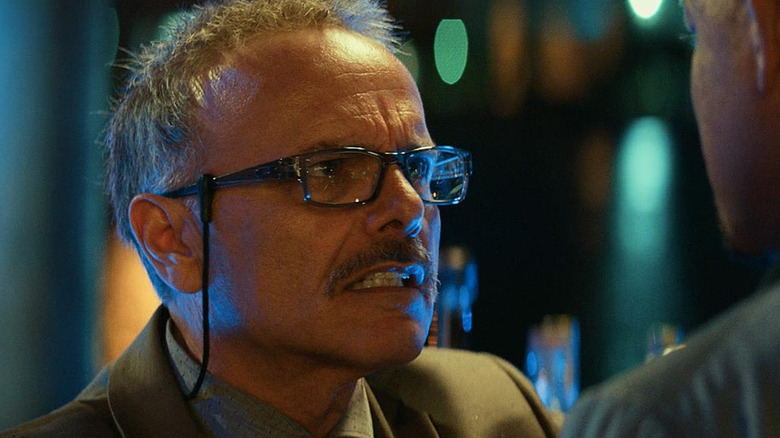 Columbia Pictures
The obnoxious and erratic Ralph Cifaretto was an intriguing Season 3 addition to "The Sopranos" gangster lineup. Played by charismatic actor Joe Pantoliano, "Ralphie" returns from an extended stay in Miami and quickly establishes himself as a prolific earner with a dangerous temper. He proves especially loathsome when causing the death of Tony's prized horse Pie-O-My and murdering his pregnant girlfriend Tracee outside the Bada Bing. Finally pushing Tony too far, Ralph suffers a particularly embarrassing death and dismemberment. But Pantoliano's commitment to the abhorrent character was commendable, earning him broad acclaim and a Primetime Emmy. 
After his abrupt exit, Pantoliano continued to work steadily, having long ago embraced his status as a character actor. He appeared in an uncredited role in the Netflix series "Sense8" as well as starring in the more subdued film "From the Vine." But 2018 saw the beloved actor reprise one of his most popular roles as the perpetually stressed Captain Howard in "Bad Boys for Life." Though they are usually at professional odds, Howard is magnetic in his ability to quickly shift between affection for Mike and Marcus and fury at their careless destruction. His tragic death in the third film is a poignant moment in an action-packed franchise, and offered fans more closure than his shocking "Sopranos" demise.
Kathrine Narducci – Euphoria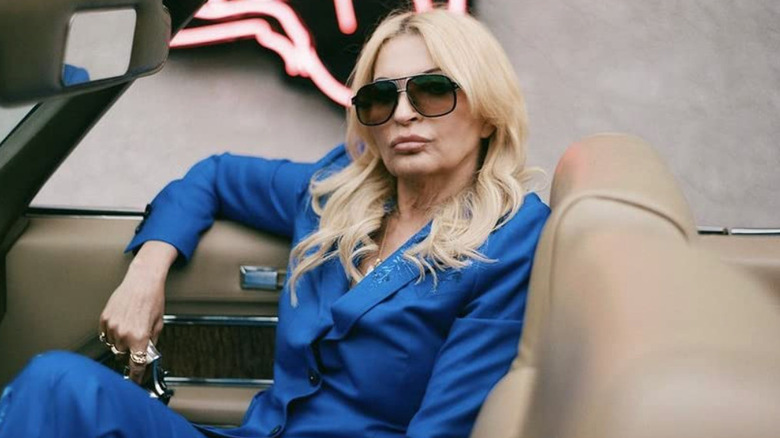 HBO
A childhood friend of Carmela, Charmaine Bucco is one of the few "Sopranos" characters to avoid being pulled into the DiMeo web of corruption. She is the wife of chef Artie Bucco and spends her days co-managing their family restaurant Vesuvio's, a popular venue among Tony's crew. Charmaine constantly warns Artie to keep the mobster at arm's length and Narducci is largely relegated to the role of disapproving nag. The couple have a tumultuous relationship exacerbated by Artie's increasing involvement in Tony's affairs. But Charmaine takes minor solace in antagonizing Carmela with casual allusions to her own high school romance with Tony.
Narducci stars in one of the most explosive flashback sequences on HBO's mega hit "Euphoria" as a younger version of Fezco's drug-dealing grandma, Marie O'Neill. She kicks off Season 2 with a literal bang by barging into a strip club and shooting an unnamed lothario in both thighs while he's receiving oral sex. Taking Fez in as her own, she's responsible for the lovable drug dealer's criminal education and gives Ashtray his somewhat shocking nickname when he can't stop eating her cigarettes. Narducci is a powerhouse in this brief sequence, mesmerizing audiences in a flashback lasting less than nine minutes. After years of watching Charmaine endure her husband's increasing corruption, it's refreshing to finally see Narducci play a character who takes matters into her own hands, even if it's only for one episode.
Steve Buscemi – Boardwalk Empire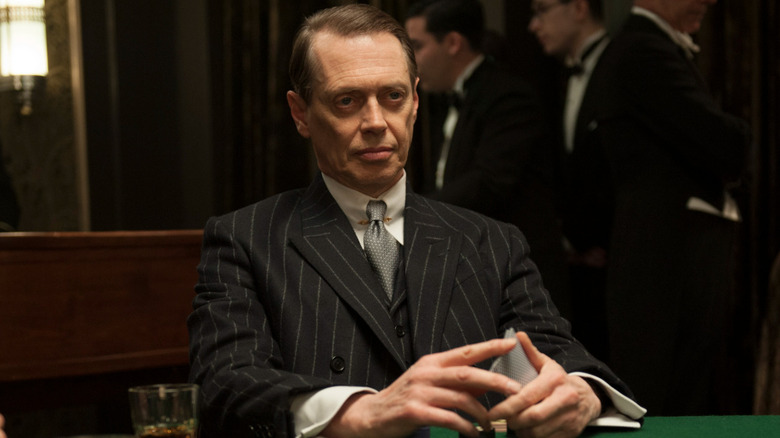 HBO
Another dynamic addition to the cast, Tony Blundetto, is released from a long stretch in prison in the fifth season. "Tony B" is the cousin and childhood playmate of both Tony Soprano (known as "Tony S" when the two are together) and Christopher, but their close relationship quickly curdles over an ill-advised hit that ignites a war with Johnny Sack's rival crew. While an intriguing character in his own right, Tony B offers a glimpse into his cousin's criminal origins and perhaps another source of his anxiety. As it turns out, Tony B was sent to prison having been busted for a hijacking Tony S was supposed to be a part of. Paranoid and guilt-ridden, Tony S is convinced his cousin carries justified resentment, making his decision to give him up to his rival all the more difficult.
Already an accomplished character actor and director, Buscemi landed the leading role of Enoch "Nucky" Thompson on HBO's Prohibition-era drama "Boardwalk Empire." He may not have been executive producer Martin Scorsese's first choice to play this analogue for real-life Atlantic City boss Enoch L. Johnson, but Buscemi now regards his time in the complicated protagonist's finely tailored suits as one of the highlights of his career. Playing Nucky offered Buscemi a chance to showcase his range by balancing the sympathetic and the abhorrent — an easy task for an actor who specializes in finding the heart within the most despicable characters.
Cara Buono – Stranger Things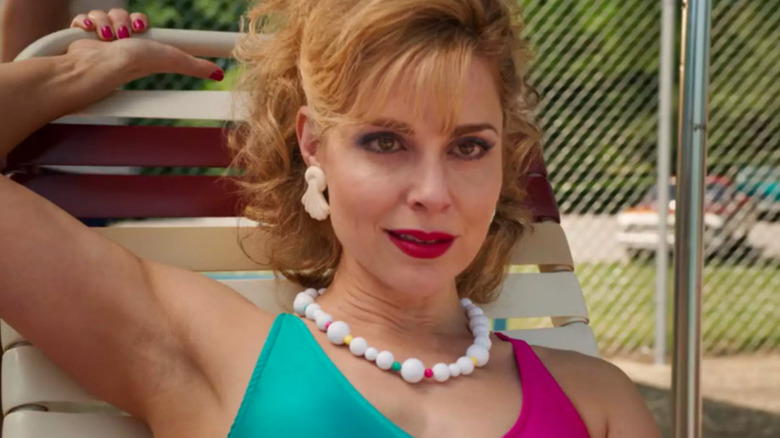 Netflix
Buono's sixth-season arc as Kelli Lombardo Moltisanti largely revolves around the actions of her husband, the recently promoted Christopher. Accidentally becoming pregnant, the two decide to marry in Las Vegas, though its clear Christopher's heart will always belong to Adriana. He quickly has an affair and relapses on heroin, alcohol, and impulsive violence, testing the already fragile relationship. Though Kelli gives birth to a daughter named Caitlin, the marriage is short-lived. The new mother soon becomes a widow after Christopher's death at the hands of Tony and his own intoxication.
Six years after a memorable performance on "Mad Men" as Don Draper's Season 4 love interest Faye Miller, Buono landed a dream role on the Netflix juggernaut "Stranger Things." Though she has marginally better marital luck as Karen Wheeler, she's still saddled with a stinker of a husband. However, the Duffer Brothers give the talented actress much more to do as Mike and Nancy's overbearing but often oblivious mother. Bored to tears with her dull husband Ted, Buono is also afforded the opportunity to showcase her comedic chops and nearly steals every scene in which she appears. Her Season 3 arc is especially delightful as she dolls herself up for a trip to the community pool and contemplates having an affair with dreamy lifeguard Billy Hargrove.
Annabella Sciorra – Before I Go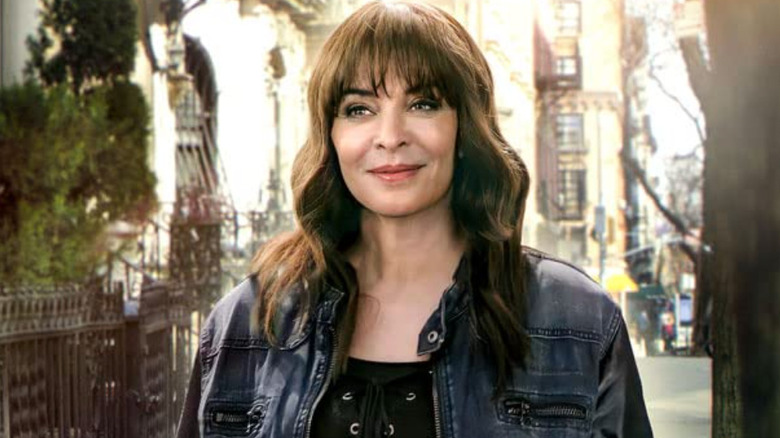 Mainstay Entertainment
Anabella Sciorra made the most of a Season 3 guest role as Gloria Trillo. After a chance meeting at Dr. Melfi's office, Tony has a brief but tumultuous affair with the chaotic car saleswoman. Likely suffering from borderline personality disorder, Gloria quickly reveals her darker side and Tony suspects she is attempting to manipulate him into killing her. This erratic behavior is all too familiar to Tony, reminding him of his mother Livia, and he definitively ends the affair. Though the troubled relationship quickly flames out, Sciorra's captivating performance garnered the actress a Primetime Emmy nomination.
Despite a promising career in the '90s, Sciorra had difficulty finding work after she was assaulted by convicted rapist Harvey Weinstein. Sciorra was a key witness in his trial and a pivotal force in the #MeToo movement. Given this distressing history, her role in the indie dramedy "Before I Go" is especially poignant. Sciorra plays Samantha, a New York woman reflecting on a music career that might have been. Though she did not write the script, the story feels a bit autobiographical considering how Weinstein allegedly sought to sabotage her career. Sciorra's performance will hopefully lead to similar roles in the future.
If you or anyone you know has been a victim of sexual assault, help is available. Visit the Rape, Abuse & Incest National Network website or contact RAINN's National Helpline at 1-800-656-HOPE (4673).