You Are So Not Invited To My Bat Mitzvah: Everything We Know So Far About Adam Sandler's Next Netflix Movie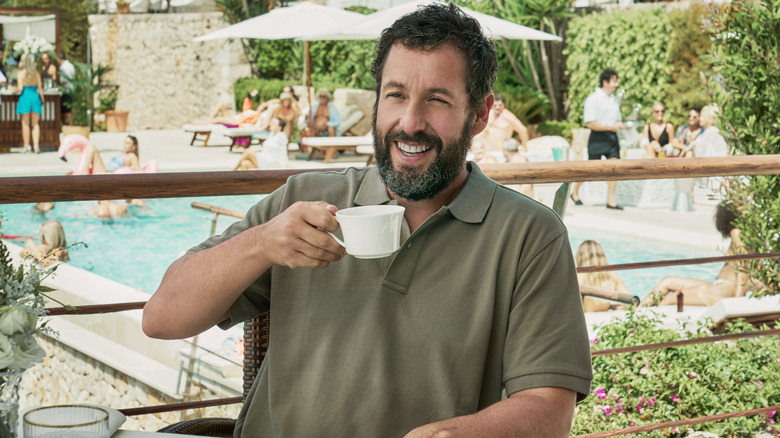 Netflix
For the most part, Adam Sandler's multi-film deals with Netflix have led to him making more of his bread-and-butter broad comedies (like "The Ridiculous 6" and "Murder Mystery"). In between those releases, however, he also carved out time to go star in Noah Baumbach's critically-acclaimed dramedy "The Meyerowitz Stories" for Netflix and work on the Safdie Brothers' nerve-racking hit "Uncut Gems" for A24. Most recently, the Sandman starred in Netflix's "Hustle," a perfectly sturdy underdog sports flick that bridged the gap between his arthouse and mainstream pictures. His next film for Netflix, the astronaut drama "Spaceman," may be angling to do the same, judging by the credentials of its cast and crew. 
After that, Sandler is lined up to star in "You Are So Not Invited to My Bat Mitzvah" for Netflix. Like "Hustle" and (again, by the sound of it) "Spaceman," this one has the makings of a movie that might have something to offer Sandman fans of all shades. Could this also be a sign that even Sandler has tired of making ho-hum comedies that double as cushy vacations and is feeling a little more creatively ambitious these days? Either way, between this recent trend and Sandler's plans to reunite with the Safdies on a new film, I'm down with him scratching whatever itch he's got at the moment.
What is You Are So Not Invited to My Bat Mitzvah about?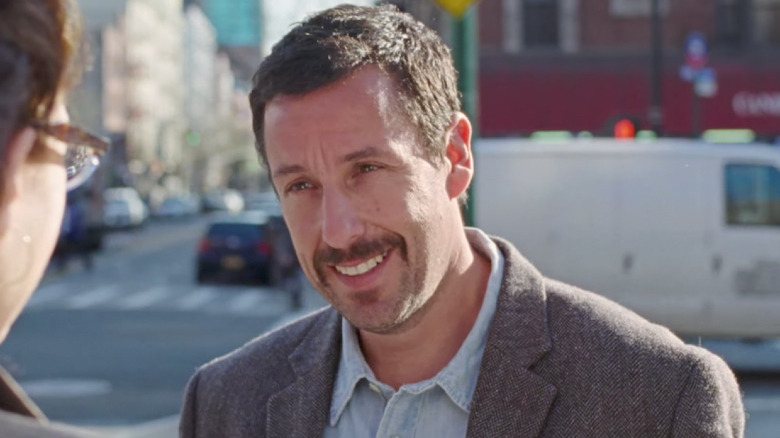 Netflix
Based on the popular 2005 Fiona Rosenbloom novel of the same name, "You Are So Not Invited to My Bat Mitzvah" centers on a Jewish teenage girl whose "bat mitzvah plans comedically unravel and threaten to ruin one of the most important events of her young life," as the film's official logline puts it (via Variety). As a side-note for those who are not aware, the eponymous Jewish coming-of-age ritual is called a bar mitzvah when it's for a boy and a bat mitzvah when it's for a girl.
The plot summary for Rosenbloom's book paints a far more colorful portrait of the story, which centers on a Jewish teen girl named Stacy Friedman. Eager for "one of the biggest events of her young life," poor Stacy's dreams of a perfect bat mitzvah are derailed when her stressed-out mother forces her to buy a dress she hates, her mitzvahs keep going poorly, and she catches her best friend making out with her crush. Of course, while that's all bad news for Stacy, it's great news for all of us who can't get enough of cringe-inducing antics at a Jewish social gathering.
Who is working on You Are So Not Invited to My Bat Mitzvah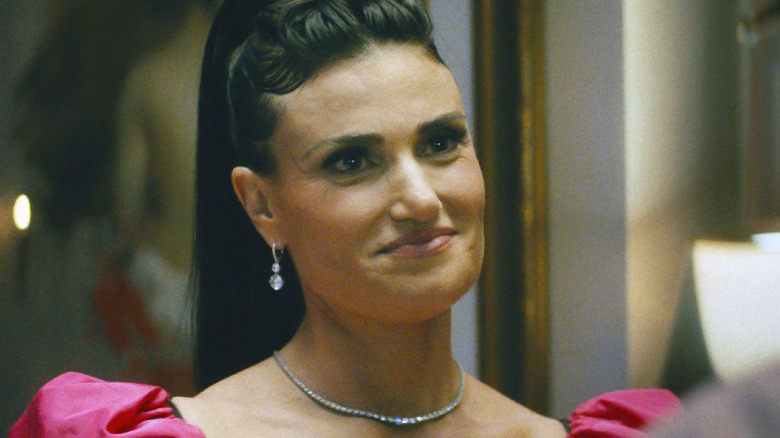 A24
"You Are So Not Invited to My Bat Mitzvah" is being directed by Sammi Cohen, who's coming off helming the adorable queer teen rom-com "Crush" for Hulu. Alison Peck ("Work It") is penning the adapted script, with Adam Sandler producing the movie alongside Happy Madison executives like Tim Herlihy, Barry Bernardi, Judit Maull, and Kevin Grady.
In what could either prove to be an inspired move or, y'know, not that, Sandler will share the screen in "You Are So Not Invited to My Bat Mitzvah" with his real-life spouse, Jackie Sandler (née Titone), and their teen daughters, Sunny and Sadie Sandler. Presumably, either Sunny or Sadie will play Stacy, although Netflix has yet to confirm anyone's roles in the comedy. Sandler's "Uncut Gems" co-star Idina Menzel will also appear in the movie, as will Sandler's "Punch-Drunk Love" co-star Luis Guzmán and Sarah Sherman of "Saturday Night Live" fame. 
As I alluded to earlier, films that double as family affairs, both on and off-camera, can be hit or miss. Still, with a little luck, this project will keep Sandler and his gang on a roll.