Clips Round-Up: Kevin Dillon Is In The Hot Seat, Ruby Rose Gets 1UP & More [Exclusive]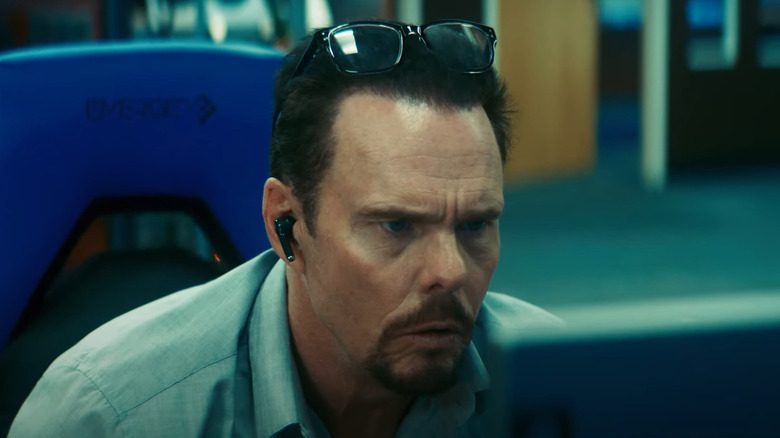 Lionsgate
(Welcome to SlashClips, a series where we bring you exclusive clips from hot new Digital, Blu-ray, and theatrical releases you won't see anywhere else!)
In this edition:
"Hot Seat"
"1UP"
"Living Wine"
"Gateway"
Hot Seat
First up, Lionsgate has provided us with an exclusive clip from the star-studded thriller "Hot Seat." Kevin Dillon ("Entourage"), Mel Gibson ("Braveheart"), Shannen Doherty ("Beverly Hills, 90210"), and Sam Asghari ("Black Monday") star, and the film is now available in select theaters, on demand, and digital. 
Here is the official synopsis: 
Oscar-winner Mel Gibson brings this explosive cyber-thriller to life. The action begins as IT expert Friar (Kevin Dillon) finds a hair-trigger bomb strapped to his desk chair. An unseen hacker orders him to steal digital funds online—or have his daughter abducted. As a fearless bomb expert (Gibson) arrives on the scene, the hacker frames Friar as the bomber. The tension mounts as Friar races to clear his name and expose the real terrorist—without getting himself blown to smithereens.
1UP
Lionsgate and Buzzfeed Studios have given us an exclusive clip from the comedy "1UP," which stars Paris Berelc ("Alexa and Katie"), Taylor Zakhar Perez ("The Kissing Booth 2"), Hari Nef ("Transparent"), Nicholas Coombe ("Dora and the Lost City of Gold"), with Kevin Farley ("The Waterboy") and Ruby Rose ("Orange Is the New Black"). Directed by Kyle Newman ("Barely Lethal"), the film will be available to stream on Prime Video starting July 15, 2022.
Here is the official synopsis:
This outrageously funny esports comedy follows Vivian "V" Lee (Paris Berelc), a competitive gamer whose impressive skills have landed her a college scholarship and a place on the Betas, Barrett University's male-dominated team. But when the Betas' captain Dustin (Taylor Zakhar Perez) tells V she'll never be a starting player, it's game on. Joined by her best friend Sloane (Hari Nef), and under the guidance of her coach Parker (Ruby Rose), V forms a fierce all-girl team to band together with one common goal: level up to the nationals...and take down the Betas!
Living Wine
The next exclusive clip is from the documentary "Living Wine," directed and produced by Lori Miller and featuring winemakers Megan Bell of Margins Wine, Gideon Beinstock and Saron Rice of Clos Saron, Darek Trowbridge of Old World Winery, as well as experts Elizabeth Candelario (Mad Agriculture) and Dr. Timothy LaSalle (Center for Regenerative Agriculture). The film arrives in theaters and home virtual cinema on July 15, 2022.
Here is the official synopsis:
"Living Wine" follows the journeys of an entrepreneurial group of Northern California winemakers, willing to buck the conventional system and work with the grapes, soil and conditions that vary from year to year to create truly unique and natural wines that capture the taste from where they were grown. Equal parts farmer, winemaker and artist, they stay true to their ideals of creating exceptional wines made through innovative sustainable and regenerative farming and without chemical additives. Eschewing the industrial agricultural practices of the corporate wine industry – our winemakers are healing the very environment they are surviving, i.e., a changing climate marked by rising temperatures, shorter growing seasons, and more frequent and virulent wildfires.
Gateway
Finally, Dark Sky Films has given us an exclusive clip from the Irish supernatural thriller "Gateway," which will be available on digital on July 15, 2022. 
Here is the official synopsis:
Mike is a low-level drug dealer in debt to a ruthless supplier. When he and his gang set up shop in an abandoned house, he thinks his problems are solved. But a mysterious locked door inside the house and growing discord within the gang brings old feuds boiling to the surface. As friendships unravel, the house begins to enact its own plan, using the gang's own deepest dark thoughts against them. Like lambs to the slaughter, the men are lured one by one into the room and there they are confronted by the evil world that lies within themselves. The once-locked door is now open, and what lies beyond has its own desires.