Yes, Justin Roiland Knows His Voice Range Is Pretty Limited On Rick And Morty, Solar Opposites, Etc.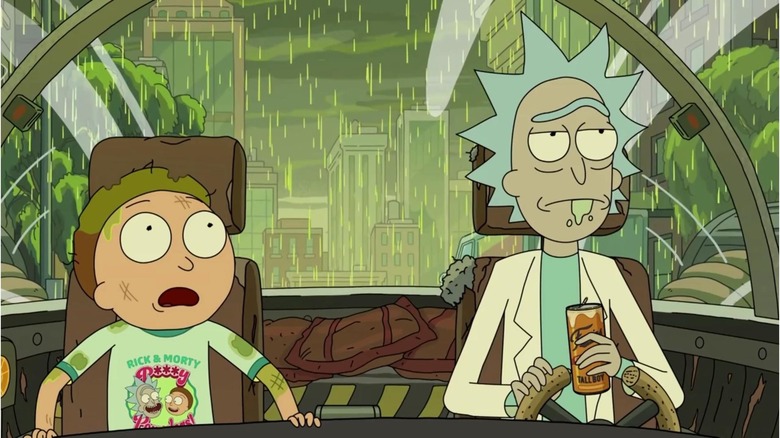 Adult Swim
Justin Roiland is a voice that lovers of animation, and adult animation, in particular, are likely very familiar with. Roiland is known best as the co-creator of "Rick and Morty" while also serving as the voice of the show's two main characters. He is also one of the creators of Hulu's "Solar Opposites" while serving as the voice of Korvo. Roiland has dozens of credits beyond his biggest roles but, one thing that is almost certain, when you hear a voice done by him, you are probably able to pick that voice out instantly. That's because Roiland isn't really a chameleon of a voice actor like some people are, such as John DiMaggio ("Futurama") or the late Mel Blanc ("Looney Tunes"). Yet, this is something Roiland knows about himself and seems to be quite comfortable with.
Justin Roiland knows his range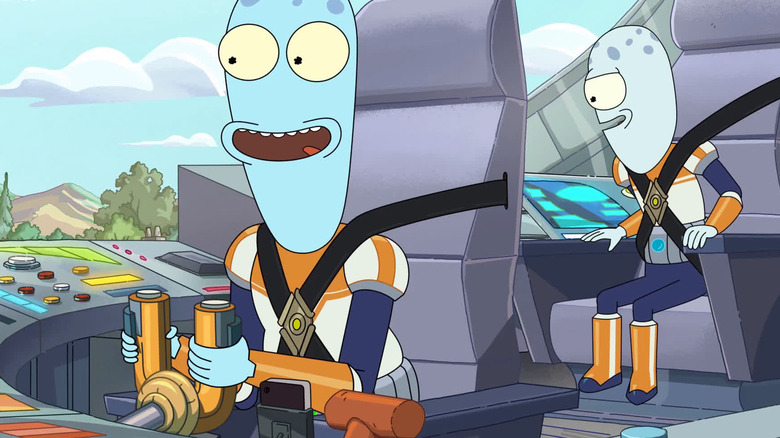 Hulu
Speaking with Wired for an Autocomplete Interview, Roiland discussed his career in animation, answering various questions people tend to Google about him. At one point, someone asked how many voices Roiland can do, at which time, he candidly admitted that his range is somewhat limited. That said, he doesn't necessarily view it as a bad thing in the grand scheme.
"I always say I'm the guy with three or four voices. I probably could come up with more, but they still would be recognizably me. When I was a kid, I remember Rob Paulsen, I could pick him out. I didn't know who he was when I was a kid but I could pick his voice out. Same with Tress MacNeille. Look, I get it, it's like, 'Enough! I've heard this voice in every cartoon! We need new voices!' I get it. I was there as a kid. But hey man, those guys are f*****g badass, legendary. I try to use them as much as I possibly can nowadays. They're just incredible. Some of the sweetest people you'll ever meet. Think about me that way! I do like four voices, but c'mon?"
Clearly, Roiland has a sense of humor about it, first and foremost. Beyond that, he brings up a couple of absolute legends in terms of voiceover work for comparison. Rob Paulson has over 500 credits to his name, having done everything from "Pinky and the Brain" to "Jimmy Neutron." But much like Roiland, he's a voice that you know when you hear, generally speaking. Similarly, Tress MacNeille, of "The Simpsons" and "Animaniacs" fame, is a recognizable voice, but no less talented all the same. Not bad company to be in.
Adventure Time taught him those limits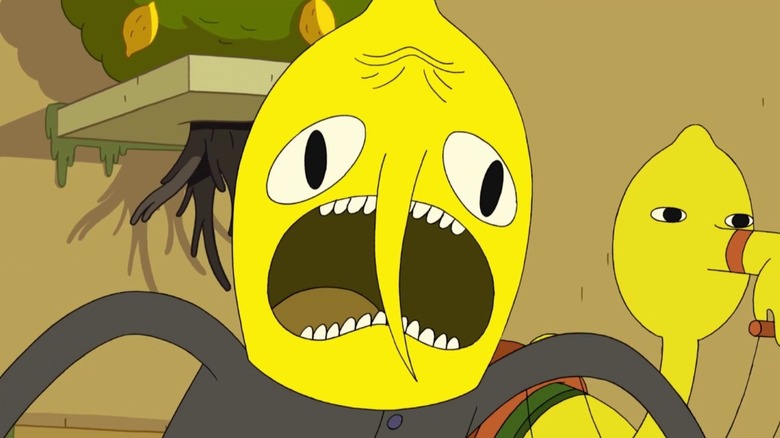 Cartoon Network
So, how is that Roiland, a guy with more than 90 credits to his name dating back to the early 2000s, learned his limitations? It all happened during his work on "Adventure Time." Before he co-created "Rick and Morty" and became something of a superstar in the animation world, he voiced Earl of Lemongrab in the beloved series created by Pendleton Ward. In the same interview, Roiland explained that the voice of Lemongrab really was difficult for him to do and, as a result, made him understand where his limits are as a performer.
"That voice really screwed my voice up. That's the voice that taught me the limits of what my vocal cords are capable of, and where the line is, and when I need to stop. I think every voice actor when they're starting figures that out."
Not that there is any "blame" to go around as Roiland has had a very successful career and people really seem to enjoy his work, but if there is one role to point to that led to him showcasing his limitations more proudly, it is "Adventure Time." So be it.