Day 3 Of Mattel's 12 Days Of Fandom At SDCC Is All About Knight Rider And Ghost Rider Hot Wheels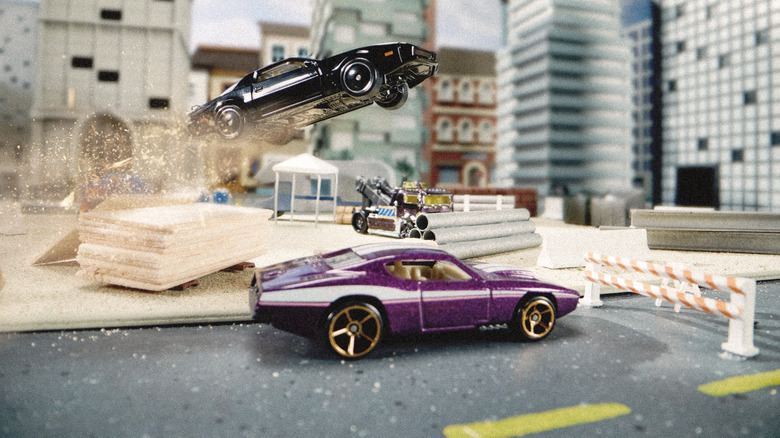 ©Universal City Studios LLC ©2022 Mattel
Get ready to pop a wheelie in your flaming motorcycle and/or speak to your talking car in your best David Hasselhoff voice. Ghost Rider and K.I.T.T. from "Knight Rider" are zooming into Day 3 of Mattel's "12 Days of Fandom" event, which runs from now through the end of San Diego Comic-Con on July 24, 2022. 
The company is unveiling a first look at two new products today: the Hot Wheels Knight Rider K.I.T.T. toy and Hot Wheels Marvel Ghost Rider with Vehicle toy. "Knight Rider" premiered on television in September 1982, so this marks its 40th anniversary. And while Mattel's K.I.T.T. replica lacks the dulcet tones of William Daniels (the uncredited voice of the artificially intelligent star car), their press release promises that "it does feature authentic details with premium execution that collectors love."
K.I.T.T., of course, stands for "Knight Industries Two Thousand," which any fan contemplating the purchase of a "Knight Rider" toy should know already. The Hot Wheels incarnation of the sentient Pontiac Firebird Trans Am is "equipped with a working LED scanner bar to emulate the original anamorphic equalizer," meaning the electronic red thingy that moves back and forth on the front of K.I.T.T. like a cyclopean eye.
K.I.T.T., meet Johnny Blaze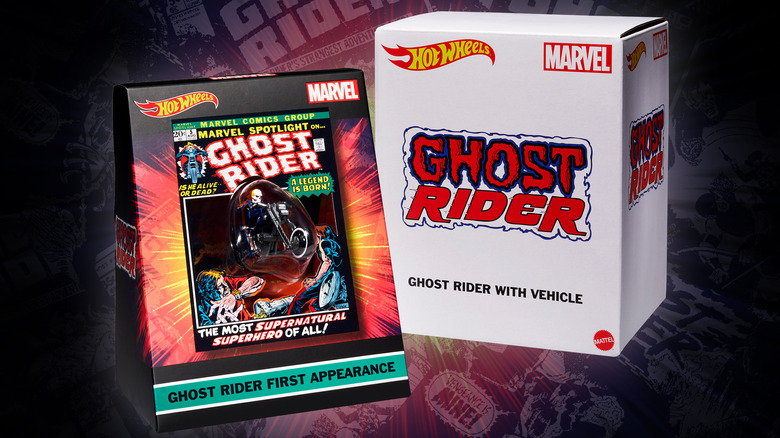 ©2022 Marvel ©2022 Mattel
The Spirit of Vengeance is also celebrating his gold comic book anniversary this year. That's right: it's been 50 years since the first appearance of Ghost Rider in "Marvel Spotlight #5," cover-dated August 1972. Ghost Rider has been portrayed on film twice by Nicolas Cage — and we can only wonder why the character wasn't referenced in this year's "The Unbearable Weight of Massive Talent." The Robbie Reyes version of the character was also portrayed on TV in "Agents of S.H.I.E.L.D." by Gabriel Luna. However, Mattel's product description references the classic Johnny Blaze version:
After making a dangerous deal with the devil to save his stepfather, motorcycle stunt driver Johnny Blaze became fatefully bonded to a demon named Zarathos. Now a "spirit of vengeance," Ghost Rider is sworn to punish bad guys and protect the innocent using his newfound powers of the "Penance Stare" and chains bathed in hellfire. This Hot Wheels diecast recreates the flaming Ghost Rider motorcycle, with figure attached. The package pays homage to the first comic cover, where "A Legend is Born." Wherever he's headed, Ghost Rider is coming in hot! Colors and decorations may vary.
The only question left is who would win in a race: K.I.T.T. or Ghost Rider? Add both toys to your collection, and you can pit them against each other in fiery death races, or have them drive in parallel and work together to solve crimes and vanquish demons.