Into The Woods Broadway Review: Stephen Sondheim's Seminal Fairy Tale Musical Is Still A Masterpiece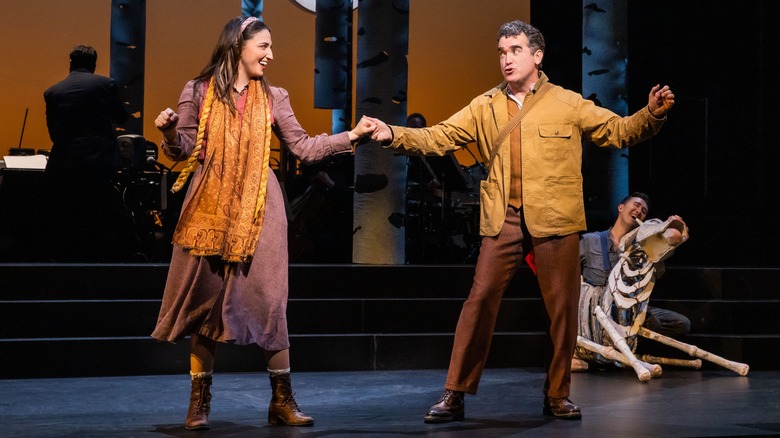 Matt Murphy and Evan Zimmerman for MurphyMade
Fairy tales entertain, enthrall, frighten, or comfort as well as shape a moral compass from the cradle. From Perrault, Brothers Grimm, to the Disney diet, I grew up with a brain stocked with fairy tales, how goodness brings you the ballgown, the glass slipper, and the Prince. Witches are the villains, or a savior will pull you out of the wolf's belly (that is, if you didn't read Perrault's version of Little Red Riding Hood).
I find a catalog of comfort in the fairy tale revision musical "Into the Woods" because of its frankness. The 1987-premiered original Broadway production (directed by bookwriter James Lapine) was taped in 1991, and its accessibility was one of my earliest hooks into Sondheim's repertoire when it graced Netflix. (A 2010 London Regent's Park Open Air Theatre version is also streamable.) Without devaluing the inclination to find enchantment in fairy tales, composer-lyricist Stephen Sondheim and bookwriter James Lapine's "Into The Woods" retorts that life isn't as simple as didactic fairy tales and that the universe can be more chaotic and complex than we can adapt. Mingling several storybook fairy tales, the musical sparks a conversation with yearnings and happily ever afters where Sondheim's masterful lyrics shade the grays in morality. 
Fresh from the acclaimed New York City Center's recent "Encores!" staging, "Into the Woods" is back on the Broadway stage with several "Encores!" reprisals and recasting. Under the watch of director Lear DeBessonet ("Hercules"), the production goes for bare essentials (compare it to the more elaborate designs in the filmed Broadway version as a reference). The orchestra is centered (orchestration by Jonathan Tunick). Dangling from the sky are slender birch trees that quiver when danger quakes (David Rockwell as the scenic designer). Such sparingness sharpens a crystal-keen focus on Andrea Hood's costumes (rustic for peasants, bright for the upper-crust, regal purple for the Witch), the performances, and their delivery of Lapine's and Sondheim's richly textured observations.
A Baker (Brian D'Arcy James) and his Wife (Sara Bareilles) pine for a child. One fateful day, their next-door Witch (Patina Miller) reveals that she cursed them with infertility since the Baker's father stole magic beans from her garden — and the theft cursed the Witch with age and ugliness. Only a special potion, the ingredients untouched by her, can reverse her curse. The Witch promises to lift the couple's curse if the latter can attain the potion ingredients. Sing it, "the cow as white as milk, the cape as red as blood, the hair as yellow as corn, the slipper as pure as gold."
As the couple venture into the woods, the Baker couple crosses paths with the fairy tale familiars: Jack (Cole Thompson), Cinderella (Phillipa Soo), Little Red Riding Hood (Julia Lester), and Rapunzel (Alysia Velez). For much of Act I, they compromise their morals to attain what they wish and each character acquires lessons, small and grand, about their wishes. Then, Act 2 dissolves into the aftermath of happily-ever-afters: wishes don't stop and then the consequences planted in Act I fester into a thorny crisis.
It would be unjustifiable to single out a favorite or standout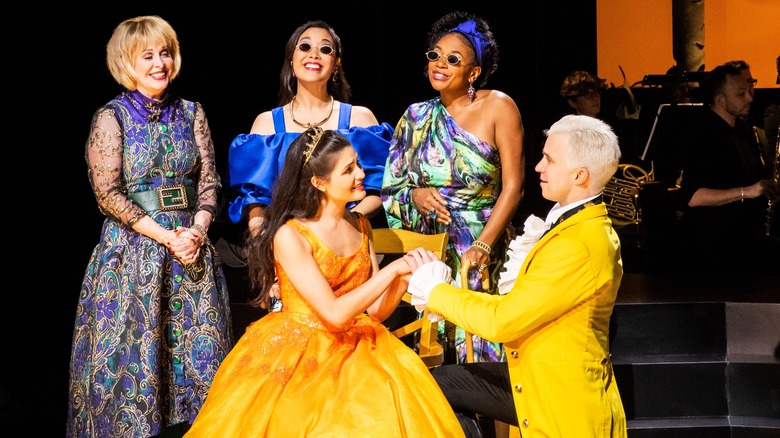 Matt Murphy and Evan Zimmerman for MurphyMade
Our human center, Brian D'Arcy James and Sara Bareilles (insert joke about the "Waitress" star playing yet another chef) embody a priceless married pair who walk the perfect balance of relatable goofiness and (not always intact) moral compunctions. Sara Bareilles twinges her goofiness at the optimal and never sacrifices her character's ponderance — especially for the contemplative "Moments in the Woods." James is practiced as a paternal figure who realizes that he'll never have all the easy answers. When the Baker tries to talk Jack out of revenge, James treats the provided text ("don't kill him") as a human struggle rather than a clear-cut solution.
"Hamilton" veteran Phillipa Soo radiates her effervescence — which she applied to her recent performance in "SUFFS." Soo fills in the contours of Cinderella's indecisiveness and doubts (she's skeptical that complete happily ever after can be found in a Prince). Her giddiness, especially when she takes charge by leaving her gold slipper behind in "On the Steps of the Palace" is an enthralling discovery of agency.
Memorably, Gavin Creel flexes his comic pomposity as Cinderella's Prince (and he doubles as the carnal Wolf), matched only by the richly-voiced Joshua Henry as Rapunzel's Prince. The pair unleashes the savory ham in "Agony" and its reprise, the duets that are not about pining for their true love but rather the inaccessibility of mythic maidens.
I gave plenty of thought to Patina Miller as the Witch, a complex figure who positions herself as a moral arbitrator (her unfair curses come from a place of being wronged). She especially has large shoes to fill for the purportedly legendary performance by Heather Headley at New York City Center (who I did not witness so I woefully cannot speak about Headley substantially). Behind her aged mask for much of Act I, Miller and her pebbly voice don't bother convincing you of the Witch's elderly curse and ride on cool collectiveness. For as incandescent as Miller's presence, I felt her casting at first came off as coasting until Miller shares — well, attempts to hog — the stage with her adopted (stolen) child, Rapunzel. Those scenes make her crackle and pop because it forces the Witch's parenting confidence to tumble into debris. A raw Alysia Velez conjures a damaged and tragic Rapunzel whose chances of functionality were snuffed out.
Wishes come true and complicated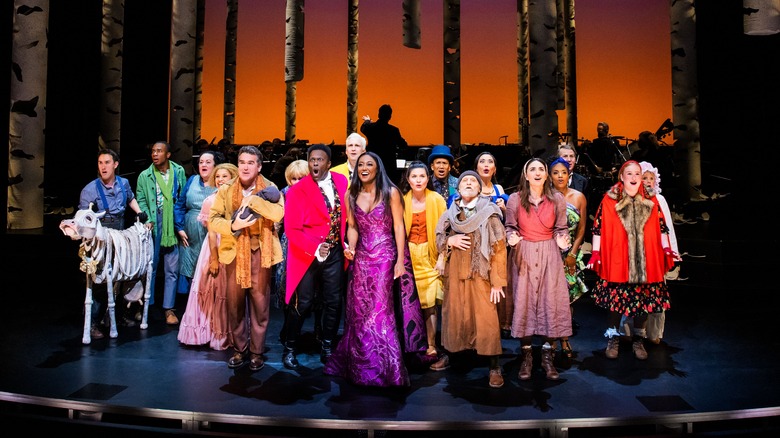 Matt Murphy and Evan Zimmerman for MurphyMade
There are too many others to highlight. Billed as "introduced" newcomers, the goldenly comic Julia Lester is an impish Little Red Riding Hood, and Cole Thompson as the adventurous dreamer Jack. Aymee Garcia is heartfelt as Jack's Mother and we feel her bones-deep devotion for her son. David Patrick Kelly switches between the cordial Narrator and the rascally Mysterious Old Man. Annie Golden also unravels her instructive warmth as the ghost of Cinderella's Mother as well as the terror of the Giantess, respectively.
The huggable show-stealer is Milky White, or rather, the puppeteer Kennedy Kanagawa (also a puppeteer for Cinderella's birds and one of the boots of the unseen Giantess). Kanagawa performs puppet gags that could go down in theatre history — when Milky White dies, he conspicuously reacts and scurries off-stage. Puppet designer James Ortiz has proven himself a superstar, having also crafted the infamous Brontosaurus and Woolly Mammoth in "Skin of Our Teeth."
This review spotlights so much about its cast. They're vital for "Into the Woods" to sing. The Bakers and the fairy tale familiars aren't teaching tools for morals, but rather human beings where we recognize our best and worst (and sometimes middling) selves.
For whatever personal strifes (that may be entangled in the wider global and national crises), "Into the Woods" remains chock-full of resonance: compromising with the hazy lines between right or wrong (do white lies really justify the beans, er, the means?); growing up (Red's making distinctions between "nice" and "good"); losing loved ones so soon (it's unsurprising that "sometimes people leave you halfway through the woods" circulated around social media upon Sondheim's death); how the wanting has more thrills than the having ("Agooooony!"); intergenerational anxieties (the Witch's "Children Will Listen" warns you to beware what stories you tell your children). These themes fold upon each other into origamis of poignancy. Lapine's book and Sondheim's lyricism spreads out the fertile soil. And this revival has sown the best seeds and lets its audience reap a bountiful harvest.
The revival of "Into the Woods" is running on Broadway for a limited run at the St. James Theatre.