Get A Sneak Peek At A New Star Trek: Strange New Worlds Season 2 Set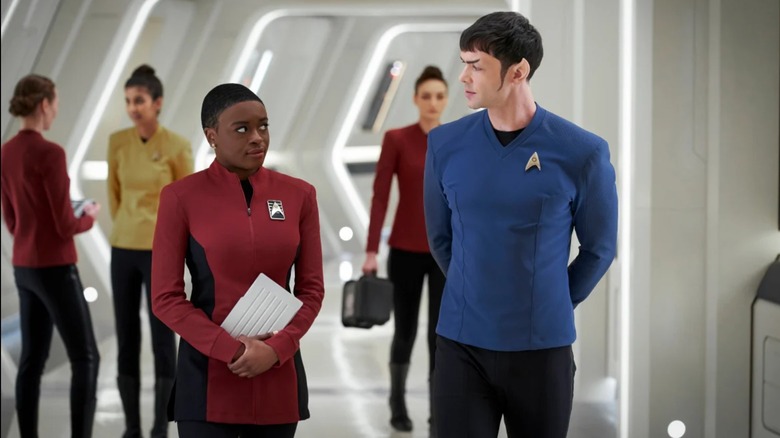 Paramount+
The first season of "Star Trek: Strange New Worlds" may have just ended, but the Paramount+ show isn't stopping to take a breath: Production on season 2 has reportedly already wrapped. While we don't know when the second season will debut, cast and crew members have already been dropping some juicy behind-the-scenes details about fan-favorite supporting characters like Erica Ortegas (Melissa Navia) and Christine Chapel (Jess Bush).
Now, a new set tour led by production designer Jonathan Lee is giving fans a close-up look at an impressive new location that will be featured in season 2. Apparently, the crew of the Enterprise will be boldly going somewhere they've never been before: An extremely cool looking retro-futuristic bar located aboard the famed vessel. Because of course Captain Pike (Anson Mount) would have that on his ship.
The Enterprise is getting a swanky new bar
In the video, which you can watch above, Lee is accompanied by "Star Trek: The Next Generation" actor and "The Ready Room" Trek aftershow host Wil Wheaton. The pair take a stroll around the gorgeous new set, while Lee shares some genuinely interesting facts about its design. The production designer reveals that much of the set was designed to accommodate intimate conversations between characters while also creating a feeling of togetherness for group events. He describes it as a "quiet conversation room," as opposed to the more bustling mess hall we saw in season 1 of the prequel series.
The new "Star Trek" bar is decked out with impressive and beautiful design features that mix the '60s aesthetic of the original series with some futuristic, sci-fi touches. Art pieces include a metal comet based on the M'hanit design from the series' second episode, as well as a chandelier-esque fixture made of light tubes that are meant to bring to mind a cloud for space explorers who haven't seen the real sky in months. Despite the abundance of soft lighting, which also emanates from the center of tables and even diagonal wall beams, Lee says the team intentionally didn't put any windows in this space, since the focus should be on what's happening inside the room.
There's a whole lot more to see here, from a self-service replicator to a handrail inspired by "The Love Boat" to a bottle of the Saurian brandy that Picard (Patrick Stewart) shared with former Ten Forward bartender Guinan (Whoopi Goldberg) on "Picard." While I hope season 2 of the series takes its time wrapping up to get the story just right, I also can't wait to see how all these mood lights and quiet corners will impact the dynamic, chemistry-laden cast of characters on board the latest version of the Enterprise.
All episodes of "Star Trek: Strange New Worlds" season 1 are now available on Paramount+.