Despicable Me Franchise Crosses $4 Billion Worldwide, Ensuring We Will Never Be Rid Of The Minions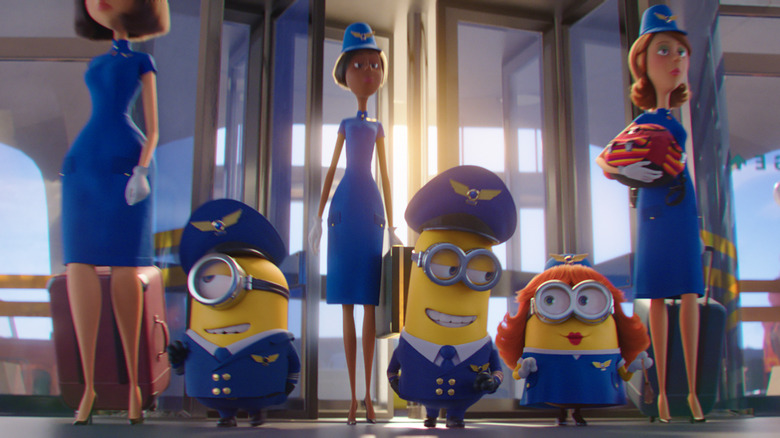 Universal Pictures
After a dozen years and five films, the "Despicable Me" franchise has crossed a gigantic milestone with the series collectively passing the $4 billion mark at the global box office. This comes as the latest entry, "Minions: The Rise of Gru" has continued to do extremely well in its second weekend of release despite heavy competition from "Thor: Love and Thunder." Even the might of Marvel could not get in the way of Universal counting a great deal more cash from these little yellow money printing machines.
As noted by The Numbers, Between the "Despicable Me" and "Minions" movies, the franchise now has $4.11 billion to its name. This spans five films from 2010's original "Despicable Me" to this year's "Rise of Gru." The total also includes 2013's "Despicable Me 2," 2015's "Minions," and 2017's "Despicable Me 3." It is also the highest-grossing animated franchise in history, which is downright remarkable when considering the likes of "Toy Story" ($3.25 billion) and "Shrek" ($3.5 billion) also exist.
There is no telling how high the series will fly. "Rise of Gru" is a little money in the couch cushions away from passing $400 million worldwide and, in a lot of ways, the movie is just getting started. Depending on how things go, it could end up becoming another member of the $1 billion club alongside the first "Minions" and "Despicable Me 3." It is also very important to point out that Universal and Illumination already have "Despicable Me 4" set to release on July 3, 2024. This to say, we could easily be looking at a $5 billion franchise in just a couple of years.
The truly amazing part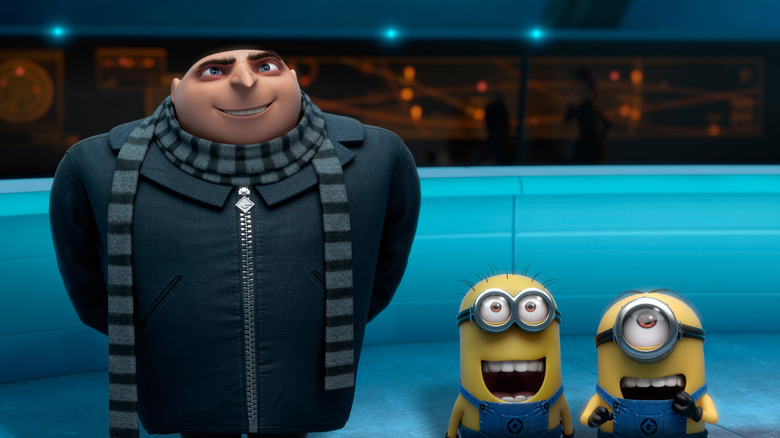 Universal Pictures
Most big animated films end up working like major, live-action blockbusters in the sense that they typically cost a great deal of money to produce. "Lightyear," for example, cost a reported $200 million which is part of why its box office returns thus far have been so disastrous for Disney and Pixar. But Universal and animation studio Illumination have managed to mitigate things in that department with this franchise and that means they have ultimately profited a great deal more from its success.
To date, the five films have combined budgets of $374 million for a very reasonable average of just $74.8 million. With an average box office of $822.2 million per film, that represents multiplying the budget nearly 11 times in terms of ticket sales. Granted, none of this accounts for marketing but that is still an unbelievably impressive return on investment, especially when compared to other blockbuster franchises. You've gotta spend money to make money, and Universal spends it wisely. The point being, we will probably all be long dead before the Minions are put to rest.
"Minions: The Rise of Gru" is in theaters now.
Long before he becomes the master of evil, Gru (Steve Carell) is just a 12-year-old boy in 1970s suburbia, plotting to take over the world from his basement. It's not going particularly well. When Gru crosses paths with the Minions, including Kevin, Stuart, Bob, and Otto—a new Minion sporting braces and a desperate need to please—this unexpected family joins forces. Together, they build their first lair, design their first weapons, and strive to execute their first missions.

When the infamous supervillain supergroup, the Vicious 6, oust their leader—legendary martial arts fighter Wild Knuckles (Alan Arkin)— Gru, their most devoted fanboy, interviews to become their newest member. The Vicious 6 is not impressed by the diminutive, wannabe villain, but then Gru outsmarts (and enrages) them, and he suddenly finds himself the mortal enemy of the apex of evil. With Gru on the run, the Minions attempt to master the art of kung fu to help save him, and Gru discovers that even bad guys need a little help from their friends.