The Director Of Monsters Inc. Was Sure It Would Be A 'Disaster'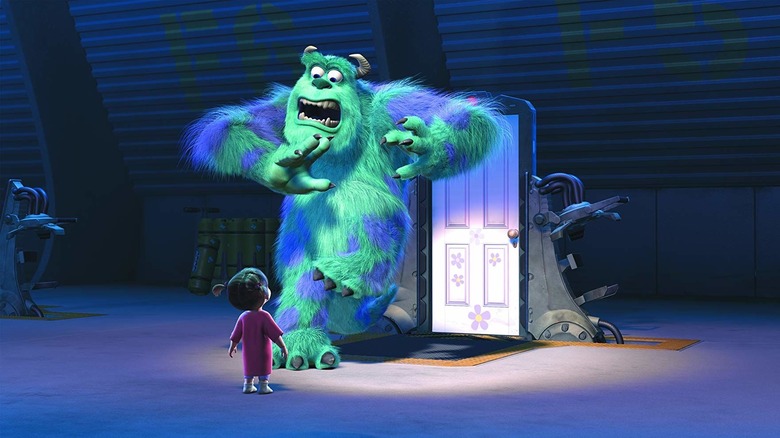 Pixar Animation Studios
In Pixar's "Monsters Inc.," monsters Sulley (voiced by John Goodman) and Mike Wazowski (Billy Crystal) are gainfully employed as professional child scarers at a renewable energy company that harnesses not wind or solar power, but the screams of human children. All is well, but when a little girl finds her way into the factory, Sulley and Mike must return the child back home before her presence destroys the company. It's a rather unique movie premise. If I were a head honcho at a major studio that caters to children, it would have taken a very compelling argument to persuade me to greenlight a film about monsters whose jobs are to scare the living daylights out of kids. What cruel, abusive parent would torture their child with such a movie?
Welp, it's good I'm no head honcho, because "Monsters Inc." was the third highest grossing film of 2001, behind "Harry Potter and the Sorcerer's Stone" and "The Lord of the Rings: The Fellowship of the Ring." I guess, as the film jokes, children are becoming harder to frighten nowadays. Although they were different from mine, "Monsters Inc." director Pete Docter revealed he too had concerns about the film.
The shadow of John Lasseter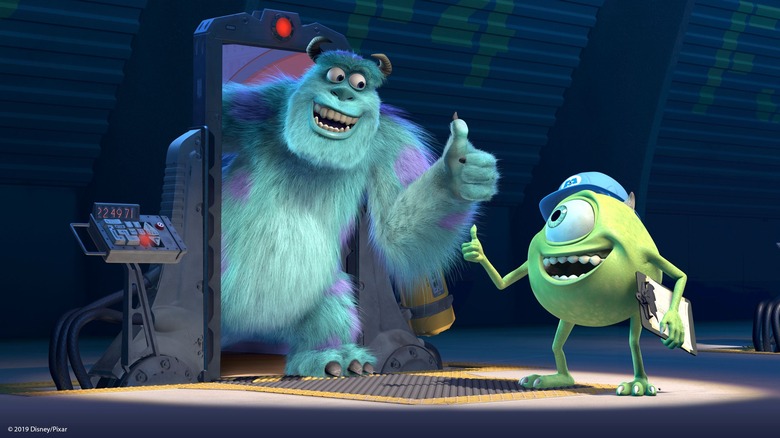 Pixar Animation Studios
As Pete Docter told Entertainment Weekly in 2016:
"At the time... I thought it was going to be a disaster and it wasn't. People liked it and it [was] well-reviewed, and that was very gratifying because it was a heck of a long road, and very difficult for me personally."
Pixar burst on the scene with the widely successful "Toy Story" in 1995 and followed up with "Toy Story 2" and "A Bug's Life." All three were both critically acclaimed and box office successes as Pixar gained reverence for its innovation in animation. Pixar had a blueprint that worked, so why was directing "Monsters Inc." so personally difficult for Docter?
Well, the first three Pixar movies were helmed by John Lasseter, thus making "Monsters Inc." the first film to be captained by a new director. That created internal conflict for Docter. He continued to EW:
"... I was really having to follow in his footsteps and not be overshadowed by the way John likes to work, because I was trying to find my own way. That was a whole very difficult road."
Docter's concerns are understandable. It's always tough when you're asked to fill the shoes of someone who was successful and/or beloved. In a movie context, just think about the actor replacements that so-called ruined a movie; George Lazenby taking the James Bond reins from Sean Connery is a big one. And for a behind-the-scenes example, Disney's own Chief Executive Officer Bob Chapek probably would have related to Docter, as he has been criticized and compared to his predecessor since taking over for the beloved Bob Iger.
Getting the story right was the biggest challenge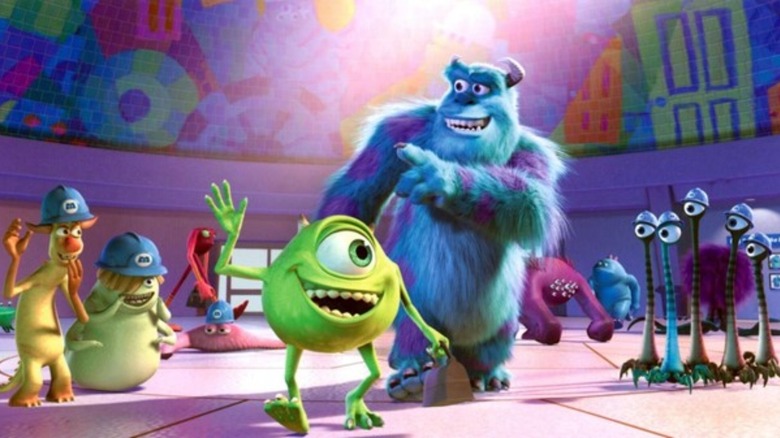 Pixar Animation Studios
John Lasseter wasn't just some ominous cloud hanging over Pete Docter's head waiting for him to fail. As Docter immersed himself in every aspect of the production of "Monsters Inc.," he tapped into the things he learned from Lasseter. He told Animation World Network in 2001 that he shadowed Lasseter during "Toy Story" recording sessions and observed him working with the voice actors, which informed how he ran his own sessions with the "Monsters Inc." cast.
The biggest challenge was getting the story right, Docter told Animation Network, and he specified to Entertainment Weekly that his team struggled with nailing down Sulley's character:
"I think the trick with Sulley was, we came into the project thinking there's no way the audience will empathize with a monster who scares children. That just seems mean and unappealing."
Ha! See, I knew I wasn't the only one! Sulley was initially written to be a janitor, and then a failed child scarer. It wasn't until Docter and his team freed themselves of the restraints and made Sulley to be the best scarer that things started to fall into place, including the monster's design. The twist of having the monsters go from striving to make children scream to making them laugh was a very soft touch.
"Monsters Inc." is one of those 2000s movies that younger millennials and Gen Zs hold dearly. "...[P]eople come up to me, and they're usually around 20, and they kind of say, 'Monsters, Inc.' was the movie that I grew up with," Docter told Entertainment Weekly. "And I recognized that look from myself, having grown up with the films of Disney and the Muppets, and meeting Frank Oz and Dave Goelz for the first time."