Why The Boys Season 3 Changed Queen Maeve's Fate From The Comics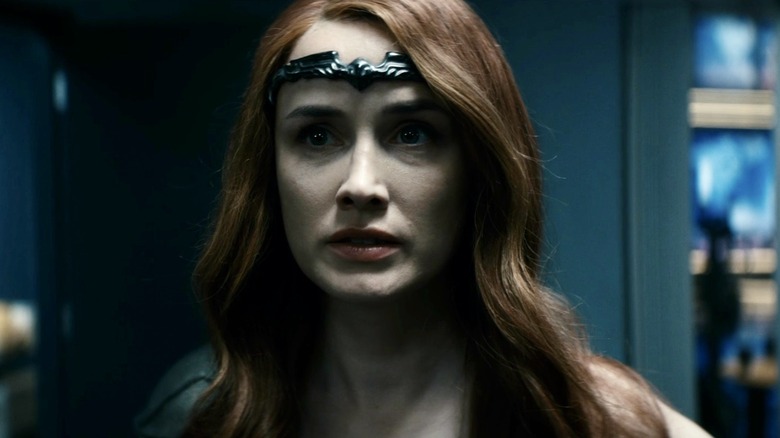 Prime Video
If you haven't seen the season 3 finale of "The Boys" yet, consider bookmarking this page and coming back to it later, because we are about to delve into spoilers.
Just when you thought a certain character was dead, Prime Video's "The Boys" proved that — beneath all the crass humor and irreverent superhero satire that makes up its cynical exterior — the show still has a heart of gold.
Things were looking pretty bleak for Queen Maeve (Dominique McElligott) at the end of the season 3 finale. After losing an eye to Homelander (Anthony Starr), Maeve had seemingly jumped to her death, sacrificing herself to save everyone in Vought Tower from another one of the PTSD detonations emanating from Soldier Boy (Jensen Ackles). Maeve had already been curiously sidelined this season, and in the comic book series "The Boys" is adapted from, her character suffers an even worse fate, in that Homelander simply decapitates her before she even gets in any licks in their final fight.
It almost seemed like the season 3 finale was just going to kill Maeve off, pursuant to her comics death, but that proved to be a fake-out. Speaking to TVLine, showrunner Eric Kripke revealed that it was never the plan for Maeve to die and that the writers wanted to give her and her on-again, off-again lover Elena (Nicola Correia-Damude) a happy ending. He said:
"At no point did I ever consider killing Maeve, from the very, very beginning [of the series]. We were intentionally building to a happy ending for her, always, for a lot of reasons. One, she deserved it. Believe it or not, 'The Boys' is a moral universe, and when you make the right choices, you get rewarded, and she deserved a happy ending with Elena."
Subverting a tired trope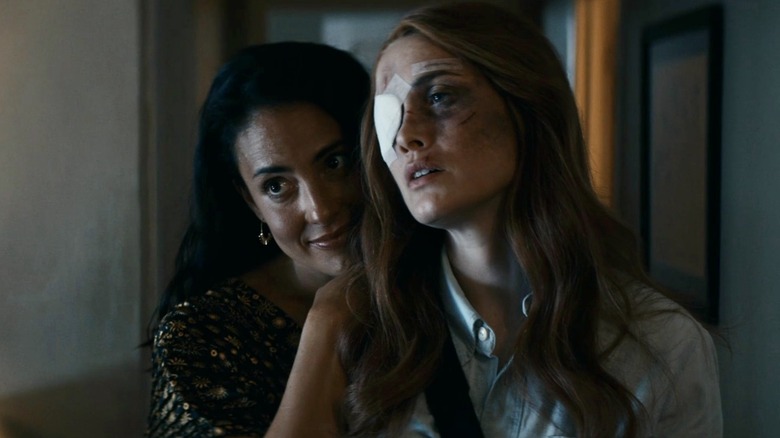 Prime Video
Though Vought International refers to her unceasingly as a "proud lesbian," Maeve is, in fact, bisexual, something that her hookup with Billy Butcher (Karl Urban) really hammered home this season. Either way, killing her off would have played into the Bury Your Gays trope, whereby an expendable LGBT character is offed in lieu of any straight characters. This is something Kripke and the writers' room consciously sought to avoid in "The Boys" season 3. As he explained:
"I am not going to fall into the trope of killing off gay characters. I'm aware of it, [and] I agree with the criticism of it. I'm not going to do that as well. And I'll admit that I think we're playing around a little with that trope by letting people think she's dead, and they're going to shout at their TV and be really upset by it, but then [we] reveal she's actually going to go have a nice, power-free life with her girlfriend. So hopefully that will take the sting off it."
For most of season 3, Maeve was still left marginalized, but there's been some speculation that Covid-related travel restrictions may have played a part in her decreased screen time. If it ever seemed like the show didn't know what to do with her this season, it may also be because her character arc and loose mentorship of Annie January, aka Starlight (Erin Moriarty) had somewhat run its course. Kripke concluded by saying, "A lot of the big story is Annie finally stepping up and emerging as the hero she needs to be, and in classic [story] structure, it's time for her mentor and protector to go and let her stand on her own two feet."