The Lord Of The Rings: The Rings Of Power Trailer: Time To Go Back To Middle-Earth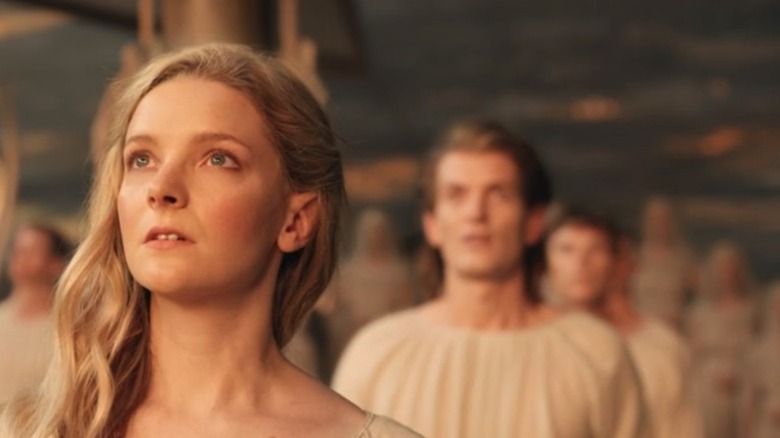 Prime Video
The new trailer for the Prime Video series "The Lord of the Rings: The Rings of Power" is finally here. After a Twitter tease last week which showed characters from all over Middle-earth gazing with worry at a falling star (from which a man emerges in an earlier trailer), we have a more in-depth look at this prequel from the Second Age, thousands of years before Peter Jackson's "The Lord of the Rings" and "The Hobbit" trilogies. One thing we know for certain; this series is going to be beautiful, from the costumes to the sets. The incredibly large budget for "huge world-building" has paid off, if this and the earlier teasers are anything to go by. 
In the series, we'll see the creation of the 19 rings of power by Sauron (who was known back then as Annatar). "The Lord of the Rings: The Rings of Power" already has five seasons of content mapped out, which makes sense, knowing how much content author J.R.R. Tolkien created for Middle-earth.
My advice is to not take rings from people unless you've been dating for a while. Especially not from someone who came out of a meteor. That's just good sense. 
A return to Middle-earth
The series is created by showrunners J.D. Payne and Patrick McKay. The cast includes Cynthia Addai-Robinson, Robert Aramayo, Owain Arthur, Maxim Baldry, Nazanin Boniadi, Morfydd Clark, Ismael Cruz Córdova, Charles Edwards, Trystan Gravelle, Sir Lenny Henry, Ema Horvath, Markella Kavenagh, Joseph Mawle, Tyroe Muhafidin, Sophia Nomvete, Lloyd Owen, Megan Richards, Dylan Smith, Charlie Vickers, Leon Wadham, Benjamin Walker, Daniel Weyman, and Sara Zwangobani. Here is the synopsis:
Beginning in a time of relative peace, we follow an ensemble cast of characters as they confront the re-emergence of evil to Middle-earth. From the darkest depths of the Misty Mountains, to the majestic forests of Lindon, to the breathtaking island kingdom of Númenor, to the furthest reaches of the map, these kingdoms and characters will carve out legacies that live on long after they are gone.
It won't arrive in time to prep for the show, but there is a novel coming out entitled "The Fall of Númenor," edited by Tolkien expert Brian Sibley with a collection of Tolkien's writings on the Second Age. It won't be released until November of 2022, but it might give you some extra info that will help keep you on track. 
"The Lord of the Rings: The Rings of Power" will begin streaming on Prime Video on September 2, 2022. September 2, 1973, happens to be when J.R.R. Tolkien passed away.