Don't Make Me Go Star John Cho Talks About The Film's Ending, The Afterparty Season 2, And More [Interview]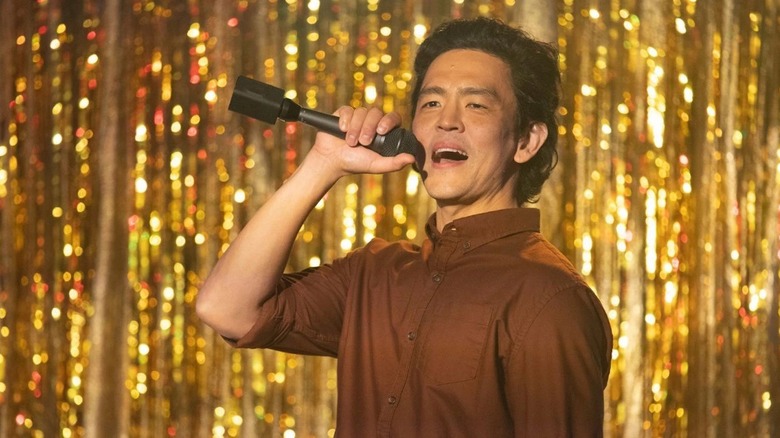 Prime Video
We're told from a very young age that we should not judge a book by its cover. Similarly, we should not judge a movie by its poster or trailer. But some movies follow a formula so closely that you're not really surprised when you predicted everything that would happen. Two people from very different walks of life are thrown together and they fall in love. A group of friends reconnect after many years to remind themselves that the best years of their lives don't have to be over. A family reluctantly goes on a road trip together, then learns important lessons about life and themselves. There are tons of these archetypes, and there's nothing wrong with them. Sometimes it's comforting when you don't need to put too much thought into the media you're consuming in order to enjoy it.
But every once in a while, you'll come across a story that seems like it's going by the book until it decides to throw the book out the window. You think you know exactly where it's going, then NOPE. That's how you might classify Prime Video's latest tearjerker "Don't Make Me Go" from writer Vera Herbert and director Hannah Marks. John Cho stars as a single father named Max, who learns that his headaches are actually more serious than he thought. Anxious to spend as much time with his daughter Wally (played by newcomer Mia Isaac) as he can before he's gone, the duo embark on a road trip to reconnect with the mother that left them so many years ago.
In our interview with Cho, we discuss subverting expectations narratively and professionally. The beloved actor touches on his eclectic career, getting the opportunity to be in projects that he'd like to see, and what his journey was able to do for a new generation of Asian and Asian-Americans in Hollywood. Plus, we get into the ending of the film that will surely have the audience feeling some kind of way. 
On the road again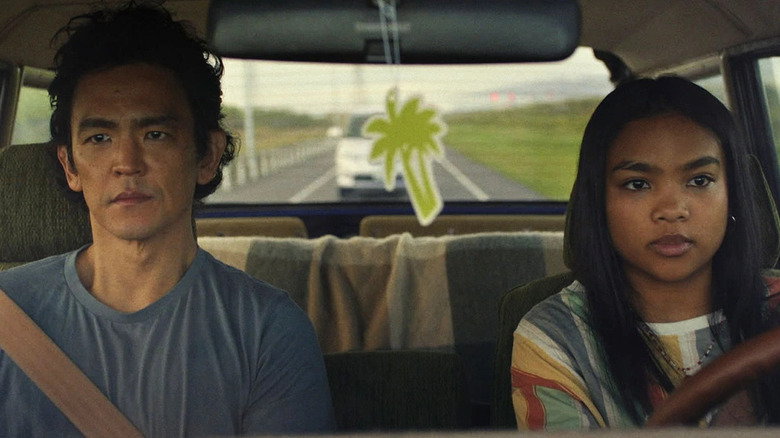 Prime Video
Nothing says "summer" like a good road trip or a good road trip movie. Although, "Don't Make Me Go" has a few heart-wrenching bumps in the road that sets it apart. What drew you to the character of Max Park and his story in this film?
It's always hard to say, before I read a script, what I want in a script. But this one, I closed it and just thought, "This is a movie I would like to see." That's always the biggest barometer for me, whether I envision the product and think that's something I would like to see. This kind of personal film, I don't get a whole lot of shots at those. So I wanted to make it real. The father/daughter love story was something I could relate to and thought it was really well-written in the script. [There was] just a lot of things that I value in the film.
Breaking in a co-pilot
Prime Video
Your chemistry with your co-star Mia Isaac is undeniable. What did you and Mia do to cultivate such an authentic relationship for Max and Wally? Did you take her on some incredibly stressful driving lessons to get you in the right mindset?
I hypnotized her and made her like me. [Laughs] No, we didn't have a whole lot of time to do that. We were not in the same country so we rehearsed via Zoom a little bit, but it was really just getting together.
I've got to tip my hat to Hannah Marks, our director. The lion's share of the credit goes to the person who put that cast together, and in this case it's Hannah. Mia and I really felt familiar right off the bat. She felt like my daughter. I happen to think she looks like she could be my daughter. And she said that I felt like her father in a lot of ways. In fact, I've met her father and he does feel very familiar to me, too. He feels like a pal. So there was a lot of instant familiarity and it was not difficult for us to just dive into that relationship. I felt very paternal towards her and wanted to make her first feature experience a good one.
In the movie, Wally talks about Max enrolling her in a dance class to be closer to her cultural roots. Did your parents put you through anything similar when you were her age?
I was younger. I was put in a Taekwondo class, but that was short-lived. I got to my yellow belt, and I don't know if we couldn't afford the lessons or something, but it's as far as I got. But I didn't go to Korean school. A lot of people I know did that kind of stuff, but I did not.
Stops along the way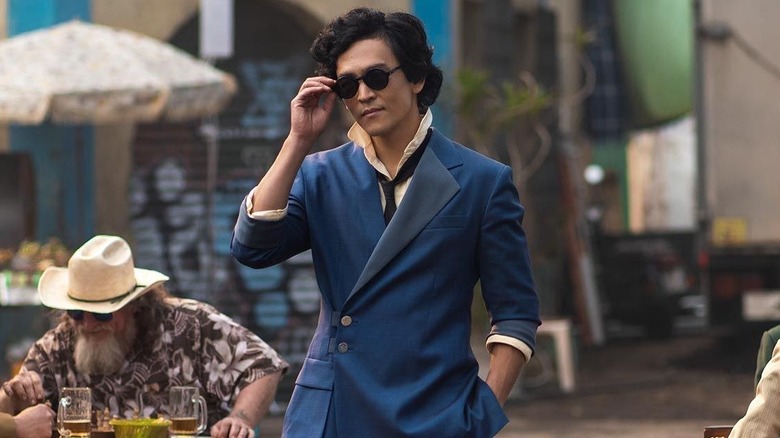 Netflix
You've been someone that's been able to jump from film to TV and back again pretty seamlessly. Do you enjoy dabbling in the different mediums?
Sure. I think most actors get into this business to avoid doing the same thing on a day-to-day basis, so it's been a real privilege. I'm aware of how lucky I am to have been able to kind of jump genres and stuff. So yeah, I always look for something a little different for the next project. I'm doing comedy now, which feels like great palate cleanser after doing "Don't Make Me Go."
Since you mentioned comedy, how excited are you to join the cast of "The Afterparty" as Ulysses? Anything you can tease us with?
The murder weapon is... [Laughs] Unfortunately, I can't tell you too much about the project. All I can say is I'm having a blast on it. It's an exceptional group of people. I've wanted to work with Phil Lord and Chris Miller for a long time, so that's great. It's just we, the cast, have been talking about how fun it is to be with such talented actors. It's a big cast and we're all in a room versus [a scenario where] you can be in a cast and you're not there when the other actors are working. But the nature of the murder mystery, we're all in the same room quite often, so we're seeing other performances, which is not typical. [It's fun] to be in the audience while I'm watching Elizabeth Perkins or Ken Jeong or Tiffany Haddish or Anna Konkle do their thing.
The long and winding road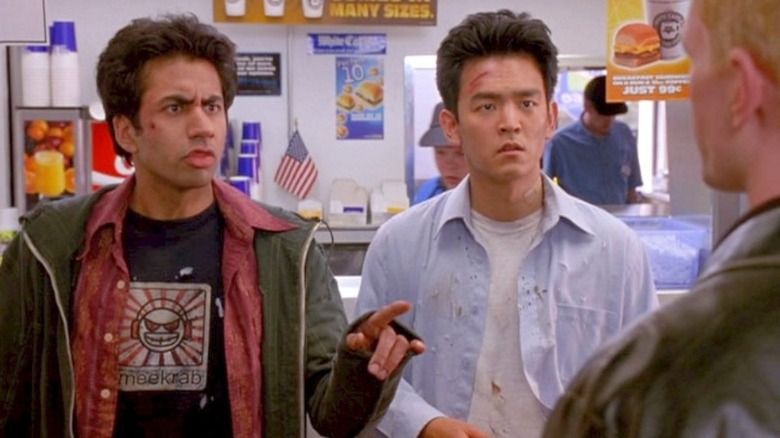 New Line Cinema
Speaking of your career, after what seems like far too long, Asians and Asian-Americans are finally getting more opportunities to shine in Hollywood. But you've been at the forefront of all that since you started in the industry by playing characters outside of stereotypical roles or by putting a new twist on them like in "Better Luck Tomorrow" or "Harold & Kumar Go To White Castle." How frustrating was that journey for you back then and do you find solace in the fact that talented performers are able to learn from you and navigate the same trail because you paved the way?
I was never frustrated [because] — this is going to sound really sad — I didn't expect much. So it was based on past history, I didn't set the bar very high. Everything was gravy as far as I was concerned, as I progressed. I'm very gratified to see that the expectations from the generation behind me. They come in expecting more, which is a much healthier mindset in my opinion. And I think you're seeing the fruits of that mindset in the entertainment landscape right now. I think they're dreaming bigger, which is great. That's something that I had trouble with because I was told to keep my expectations low, so the scope of my dreaming was very limited.
Stopping for pictures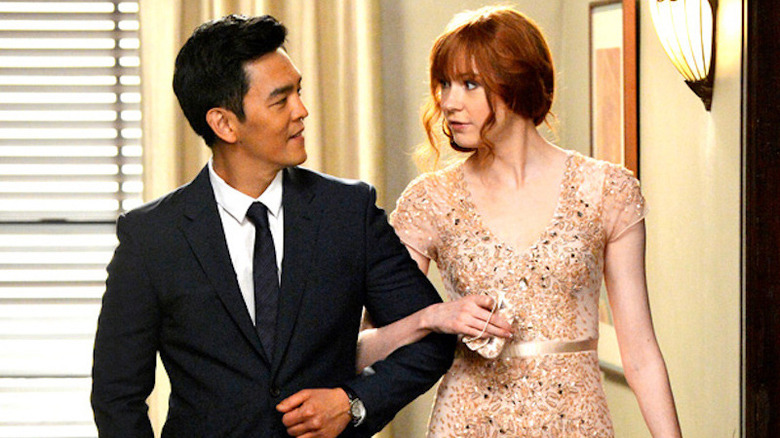 ABC
Despite mapping the course for whoever's next, you're still venturing into uncharted territory. My favorite example has to be you playing the first Asian romantic lead in a sitcom thanks to "Selfie." Do you also mourn the premature loss of that series and what could have been with Henry and Eliza?
Yeah! Thanks, I'm still stunned to see how many people still love that series. And yeah, I was bummed when it got canceled. I just thought that was a good show. I'm still mystified as to how it all works when people are agreed that something's good and still gets canceled, but I guess that those are the vagaries of our business.
You have to go on after something gets canceled, so I've made my peace with that. But yeah, it's too bad. And I really loved working with [executive producer and "Selfie" creator Emily Kapnek] and Karen Gillan. David Harewood was on that cast, Da'Vine Joy Randolph was on that cast, Brian Huskey was on that cast. It was just a lot of talented people and it's hard to get a whole lot of talented people on one show. And so my philosophy is, when you got them, keep it going.
Life is a journey, not a destination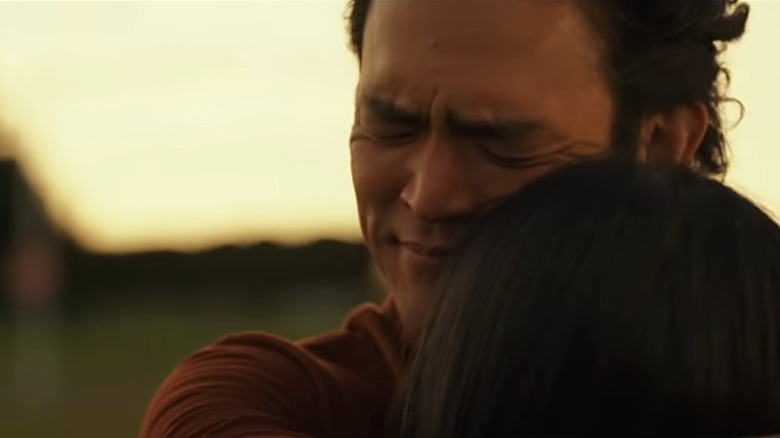 Prime Video
Legacy and loss is also at the center of "Don't Make Me Go." Right off the bat, the audience is told that they're not going to like the ending. And based on the critical response so far, the film's third act seems to be rather divisive. How did you feel about it when you first read the script and how would you address those criticisms?
I don't know what to say to critics. It seemed poetically appropriate to me that that would happen in a lot of ways. The film was on a course where we're upending a lot of expectations in terms of what a father's role is and what a daughter's role is. It was a movie that sets out to contradict expectations and so it felt appropriate to me. The ending of the movie felt appropriate and in line with the rest of the film. I'm not someone who quibbles with where something goes so much as how it makes me feel. And the movie, at the end of it, put me in a place where I'm valuing the people around me and valuing what I have. And I think that's the point of the film.
"Don't Make Me Go" premieres on Prime Video on July 15, 2022.