Don't Make Me Go Review: John Cho Steers A Father-Daughter Road Trip Into Surprising Emotional Depths [Tribeca]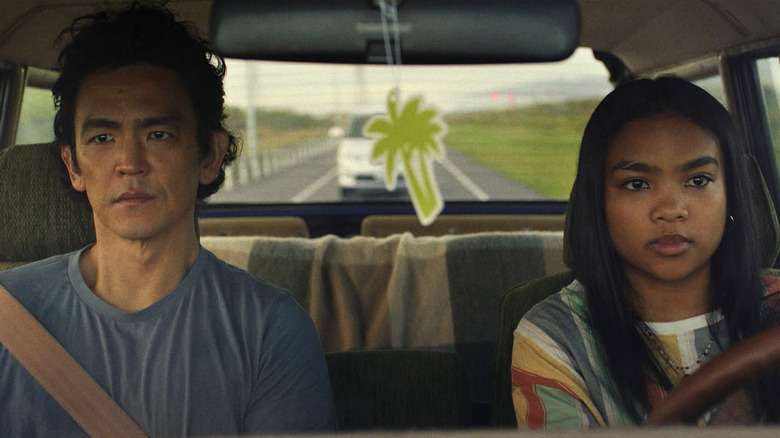 Prime Video
A dad gets diagnosed with cancer and decides to take his stubborn teenage daughter on a road trip to meet the mom who abandoned her as a child. You can probably tell where this is going, right? But despite the familiar turns and pit stops of the kind of sentimental road trip drama designed to tug at your heartstrings (and fill your tear ducts), "Don't Make Me Go" is a trip well worth taking.
John Cho stars as Max, an overprotective single dad who has raised his daughter Wally (Mia Isaac, in a star-making turn) on his own since his ex-wife left him for his former best friend (a surprise Jemaine Clement!). But Wally is reaching 16 years old and growing increasingly annoyed with each dorky dad joke that Max makes, and worryingly bullheaded whenever he tries to probe her about her not-summer boyfriend. Aside from that, Max's life has reached a humdrum stasis, apart from the occasional fling with his own not-girlfriend (Kaya Scodelario) and the splitting headache that has been plaguing him for months. But after a check-up at the doctor, Max discovers that this was more than just a headache: he has a bone tumor growing near the back of his brain, and he has two choices: operate with a 20% chance of survival, or do nothing and have a year left to live.
Max opts for the latter, terrified of leaving Wally on her own. And with little time to lose, Max convinces Wally to accompany him on a road trip — under the pretense of giving her driving lessons — from California to New Orleans for his 20th college reunion, where he hopes to reunite Wally with her mother. Along the way, their journey takes turns for the frightening (Max disappearing overnight to sneak away to a party with older teenagers on an isolated farm), the humorous (one particularly hilarious episode involves an accidental detour to a nude beach), and the touching (every scene where John Cho sings Iggy Pop). Yada yada yada, they both learn things about each other and about embracing life.
Yes, like many a tearjerker, it's not hard to see the emotional wiring behind "Don't Make Me Go." And while it's easy to be cynical about a movie that is so finetuned to make you cry, it works. It works because of the wonderfully vulnerable and emotionally timid performance by Cho, it works because of the funny, awkward, authentic chemistry between Cho and Isaac, and it works because director Hannah Marks handles what could be a devastating subject with a light, lovely touch.
The passenger, how he rides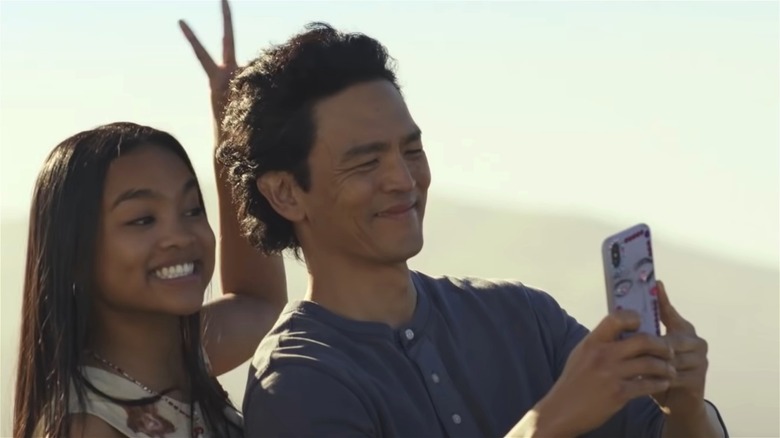 Prime Video
Marks directs "Don't Make Me Go" with a flair befitting the kind of quirky indie dramedy that would debut at a film festival. Funky text declaring the duo's arrival in a new state and creatively placed text messages abound, as does a generally sunny color palette and a surprising amount of bokeh shots. And while that sounds like it could be exhausting, it only makes "Don't Make Me Go" a more entertaining watch, especially in the face of its subject matter. We've seen so many morose dramas about the emotionally shattering effects of cancer and so many goofy road trip movies that descend into broad comedy, but "Don't Make Me Go" sits somewhere in between the two — a tonal balance that is more difficult to maintain than the movie makes it look. Marks, more comfortable with the comedy though she is, is not afraid to explore the more sensitive and uncomfortable aspects of the characters' conflicts — Max and his overprotectiveness of Wally, Wally's uncertain exploration of her own budding teen sexuality, Max's long-repressed regrets over his life — and Vera Herbert's script fleshes out the characters in all their flaws and mistakes.
But the success of "Don't Make Me Go" all boils down to its lead duo. Cho's natural hangdog expression is perfect for this role, even if he is distractingly attractive for a single dad who apparently has nothing going on in his life. Cho is equal turns raw and goofy and moving, his innate movie-star charisma keeping the film afloat when its momentum starts to dip. But the stealth MVP of this movie is Mia Isaac. Her chemistry with Cho feels completely natural and recognizable — and often threatens to steal the movie from under him. Isaac plays the quintessential irate Gen-Z teen perfectly without being irritating to watch, and her wry, effervescent performance as Wally — along with her little solo outings which result in some of the most magical moments of the movie — make the good case for Isaac to land a YA coming-of-age leading role of her own.
"Don't Make Me Go" is at its strongest when Cho and Isaac are onscreen together, reflecting back the kind of tense, but loving, father-daughter dynamic which is so lovingly familiar and relatable to many of us. The bad dad jokes, the bickering over rules of the road, the off-key karaoke. It's the small things that add up to the emotional crescendo of the film, which — even as you're expecting it — hits like a gut punch. And while one or two twists do feel somewhat hamfisted, "Don't Make Me Go" never sacrifices believability in favor of tears. "Don't Make Me Go" does what a good tearjerker does best: It's life-affirming without being overly saccharine, it's moving without being maudlin, and it gives you a good cry without making you feel guilty for being a big sap about a road trip movie.
/Film Rating: 8 out of 10
"Don't Make Me Go" will be released on Prime Video July 15, 2022.