John Wayne Wasn't Going To Let His Age Hold Back His Stunt Work On Big Jake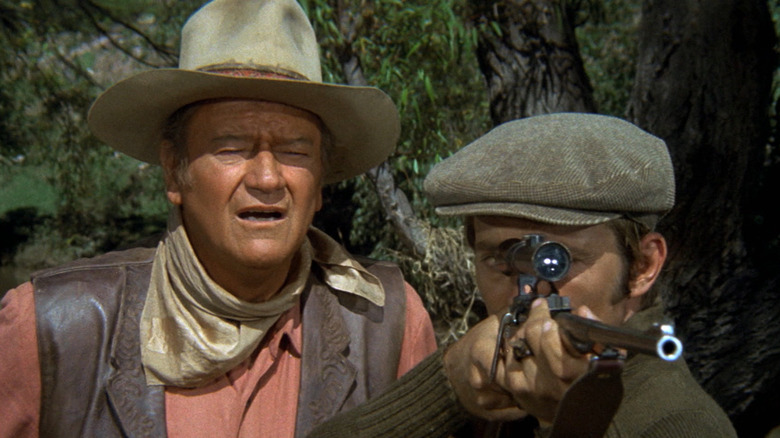 National General Pictures
As the 1970s ushered in a new era of cinema, Western icon John Wayne used the 1971 film "Big Jake" as an opportunity to proclaim that he wasn't going anywhere. In his mid-60s and dealing with health issues, Wayne tweaked the character type that made him famous, leading to some of his finest cinematic moments.
Veteran director George Sherman's final film is one of Wayne's more stylistic films. "Big Jake's" exposition begins with a voiceover and still images under a cinematic purple matte overlay and a sepia-coated sequence introducing the film's villains that blends into more vivid technicolor. Sherman wastes no time getting down to business with an early slaughter of the McCandles farm and kidnapping of Jacob McCandles' (John Wayne) grandson for a $1 million ransom. The scene establishes the basic rescue and revenge premise of the film. The film's climax is a bloody sequence that might make Quentin Tarantino blush.
"Big Jake" reunited several familiar faces from Wayne's Westerns, including Richard Boone, Maureen O'Hara, Bruce Cabot, and Harry Carey, Jr., with whom Wayne has a strong family connection. The movie was also a family affair for Wayne. One of his sons, Michael, served as a producer on the film while two of his sons acted in the movie.
And even though Wayne's career was winding down by the time "Big Jake" was filmed, it didn't stop The Duke from doing most of his stunt work in the movie.
The Duke reinvents himself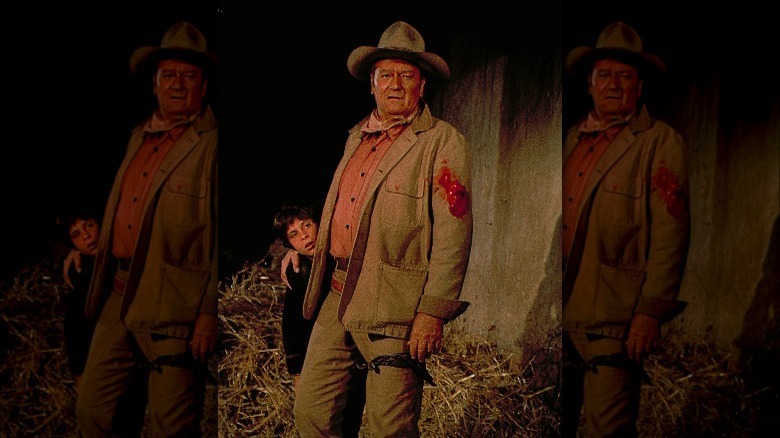 National General Pictures
There are several scenes in "Big Jake" where strangers are surprised to see Jacob McCandles, telling him, "I thought you were dead." The running joke could be an analogy for the younger days of Wayne's career and the waning days of the classical Western genre. With American New Wave cinema introducing new voices in Hollywood and the blockbuster era on the horizon, the classical Western was dying a slow death in the 1970s.
However, John Wayne wasn't about to change with the times. Nearing the end of his career, "Big Jake" was one of Wayne's eight final films, all but two of which were Westerns. By the time he made "Big Jake," Wayne's health had begun to fail him. But that wasn't going to slow the legend down. After all, Wayne was coming off his only Academy Award for Best Actor for 1969's "True Grit."
In the book "John Wayne: The Man Behind the Myth" author Michael Munn writes about Wayne's age and how he worked it into his film career. Wayne made the choice to continue with the Western tough guy image, even in his advancing age. It was much to the chagrin of friend and legendary director Howard Hawks, who thought that Wayne was throwing away his legacy. He told Wayne, "You can't play gunfighters at your age anymore."
Rather than listen to Hawks, Wayne re-made his image as the aging cowboy, saving some of his best work for last. He reprised his role as one-eyed Rooster Cogburn in 1975's "True Grit" follow-up "Rooster Cogburn" with commercial success, and his final film "The Shootist" made /Fim's 20 Best Westerns of All Time list.
But during this period of his career, Wayne was also hiding a painful truth from the public.
Wayne couldn't run and had oxygen nearby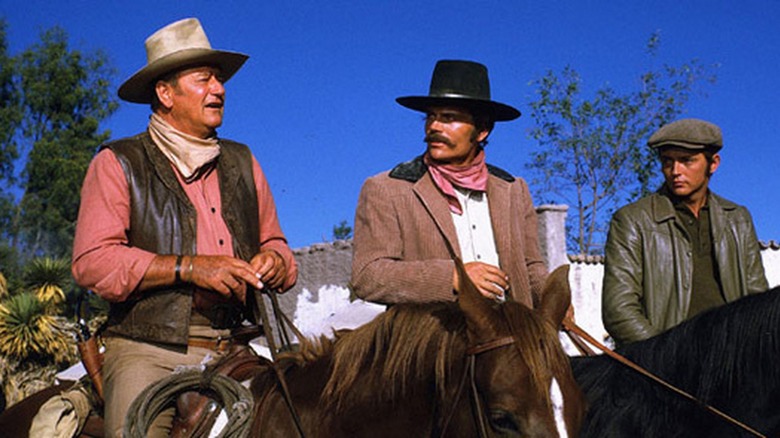 National General Pictures
"Big Jake" is a surprisingly violent film. So bloody, in fact, that Wayne asked that humor be added to the script to balance things out. Despite the amount of action, Wayne insisted on doing most of his stunts. Richard Boone, who played antagonist John Fain, the man Jacob hunts down in the movie, recalled Wayne's condition. Boone said:
"About the only thing Duke couldn't do was run. He didn't have the stamina anymore, which God knows comes to us all. But his biggest problem was breathing. He always had an oxygen tank nearby and he used it often. But he never wanted his public to know. It wasn't vanity. He just didn't want to let his fans down, so no one was allowed to take photographs of him using his oxygen."
George Sherman, who directed the film at the request of Wayne, acknowledged the changing nature of the genre. "I knew that by 1970 Westerns had changed a lot," Sherman said. "I admired Duke for playing a character his own age, yet he was still the same tough character people liked."
John Wayne's decision to change his character archetype to more age-appropriate and his toughness led to some memorable final performances. In 1983 Variety had "Big Jake" and Wayne's next film, 1972's "The Cowboys," tied for #26 on their 1983 "All-Time Western Champs" list. Leave it to John Wayne to battle Father Time with true grit as only The Duke could do.