John Wayne Said This Was The Best Scene He Ever Shot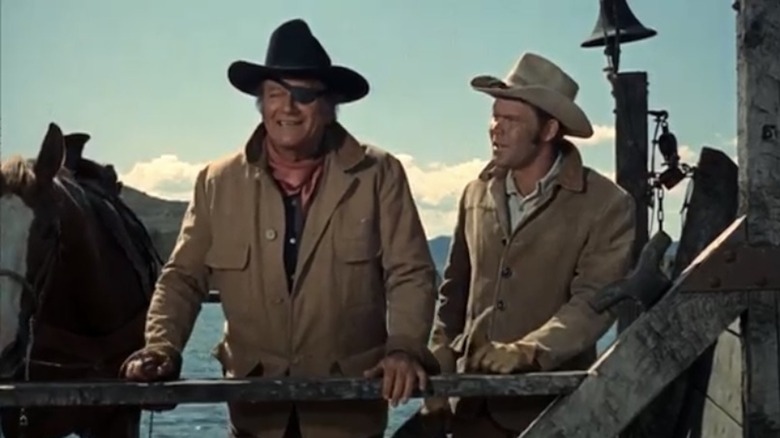 Paramount Pictures
In the American consciousness, John Wayne has become synonymous with the word "cowboy." He translated his rough, stoic exterior into performances of quiet men and surly marshals. Whether criss-crossing the Irish countryside in a donnybrook, defending the Alamo, or gunslinging atop a galloping steed, Wayne's characters embodied masculine bravado and even crude violence. By the time he died in 1979, he had made more than 180 films in a half century.
But in a 1969 interview with Roger Ebert, Wayne reflected on what he considered to be his best scene, one that aches with melancholy and nostalgia rather than cold indifference. In the scene, from Henry Hathaway's 1969 film "True Grit," Wayne plays Rooster Cogburn, the one-time robber of the wild west turned drunken marshal who helps the plucky, teenage girl Mattie Ross (Kim Darby) avenge her father. For much of the film, Wayne leans on his history as a Western actor and adds a dose of alcoholism to Cogburn, falling off his horse and tipping the whiskey bottle while Ross engages in a sober pursuit. Yet in the stakeout scene, Cogburn recounts his failed marriage, his relationship with his son, and his bank robbing days with a mix of tenderness and regret that's far more nuanced than his previous characters, whose morality frequently distilled into clear-cut black and white.
"I guess that scene in 'True Grit' is about the best scene I ever did," Wayne fondly recalled to Ebert.
Variation on a theme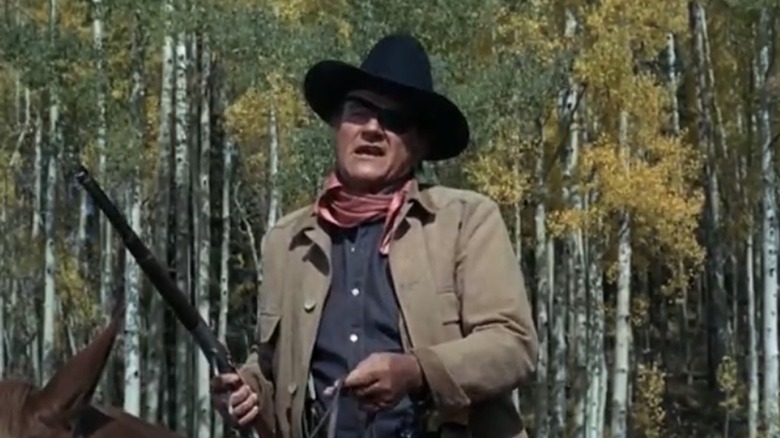 Paramount Pictures
Wayne would go on to win the Oscar for Best Actor for his performance in "True Grit." In his acceptance speech at the Academy Awards, he expressed a mix of humility and shock at his win after four decades in the business (via YouTube). He even joked that he would have worn Rooster Cogburn's eye patch 35 years earlier if he had known it would have meant an Oscar win.
His turn as Cogburn also received critical acclaim. Ebert himself noted that the role served as the culmination of Wayne's western characters, allowing him to play Cogburn with "ease and authority." Vincent Canby, a film critic for The New York Times, praised the film's final scene, in which a softened Cogburn quips to Ross, "Well, come see a fat, old man some time," as perhaps the best of Wayne's career.
"John Wayne is its star, a man who has been in the movies for almost 40 years and who has the best role of his career as the old, fat, one-eyed marshal...After the 'The Green Berets,' I never thought I'd be able to take Wayne seriously again. The curious thing about 'True Grit' is that though he is still playing a variation on the self-assured serviceman he has played so many times in the past, the character that seemed grotesque in Vietnam fits into this frontier landscape emotionally–and perhaps politically too...The last scene in the movie is so fine it will probably become Wayne's cinematic epitaph."
A supposedly 'token' Oscar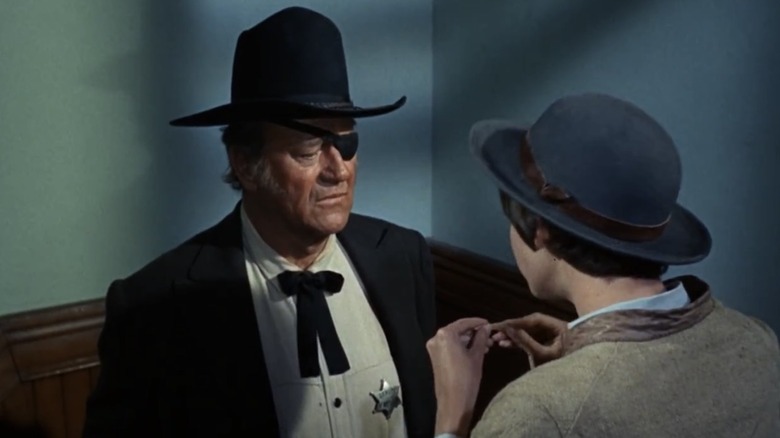 Paramount Pictures
Though his peers and critics feted him at the time, industry insiders speculated later that Wayne's sole Oscar served as more of a lifetime achievement award than a prize for his specific performance in "True Grit." Even the film's producer, Robert Evans, claimed, "It was a token Oscar" (via The New York Times).
In his interview with Ebert, Wayne looked back on "True Grit" with fondness. However, when Playboy asked him in a 1971 interview whether the "True Grit" win meant a lot to him, Wayne responded with some chagrin toward the Academy (via Playboy).
"Sure it did—even if it took the industry 40 years to get around to it. But I think both of my two previous Oscar nominations—for 'She Wore a Yellow Ribbon' and 'Sands of Iwo Jima'—were worthy of the honor. I know the Marines and all the American Armed Forces were quite proud of my portrayal of Stryker, the Marine sergeant in Iwo. At an American Legion convention in Florida, General MacArthur told me, 'You represent the American serviceman better than the American serviceman himself.' And, at 42, in 'She Wore a Yellow Ribbon,' I played the same character that I played in 'True Grit' at 62. But I really didn't need an Oscar. I'm a box-office champion with a record they're going to have to run to catch. And they won't."
There are inconsistencies in Wayne's recollection: He was never actually nominated for his performance in "She Wore a Yellow Ribbon." Besides "True Grit," the Academy nominated him for Best Actor for his performance as Sergeant John Stryker in the 1949 film "Sands of Iwo Jima" and in 1960, he produced and starred in "The Alamo," which was nominated for Best Picture.
Still, it's Wayne's role as Cogburn that seems to loom largest in both the Academy's esteem and American pop culture, a combination of commercial and critical success that cemented his legacy as one of the biggest stars of Hollywood's Golden Age.