Even James Caan Couldn't Keep A Straight Face On The Set Of Elf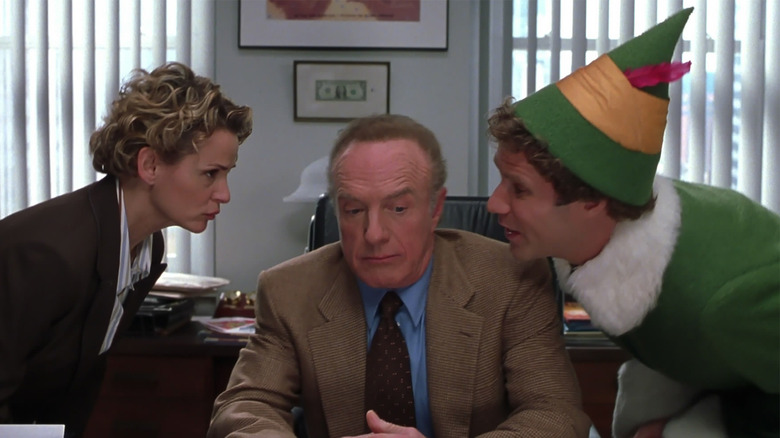 New Line Cinema
When you think of James Caan, you might automatically remember the cinematic tough guy who roughed people up in "The Godfather" as Sonny Corleone or the reluctant criminal getting caught up in one last big score in "Thief." But in the later stages of his career, Caan became a symbol of Christmas spirit in a Scrooge-like role for the modern holiday comedy favorite "Elf."
Will Ferrell stars in the absurd fantasy comedy that finds an orphan baby being raised by elves in Santa's workshop in the North Pole, having no idea that he's actually a human until he becomes a grown adult. With the truth of his identity revealed to Buddy the "Elf," Santa (Ed Asner) sends him on a journey to not only meet his biological father, but save his dad from being on the naughty list. That father is none other than James Caan as Walter Hobbs, a children's book publisher who has no problem cutting corners to make a buck and generally has a grumpy demeanor about him as he's lost in his work during the holidays. Of course, Buddy's endlessly cheery disposition is what finally turns his frown upside down, and that includes a scene where not even the very serious James Caan could keep it together in the face of Will Ferrell's silliness.
'They play off each other incredibly well'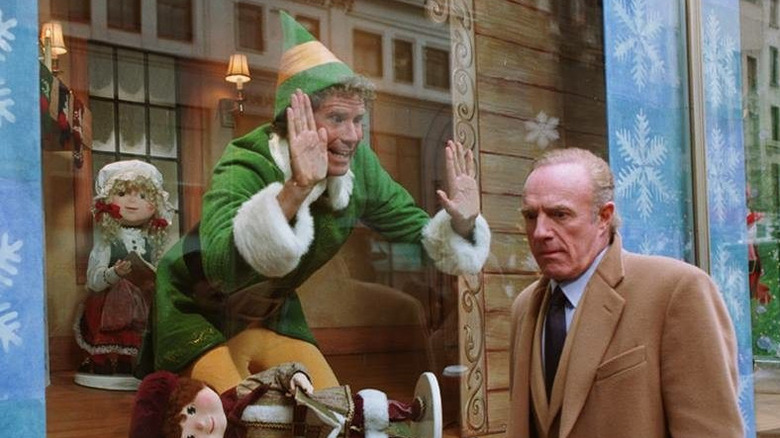 New Line Cinema
In the home video commentary for "Elf," director Jon Favreau praised the relationship between Will Ferrell and James Caan as being integral to the success of the movie. Favreau noted, "I think it's the chemistry between these two guys that really, really makes the movie special. They play off each other incredibly well." 
Throughout "Elf," James Caan is constantly and exasperatedly brushing off Buddy's need for a father figure and his childish attempts at bonding with his estranged father. Meanwhile, Buddy is undeterred in his adorably desperate and heartwarming attempts to make a connection, and Will Ferrell brings an irresistible innocence to the holiday-clad character. In fact, Ferrell was so bright, bubbly, and funny throughout production that Caan would constantly get broken up by the comedian's on-set antics. There's even one particular scene where you can see Caan unable to keep from laughing at his co-star. 
'Finger prick!'
Favreau also noted that Caan hoped to channel George Burns in his "Elf" performance rather than having a serious demeanor with echoes of Sonny Corleone in "The Godfather." So there is a little bit more of a gentle side to Caan, even at his most frustrated. A little bit of that warmth inadvertently shines through in a scene that easily could have been a blooper if Caan wasn't careful enough to hide his laughing face from being seen on-camera.
In the scene in question, which you can watch above, Favreau makes a cameo as the doctor who is about to conduct a DNA taste to determine whether or not Buddy is actually Walter's son. After asking a rapid fire succession of questions about the doctor's office, Buddy is finally told to calm down by Walter so the doctor can give Buddy's finger a little prick for a sample of blood for testing. Even though it's the tiniest of pokes, Buddy — having apparently never experienced any serious pain in his life — screams bloody murder. 
As Favreau points out, Caan maneuvers slightly so his face can't be seen at the end of the single take sequence, and that's because he couldn't help but crack up at Ferrell's high-pitched scream. Part of the reason for Caan's breaking is that neither Favreau nor Ferrell had revealed this scream would be happening in this take. The idea was pitched by cinematographer Greg Gardiner, so they tried it out in the ninth or tenth take. The result is one of the biggest laughs in a movie full of gut-busting holiday hilarity. But if it wasn't for James Caan, "Elf" wouldn't have had quite as much of the big beating heart that made it a staple for family movie night at Christmas.