Why The Stranger Things 4 Finale Wasn't Split Into Two Episodes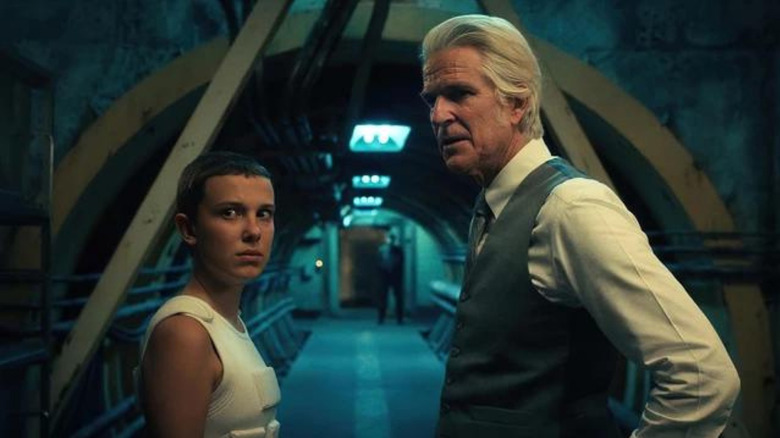 Netflix
There is a lot that one can say about the fact that the fourth season final episode of "Stranger Things" was nearly two and a half hours long. Whether you think it was earned or not is entirely up to you, although it's easy to argue that it could've been split into two episodes rather than an episode that is around the same length as "Raging Bull."
However, showrunners Matt and Ross Duffer don't have the same outlook. According to them, the season four finale was always intended to be that long, and it simply didn't make any sense to them that it could be split into two episodes. In an interview with Collider, the Duffers explained that this decision was made primarily due to how the episode's script was paced. After reviewing it, they came to the conclusion that they had to keep it as one big episode rather than splitting it up.
It'll just be this monster episode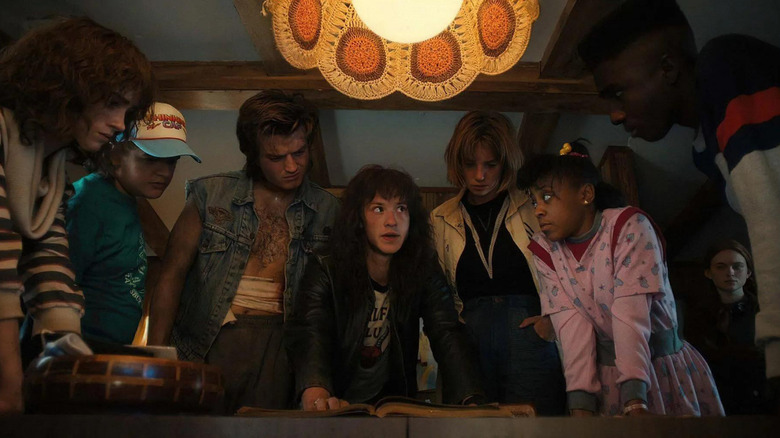 Netflix
If this sounds a tad bit confusing, let Ross Duffer explain it in his own words:
"I think we just couldn't find a good spot to break it because there's almost an hour of build-up tension, and then it just goes hard for an hour, then we have our 25 minutes of coming down the coda. It would've just not been a very satisfying episode to stop it after that first hour."
Furthermore, he explained that any attempts at dividing the episode into two felt forced and inorganic, saying that the episode "would've petered" into a conclusion rather than end on a satisfying note.
"We didn't want to force an ending, so we just figured, well, it'll just be this monster episode," said Ross, adding that he does not mind viewers not watching it in one go by adding, "if you want to pause it, go ahead."
The staggered release explained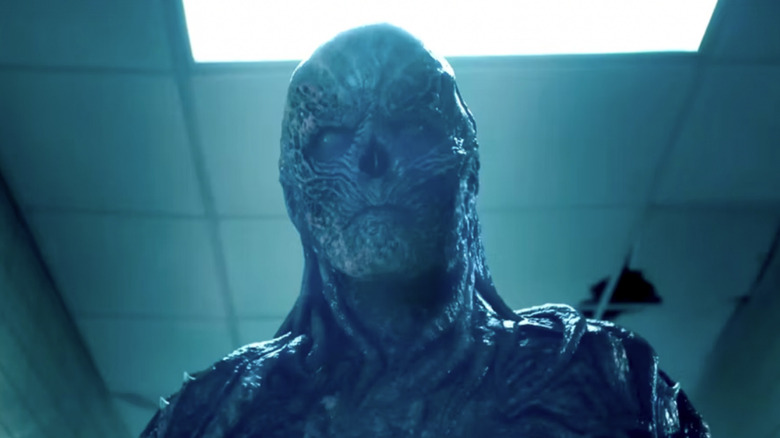 Netflix
What wasn't intended, however, was the release schedule for the fourth season. The first seven episodes of the season were released on Netflix on May 27, with the final two episodes being released on July 1. Originally, the season was supposed to be put on the streamer in its entirety in May, but concerns over the extensive visual effects forced the delay to occur. Matt Duffer clarified this in the interview:
"The episodes, really ... were not done. [They] weren't going to all be done by May, but it was not designed to split."
That doesn't necessarily mean, though, that a staggering drop for the upcoming final season of "Stranger Things" isn't out of the question. While the brothers are fans of Netflix's binge-release cycle, they said that they could do another season split, albeit intentionally rather than out of necessity.
"If we were to do a split again, [we would] write more to the split," said Matt. "I would probably make the split earlier ... I would write it into the narrative."
The entirety of the fourth season of "Stranger Things" is available to stream on Netflix.