What Justified Writers Learned Early On About Raylan And Boyd's Relationship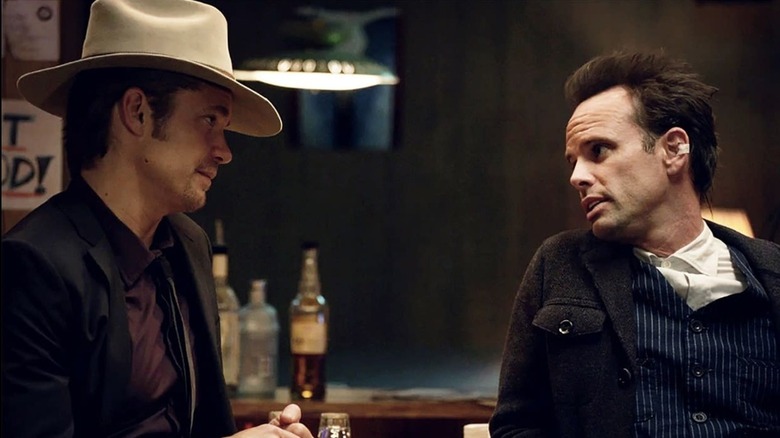 FX
You can't outrun your past. This is what U.S. Marshal Raylan Givens (Timothy Olyphant) discovers time and again throughout six splendid seasons of "Justified." The series opens with hotshot Givens getting busted down from a glamorous Miami assignment to his home county of Harlan, Kentucky, where he immediately finds himself at odds with Boyd Crowder (Walton Goggins), a childhood rival and scion of the once-powerful drug trafficker Bo Crowder (M.C. Gainey). 
Givens detests being back home for a variety of reasons: his inveterate criminal father (Raymond Barry) is still hanging around, as is his ex-wife (Natalie Zea), who, despite some lingering affection, wisely views Raylan as a bum bet. But it's having to contend with Boyd again that really chafes. Getting out of Harlan was Raylan's way of showing his hick friends, family, and enemies that he was destined for better than this dying industrial dump. Now that he's stuck playing a cat-and-mouse game with his former nemesis, he's forced to acknowledge that he's nothing more than his upbringing. Worse, he realizes Boyd is every bit his intellectual equal.
It takes Raylan six whole seasons to accept this, by which point he's ruined his life several times over. The same goes for Boyd. Until then, they're the popcorn morsel perpetually stuck in each other's craw. Even when they're forced into a strategic alliance, they're still playing a long game that will only end when one or the other is dead. It's a redneck "Spy vs. Spy." Sometimes it's funny, sometimes it's heartbreaking. And the writers understood this early on.
The most unreasonable of enemies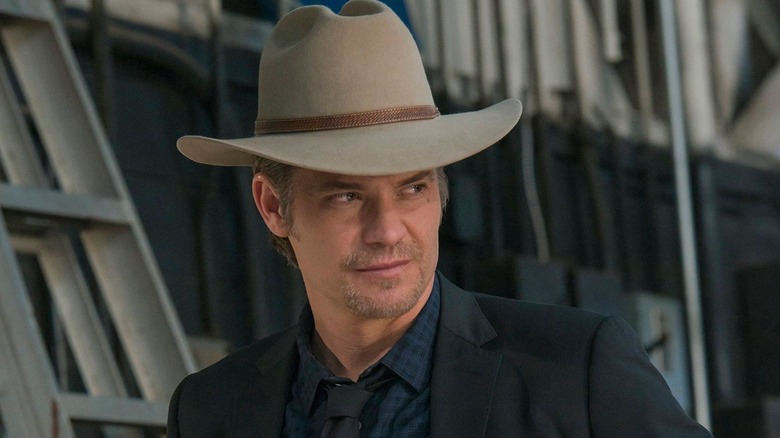 FX
In an interview with Esquire, Goggins marveled over this dynamic. "It's that endless, overpowering obsession that each man has with the other that will lead to their ultimate downfall. It is that ego, that, 'I am better than him, and I am going to beat Raylan Givens.'" It's a self-destructive conflict, but if their enmity was the sum total of the show, viewers would've checked out early. Instead, the show's creator, Graham Yost (who was riffing on a dense universe of criminality created by pulp maestro Elmore Leonard), took these adversaries off on side routes.
Per Goggins:
"As much as [Raylan and Boyd] interfaced in season 1 and season 2, if you go to that gold mine too many times, then you're gonna run out of gold. The writers recognized that early on, and we all wanted every conversation Boyd and Raylan had to be advancing their relationship. You look at those seasons when Boyd, in season four, is trying to build this life with Ava and they're coming together, and then at the end of the season their relationship comes to an end, the exact same thing is happening in Raylan's world with Winona." 
Raylan and Boyd are agonizingly close to attaining a state of domestic stability. They could call a truce and live fulfilling lives. But they are genetically incapable of not crawling up each other's keister. And this is why they, and those around them, suffer.
We dug coal together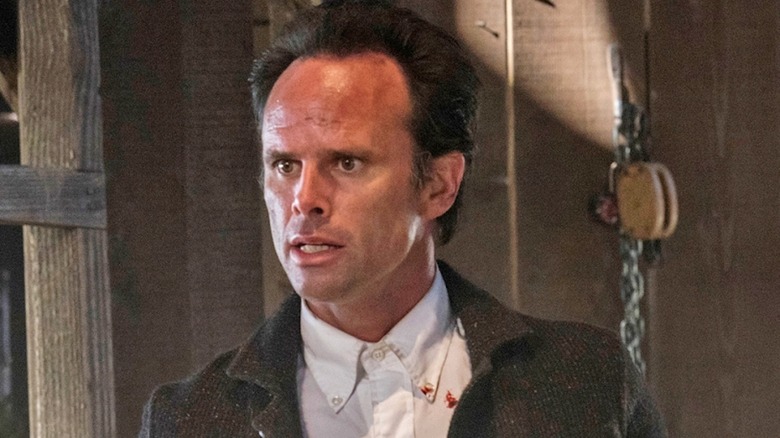 FX
At the end of the series, four years after the resolution of its major dramatic business, Raylan and Boyd convene for a conversation, separated by a glass partition. Both men are in their element: cager and caged. A stalemate has been attained. Was any of this worth it? Did Raylan make the world a safer place by dogging Boyd? Is Boyd at all chastened? The answer is "no" across the board. All they're left with is the sole, immutable truth that has bound them throughout their wasted lives: "We dug coal together."
Peak television might've reached its apex with "Justified."