'Justified' Season 6 Trailer Teases A Fiery Showdown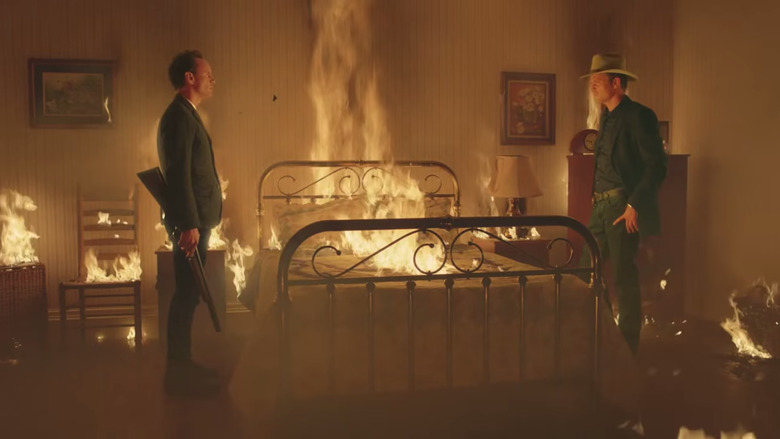 Next spring, Raylan Givens (Timothy Olyphant) will finally hang up his hat as FX's Justified draws to a close after six seasons. But we're not quite there yet, and he's got some serious business to attend to first.
FX has just released a new Justified Season 6 trailer teasing the impending showdown between Raylan and Boyd Crowder (Walton Goggins), as well as the involvement of Ava Crowder (Joelle Carter) in same. How it'll all go down, we'll have to wait and see, but it doesn't look like a happy ending is in the cards. Watch the Justified Season 6 trailer after the jump.
There's also a slightly older one which you can see below.
Just as, like, a public service announcement, that is not proper procedure for dealing with a burning building. Should you ever find yourself in one, don't do what Raylan and Boyd do and go barging through random doors. Don't go upstairs toward the smoke and away from the exit. And if you wind up in a room with a bed on fire, don't just stand there glaring at your nemesis. As a stylized promo for a TV show, however, that video works wonderfully. It's cool, evocative, and sets up the big conflict without getting literal about it.
The final season of Justified promises some great guest stars including Sam Elliott and Garret Dillahunt, both of whom seem so perfectly suited for the modern Western setting that it's shocking they haven't shown up already. Elliott will play Markham, a Kentucky gangster who returns from exile to win back his empire and his lost love Katherine Hale (Mary Steenburgen). Olyphant's old Deadwood co-star Dillahunt will appear as Walker, a Special Ops vet who now works as security for a "quasi-legal businessman." Sounds like our hero will have his hands full even aside from that metaphorical burning house.
Justified Season 6 kicks off January 2015 on FX.